KUNDUZ -- The Sar-e-Pul Agriculture Directorate has started distributing soybean seeds for the first time to some 300 farmers in the province to compensate farmers for the damages they have sustained after several years of drought.
Farmers will cultivate some 750 hectares of agricultural land with soybeans in collaboration with a private company, Sar-e-Pul provincial director of agriculture and livestock Abdul Qader Wahdat told Salaam Times.
"For the first time, Mofeed group company has completed a survey of 300 farmers in the capital and some districts in the province, and we will soon start the distribution of soybean seeds," he said.
"Sar-e-Pul has suitable land for soybean cultivation, so farmers are interested in growing the plant," he said. "Each farmer can plant soybeans on 3 to 10 jeribs (0.6 to 2 hectares) of their land."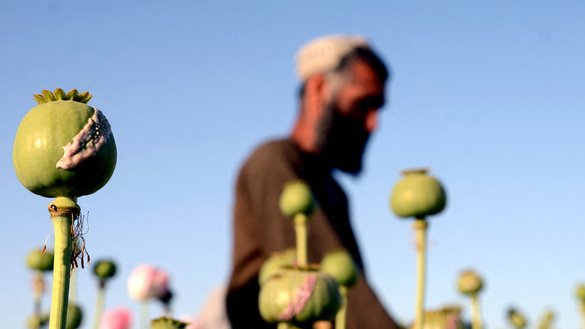 This marks the first time farmers in Sar-e-Pul will cultivate soybeans, said Wahdat.
Halal, nutritious crop
"I opted to grow soybeans after realising that it is nutritious and its cultivation is halal and boosts our economy," Sar-e-Pul farmer Abdul Ali, 43, told Salaam Times.
"We used to cultivate opium poppies in the past," he said. "But after we learned that soybean is a halal plant and a viable alternative, we stopped growing poppies."
"We then put in a petition to the Agriculture Directorate for the distribution of soybean seeds," Ali said.
"We have suffered a great deal from recent years of drought but hope that our damages will be compensated this year by harvesting soybeans," he added.
"I have been growing opium poppies for the past three years," farmer Sayed Rahman, 57, of Sozma Qala district told Salaam Times.
"Even though the demand was very high, my income was haram, and I believed it could not last that long," Rahman, 57 said.
"I was secretly growing poppies on 1 jerib (0.2 hectare) of land, but I gave it up after learning about the adverse consequences of cultivating it," he said.
"But because it is forbidden, our farmers should not cultivate this plant."
"We call on the government to encourage other farmers to grow soybeans instead of opium poppies," he said, also calling on the government to help farmers find a market for their produce and crops.
Limiting access to opium
The high price that soybeans can command on the market and their greater benefits to the community have made it easier to prevent poppy cultivation, say farmers.
"As many as 2,000 jeribs (40 hectares) have been cultivated with poppies in the provincial capital and Sar-e-Pul districts such as Sayad, Balkhab, Sancharak, Sozma Qala, Kohistanat and Gosfandi for the past five years," said Ghulam Dastgir Ramazani, a former member of a local community council in Sar-e-Pul.
"The majority of income from the [poppy] harvest has benefitted smugglers and other criminal groups," he told Salaam Times.
There have been several previous eradication campaigns, but they have not succeeded in eradicating poppy cultivation, he said, "because some circles were benefiting from poppy cultivation".
Poppy cultivation has damaged Afghanistan's reputation and has destroyed the lives of many young Afghans through opium addiction, said Ramazani.
He urged all farmers to refrain from cultivating opium poppies and to focus instead on planting soybeans, because they yield a good income.
"Soybean is a legal plant," he said, noting that it does not cause addiction, unlike poppies.
"Those who planted poppies out of ignorance are now realising the benefits of growing soybeans," Ramazani said.
Soybeans are highly nutritious and contain protein and a variety of vitamins, he said, which makes them a vital crop at this time, as they can help prevent malnutrition among Afghan children.