KUNDUZ -- Farmers in Kunduz province are pleased with the watermelon harvest this year and are seeing the benefits of switching from growing illicit drugs to cultivating the lucrative fruit.
"We were cultivating hashish and poppy in previous years. Our income was getting worse," said Ghulam Sayed, 56, a farmer in Dasht-i-Archi district.
"This year we decided to plant watermelons. We are very pleased with the result because it ... brings us a decent income," he said.
Sayed said he switched to growing watermelons after he realised the harmful risks associated with growing illicit crops.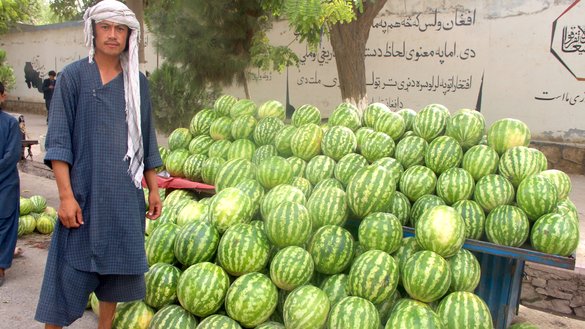 "We do not want to be dependent on terrorist networks and drug traffickers to buy our poppies," he said. "When we were growing poppy, we were very concerned that the government might come and eradicate our fields."
"I call on all other farmers to cultivate melons and watermelons," Sayed said. "Growing poppy does not benefit farmers, but it brings great profits to the drug smugglers. Planting watermelon will keep us away from drug traffickers, and it will help us make a legitimate profit."
Abdul Basit Nawabadi, a farmer in Chahar Dara district, also stopped growing poppies and instead planted watermelons.
"I grew poppy for the past two consecutive years," he said. "However, I have turned to growing halal crops this year."
"I bring two loaded trucks of watermelons from my field and sell them at a good price every day in the fruit market in Kunduz city," he said. "My earnings meet my family's needs."
"Planting watermelon is more profitable for farmers than cultivating a haram crop," he said. "It is clear that cultivating a halal crop like watermelon has improved our economic situation."
Improved crops
Farmers are able to sell their watermelons in local markets at a higher price because this year's harvest was not affected by any disease, which means the quality of the fruit is higher.
Mohammad Nazir, 63, a farmer in Kunduz city, who has been cultivating watermelon on 13 jeribs (6.42 acres) of land, said that he has been satisfied with this year's prices and has seen bigger yields.
"Seven kilogrammes of watermelon fetched 20 AFN [$0.23] in the market last year; however, it is now 100 AFN [$1.14]," he said.
"The quality of watermelon is excellent, and there are far fewer waste or worm-eaten fruits this year," Nazir said, adding that last year the harvest was not as good, which drove down the price.
"When farmers brought watermelons to the market in past years, they could not earn enough to even cover the transportation costs, but they are very pleased and satisfied this year," he said.
Khanzad Gul, 44, a farmer from Chahar Dara district, said that because of the good harvest this year, he was able to sell his produce at a higher price and recoup his financial losses from last year.
"I thank Almighty Allah that the climate was favourable this year," he said. "I utilised all my 5 jeribs [2.47 acres] of land and cultivated watermelons. I am very pleased with the outcome of my harvest."
Abdul Ghafar Sediqi, acting provincial director of the Agriculture, Irrigation and Livestock Department in Kunduz, attributed the increase in watermelon yields to the introduction of new cultivation technique and to the familiarisation of farmers with standard agricultural methods, as well as to their access to improved seeds.
"Farmers have grown watermelon on fewer than 4,000 hectares of irrigated lands in the centre and districts of the province this year," with an expected harvest of about 100,000 metric tonnes of watermelon, he said.
"Thank Almighty Allah, farmers harvested many more watermelons this year and they seem to be very pleased," he said.
"We are exploring markets across Afghanistan in other provinces so that farmers can sell their produce," he added.
Halal profits
The market for all kinds of fruits, especially watermelon, is very good and farmers are content with their sales, said Wahidullah Afzali, a fruit seller in Kunduz city.
"I see many farmers can sell their agricultural produce with a smile on their face," he said. "It seems they harvested much more than in previous years."
"We demand that all Kunduz farmers grow watermelon instead of poppy so that they earn halal income and strengthen their household economy and country," Afzali said.
Fazel Mohammad Nooryan, a fruit trader in Kunduz, also has seen an improvement in this year's harvest.
"I am transporting four trucks full of watermelon from Kunduz to other provinces every day," he said. "The yields and price of watermelon are very good this year."
"Cultivating and consuming opium poppy destroy society," Nooryan said. "Moreover, we will not be able to raise productive children in society by using the haram income from poppy."
"Many farmers used to cultivate poppy in Kunduz province in the past years, but they listened to our call this year and welcomed it by growing watermelons instead," he said.