HELMAND -- The United Nations Development Programme (UNDP) over the past two years has been helping farmers in Helmand plant dates and develop their orchards.
The orchards occupy 10 hectares of land total in Gereshk and Khaneshen districts and Lashkargah, the provincial capital.
As part of the effort, the UNDP built a solar-powered irrigation system for each orchard worth about $2,000 each.
The objective of the programme is to fight poppy cultivation and encourage farmers to adopt alternative crops.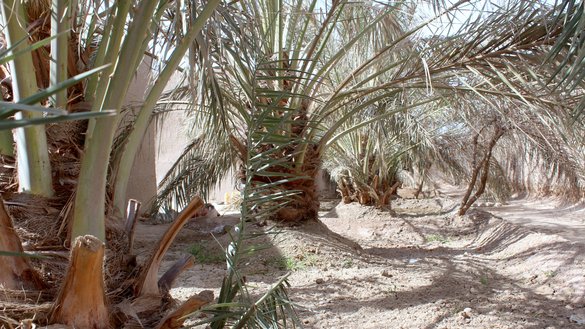 Abdullah, 58, a farmer in the Bolan area of Lashkargah, turned his 0.4 hectare of land into a date orchard.
He said he decided to switch from cultivating poppies to date trees because dates have higher yields and generate more income.
"Despite the challenges, I brought date saplings from Iran to Helmand," he said. "In Iran, date saplings bear fruit after three years, but in Helmand, they bear fruit just 10 months after being planted, as the weather is more suitable."
Over the past year, Abdullah began growing date seedlings to supply to other farmers.
"Date orchards in Helmand have been very fruitful because of the suitable weather. Many farmers in Helmand who used to cultivate poppies in the past have developed date orchards."
Each date tree yields half a tonne of dates two years after being planted, Abdullah said.
"Date yields are halal (legitimate), and they generate higher income than poppies do. When we used to cultivate poppies, we would work hard the entire year, but drug smugglers would make the largest part of the profit."
Thousands of young Afghans have become addicted to drugs in Helmand because of poppy cultivation and hundreds of individuals have been imprisoned or hanged in Iran for being involved in drug trafficking, he added.
Suitable replacement
Cultivating poppies was destructive, said Matiullah, 27, who owns a date orchard on 0.2 hectare of land in Gereshk district.
Profits went only to smugglers and mafia-like groups, he said.
"I was cultivating poppies for more than 10 years but was earning very little income. Some years I would even lose money instead of making a profit," Matiullah said.
"I was tired of cultivating poppies and was unintentionally involved in a haram (illicit) business."
"I have plans to expand my orchard next year. I will develop a date orchard on another 0.4 hectare of land next spring," he said.
Abdul Khaliq Achakzai, 24, who has also established a date orchard on 0.4 hectare of land in Khaneshen district, said he is happy to have escaped the illicit cultivation of poppies.
"I cultivated poppies for many years, but I never saw the profit of this destructive plant," Achakzai said. "Instead of making a profit, we would lose money while the smugglers were making money out of it."
"Our youth would get very busy during the poppy cultivation and harvesting season. Even school students would leave their studies and collect sap," Achakzai added.
"I call on the people to stop cultivating poppies and instead establish date orchards," he said.
"Opium destroys lives, but dates are halal (legitimate), and everyone can benefit from them. I also call on aid agencies to support the public in the provision of saplings and in other areas to establish more date orchards."
Poppy cultivation is very bad for the people of Afghanistan, he said, adding that he will never cultivate the illicit poppy plant on his land again.
Cultivating alternative crops
Farmers in Helmand, once a top producer of poppies, say they are tired of poppy cultivation and have turned to halal (legitimate) farming instead.
Khair Mohammad, 41, a farmer in Nad-e-Ali district, has cultivated wheat on two hectares of land this year.
The United Nations Food and Agriculture Organisation (FAO) has distributed improved seeds to hundreds of Helmand farmers this year, so they would stop cultivating poppies and gain better yields, said Mohammad.
"I was cultivating poppies until last year on my land, but this year, I cultivated improved seeds of wheat," he said. "I hope we won't have a drought this year and that I will have good yields."
"Poppy cultivation requires much hard work and costs a lot of money, but its profit is very low," he added. "Crops such as wheat are halal (legitimate) and require less effort and cost."
Farmers have been discouraged from cultivating poppy and have turned to halal crops, said Sher Ahmad, 53, another farmer in Nad-e-Ali district.
"I was unintentionally like a slave to the smugglers while I was cultivating poppies. We (farmers) were doing all the hard work, but they were pocketing all the profits."
"No one in our area is ready to repeat the past mistakes and cultivate poppies again," he added.
If aid agencies provide more support to the farmers, there will be no poppy cultivation in Helmand, said Ahmad.