HELMAND -- Farmers in Helmand, a province that historically was Afghanistan's top producer of poppies, have wearied of growing the problematic crop and are turning to lucrative, legal alternatives such as hing.
Hing (Asafoetida) is a plant native to Afghanistan and Iran, produces a resin-like sap that is ground into a yellow powder and is used in cooking as a seasoning, as well as in the production of certain medicines, including for indigestion.
The plant begins producing resin that can be harvested after two to four years, and resin can be extracted from the plant up to 20 times a year, local farmers told Salaam Times.
One of the farmers who are replacing poppies with hing is 25-year-old Mohammad Naseer, a resident of Garmsir district who began planting the crop on his 0.8-hectare land two years ago, after growing poppies for a decade.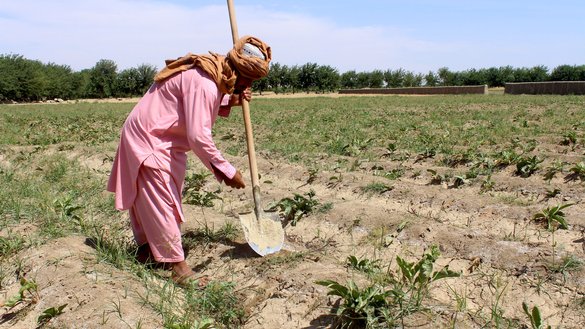 Hing is twice as profitable as poppies, and is less labour intensive and demanding of attention than poppies are, Naseer told Salaam Times, vowing that he will never again grow poppies on his land.
"Hing is a great alternative to poppies," he said, adding that he has no regrets about making the switch. "Harvest from this plant is halal (legitimate) and more profitable."
"The climate in Helmand is very suitable for growing hing," he said, noting that some farmers who began cultivating hing a few years ago "have good yields now" and that their success has sparked a movement away from poppies.
Helmand historically was Afghanistan's largest opium producer because of its high level of poppy cultivation, Naseer said, noting that by replacing poppies with alternative crops, farmers will play a role in mitigating opium's harmful effects.
Some farmers regard hing as a "hidden treasure" because of its high yields and the rewarding price it can command, with a single kilogramme of its resin retailing for more than $200 in international markets.
'Halal and profitable crop'
On his one-hectare plot, 58-year-old Garmsir farmer Khair Mohammad has been cultivating hing, switching to the crop three years ago after spending almost two decades cultivating poppies.
Poppy cultivation has damaged Afghanistan's reputation and is not even profitable, he said, pointing out that not only is hing more profitable, but it also improves Afghanistan's image in the world.
"Poppy cultivation had become a custom in the past in Helmand," he said. "Everyone was cultivating this illicit crop, but most farmers have turned to alternative crops instead of poppies in recent years."
"People have realised that the illicit cultivation of poppies yielded nothing but destruction."
"Poppy cultivation has caused significant damage to us and to our country," Mohammad said. "By replacing it with halal alternative crops, we want to eliminate this destructive crop."
Nad-e-Ali district farmer Abdul Shokoor, 38, who is responsible for feeding a family of seven, told Salaam Times he replaced poppies with hing on his 0.4- hectare land two years ago.
He said he made the switch because poppy cultivation is haram and its profit goes to drug traffickers.
The hing he planted has started producing resin this year, he explained, but he expects that it will have a higher yield from next year onward, and he will consequently have a higher income.
"Hing is a halal plant and has a higher price than poppies do," Shokoor said, noting that hing is commanding higher prices every year and will soon outpace poppies.
Each kilogramme of hing resin currently sells for $300, he said, "which is good news for us".
"Those who grow hing will enjoy better economic outcomes and their lives will be transformed," he said. "The economic problems of farmers will be addressed if hing farming becomes more common."
Expansion of alternative crops
Following the international community's recent increase in support to farmers in Helmand, many farmers have ceased poppy cultivation and turned to alternative crops, such as dates.
Gereshk district farmer Faiz Mohammad, 53, has set up a greenhouse farm this year with financial support from the United Nations (UN).
He said he was forced to cultivate poppies in the past to provide for his family, but with the UN's support, he is now able to grow vegetables in a greenhouse.
"I have experienced relief since I stopped poppy cultivation," he said. "In the past, I had to work the whole day in the poppy fields. Farming in a greenhouse requires less work and water."
"Support from aid agencies has helped hundreds of farmers like me abandon poppy cultivation," he added.
"We did not have the economic means to build a greenhouse and grow vegetables, but aid agencies provided this opportunity to us and saved us from poppy cultivation."
With the harvest of his vegetable crops this year, Mohammad said he has an income and his economic situation has improved.
In Helmand province, poppies are gradually being replaced with hing and other crops, said Sher Mohammad Nekzad, who heads the hing unit at the Helmand Department of Agriculture, Irrigation and Livestock.
"Hing, greenhouses, fruit orchards and grains are alternatives to drugs in Helmand," he said. "Farmers have adopted these crops with the financial support of aid agencies."
"For years, farmers had been cultivating poppies, but instead of improving their economic situation, it was worsening year by year," he said.
"Farmers are tired of poppy cultivation and have turned to alternative crops that are more profitable."