HELMAND -- As part of its humanitarian assistance to Afghans, the United Nations Development Programme (UNDP) has built 82 vegetable and fruit greenhouses for farmers in Helmand.
Of those, 42 are situated in Gereshk district and 40 in Nad-e-Ali district.
Despite the cold weather, farmers have started growing produce such as cucumbers, tomatoes, eggplants, peppers and okra in these greenhouses.
All of the farmers covered under the programme are needy and could not have grown their produce without the assistance.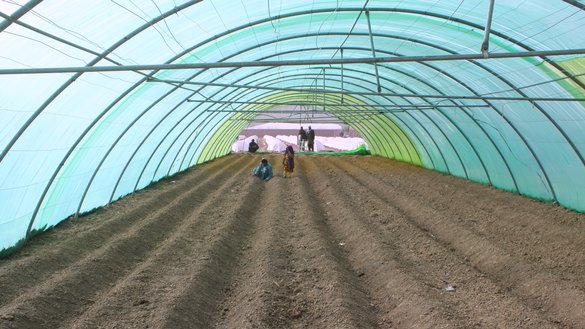 Mohammad Saber Zaheri, 42, a farmer in Nad-e-Ali district and one of the beneficiaries of this programme, was badly affected by drought in previous years and had lost his income.
"I am very happy that I own a greenhouse for the first time," he said. "This assistance by the UNDP is very effective and has brought hope to us farmers, motivating us to work harder."
"Every morning I go to the greenhouse with enthusiasm and start working," Saber added.
If it were not for the greenhouse, he would have to go to Iran for work, he said, adding that he is very happy that he does not have to emigrate and has the opportunity to work on his own land.
Supporting farmers
The establishment of greenhouses in Helmand has created work for dozens of farmers who could not otherwise farm in the winter.
Nabi Jan Afghan, 41, a farmer in Nad-e-Ali, said the greenhouse will improve his economic situation by providing good vegetable yields in all seasons of the year.
"I could not grow vegetables in the winter and fall in the past since I could not afford a greenhouse," he said. "With the greenhouse, from now on I can grow vegetables all year round and will have work."
Most farmers do not work in the winter, resulting in economic challenges, he added.
"Farmers will be saved from poverty and unemployment if they can keep farming throughout the year and have an income."
Afghan noted that he would never been able to own a greenhouse without UN support.
Bismillah, 27, another Nad-e-Ali district farmer, has cultivated fruit such as cucumbers and tomatoes in his greenhouse.
They are expected to be ready for harvest in a few months, he said.
"The price of produce increases in the winter. I will have a good income when I pick the yields of my greenhouse," he added.
"Cultivation in a greenhouse does not require a lot of work while its income is good for us, farmers."
The money earned from harvesting the produce from the greenhouse will enable Bismillah to provide for his family of eight, he said.
Year-round harvest
Establishing greenhouses will increase vegetable yields in Helmand, said Khairullah Mohammadi, 37, a farmer in Gereshk district who is a beneficiary of UNDP's assistance.
"Vegetables cannot grow in the winter in Helmand, so most of the vegetables are imported from Pakistan and Iran," he said.
"From now on, there will be no need for the import of vegetables from the neighbouring countries, as we will have vegetables from our greenhouses."
"The establishment of greenhouses will help standardise agriculture in Helmand and increase farm yields compared to the past, he added.
With agricultural growth and an increase in farm yields, the farmers' income will rise and they will be saved from poverty and hunger, Mohammadi said.
With vegetables from the greenhouses in Helmand, the residents of the province will not have to pay excessive sums for imported vegetables next winter, said Hedayatullah Mutmaen, 48, another farmer in Gereshk district for whom the UN has established a greenhouse.
"Afghanistan is an agricultural country. Agricultural growth ... will help the country reach economic self-sufficiency," he said. "As agriculture grows and develops, poverty will decrease."
"Greenhouse vegetables need less water, and droughts cannot affect them. The more greenhouses there are, the more work farmers will have, and more [consumers] will benefit from their yields," Mutmaen added.
Under the current circumstances, Afghan farmers need financial support from aid agencies and international organisations. This support will lead to Afghanistan's self-sufficiency in the long term, he said.