KUNDUZ -- Women in Balkh province are benefitting from a project to help make them self-sufficient.
Shekeba, 48, a single mother of five, lives in Hayatabad village, Nahr-e-Shahi district.
"I lost my husband in November 2019 in a bomb blast in Mazar-e-Sharif," she said on May 30. "Since then, I haven't seen a good day."
"I faced a lot of problems after I lost my husband," Shekeba said. "From laundry to cooking to house cleaning, I did everything to make a living for my children."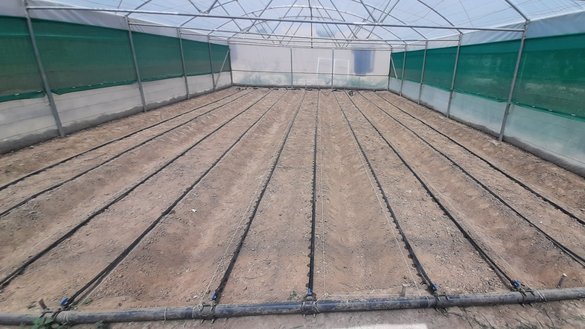 Now, however, she is part of a greenhouse project implemented by the Agency for Technical Co-operation and Development (ACTED), a French humanitarian NGO.
"Now, I am a little hopeful that by growing and selling vegetables, I will be able to make a living on my own."
ACTED, with funding from the French Foreign Ministry, built 15 greenhouses in Nahr-e-Shahi, Dehdadi and Charkent districts, according to Hasratullah Hamidi, ACTED's regional manager in Mazar-e-Sharif.
The greenhouses come with the necessary tools and vegetable seedlings for women to grow crops and support their families, he said.
"Each greenhouse is 120 sq. metres: 15 metres long and eight metres wide," said Hamidi.
"Twenty women work in each greenhouse, growing a variety of vegetables," he added. "These women have already been trained in cultivating and harvesting techniques."
The project was launched in March to help women become self-sufficient, according to Hamidi.
Each greenhouse cost 350,000 AFN ($3,900), he added.
"I am a housewife and mother of three. My husband is paralysed, and I am the breadwinner of my family," said Zulaikha Rashidi, another beneficiary of the project in Nahr-e-Shahi district.
"We are a team of 20, and we have grown cucumbers, tomatoes, eggplants, peppers, lettuce, radishes and other seasonal vegetables in our greenhouse," she said. "We will pick the first yields in a few days."
"I am very happy now that I am busy doing something as well as I can address some of my family's daily needs," she said.
Rashidi, a high school graduate, said that she is now also busy helping other women take care of their greenhouses.
The same project is also being implemented in Jawzjan, Takhar, Baghlan and Badghis provinces, according to ACTED Afghanistan.
Preventing domestic violence
While the objective of the project is to empower and improve the self-reliance of impoverished and widowed women, such programmes also have helped women escape domestic violence.
"We are happy for the opportunity we have got. Through this, we can support ourselves and our families," Khadija Alami, a 38-year-old resident of Dehdadi district, told Salaam Times.
"In most cases, domestic violence is caused by unemployment," Alami said, adding that additional income can alleviate family issues.
The imposition of restrictions and present-day pressure on women make them further isolated, depressed and subject to domestic violence, said Farida Bekzada, a resident of Kunduz city.
"Experience has shown that most domestic violence against women and depression happen inside the house," she said.
"When women work outside their homes, they are protected from domestic violence and can economically support their men too."
"Women should be given work and employment opportunities so that they grow and become empowered," Bekzada said.