HERAT -- Once jobless, dozens of women in Badghis province have returned to work with the reopening of a women's market in Qala-e-Naw, the provincial capital.
The market, which was established in 2016 but was closed for the past eight months, has 25 shops and offers work for some 80 women and girls.
It features products such as women's and children's clothes, shoes, cosmetics, and other handicrafts -- all produced by local women.
Women were thrilled to resume their businesses despite a lack of support from international organisations, said Atiba Tokhi, the director of the women's market.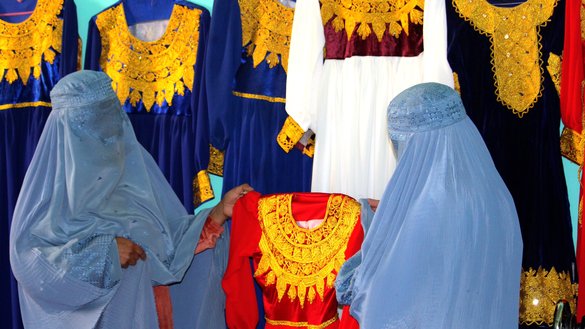 "Women feel so tired of being confined at home and jobless, and they want to return to normal life and continue to work," she said.
Zarghona Ataiee, a shopkeeper at the market, affirmed her right to work.
"It took us several years and much effort to reach this point, and now after making all those achievements, we do not want to see our efforts disappear and for us to be confined at home," she added.
"We want to stand on our feet and become economically self-sufficient," she said.
Afghanistan's economy will never grow without the active participation of women in economic and industrial sectors, she added.
Economic growth
Many of the women in the market are the sole breadwinners of their households and will now be able to fend off poverty and hunger for their families.
Aziza Niazi, a shopkeeper in the market and a mother of six children, said she faced economic hardship after her shop was closed in the preceding months.
"I am the only breadwinner in the family, and our family's survival depends on this shop," she said.
"Our market was looted by unknown people a few months ago. There were 20,000 to 30,000 AFN ($228 to $342) worth of goods in each shop, and we were left with nothing," she added.
Niazi said she restarted her business from scratch and expressed hope for it to thrive again and save her family from poverty.
Women faced serious economic challenges as a result of the closure of the market, said Nooria Afzali, another shopkeeper.
"We want to reestablish the market, be able to earn a living and contribute to the income of our family," she added.
"My two sons are jobless, and we do not have any other income. I borrowed some money from a relative to reopen my shop. I am making 400 to 500 AFN ($4.60 to $5.70) daily, and this serves our economic needs to some extent," she added.
Shopkeeper Sabira Saboor also said her only source of income is her shop.
"I have four children, and my husband is jobless. I spent all my savings over the past few months after the market was closed. But from the day I reopened my shop, I started to earn again," she said.
Saboor said if women are allowed to work, the current economic challenges among families will be reduced.
Women's role in improving economy
After months of uncertainty and fear, women returning to work continue to face challenges and restrictions.
Women and girls have the same rights as men to work and to be economically independent, said Gulsoum Khairandesh, a women's rights activist in Qala-e-Naw.
"We have experienced and capable women who have worked in various sectors, made a difference and driven changes, but they are currently forced to stay home by restrictions and challenges," she said.
"It is impossible to ignore women's contribution to the workforce in Afghanistan. They are compelled to go out of home and work to rescue their family from poverty and destitution," Khairandesh added.
Women's capabilities should not be overlooked -- they can make a difference and bring about a positive change, she said.
Most men have lost their jobs under the current circumstances. Therefore, it is essential for women to work to save their families from poverty and economic hardship, said Shirin Afzali, a civil society activist in Qala-e-Naw.
"If women are allowed to work outside the home, they can contribute to the growth of handicrafts and domestic manufacturing," she added.