HERAT -- Herat city's new Princess Market is run by and for women and girls, offering them a safe place to shop for clothing and an opportunity to earn money.
Some 35 women have opened shops selling clothing and accessories at the new city centre market, which opened November 16.
In addition to selling clothes, a number of women will be offering tailoring services in the market, said Nargis Hashemi, chairwoman of the Herat Women's Chamber of Commerce and Industry.
The market also features a restaurant for female patrons.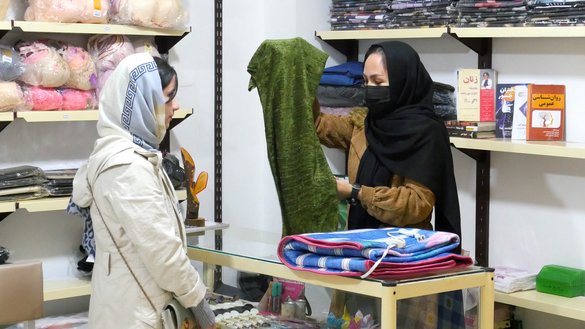 "Women may not go to public places, and that's why this market has opened," Hashemi said, describing the opening as a positive development under the current circumstances.
The support that businesswomen receive from international organisations has been crucial, she added, noting that these businesses cannot grow and thrive without it.
As many as 1,500 women and girls are involved in various business activities in Herat, Hashemi said, with some 350 women obtaining business permits and launching their own enterprises during the past five months.
Princess Market shopkeeper Shugufa Amini, 21, told Salaam Times she is happy she can work outside her home and earn a living, despite the difficult situation.
"I have become hopeful since the market opened," she said.
Nothing can prevent women from making progress if they take action and stand together, Amini added, pledging that she "will spare no efforts in being active in society and continuing my business".
Making a living
Princess Market clothing vendor Shafiqa Barakzai, a 34-year-old mother of four, told Salaam Times she hopes to improve her newly launched business so that she and her husband can support their family together.
Her husband is a shopkeeper in Herat city, she said, and has seen his income decline substantially amid the country's deepening economic crisis.
"I am so happy that I can work outside my home and earn an income in the current difficult situation," Barakzai said. "I want to expand my business activities and generate employment opportunities for other women."
"Overcoming challenges always has been part of Afghan women's life, and we continue our struggle to access to our full rights," she added.
If women stay idle at home and do not work, society will not progress or develop, said Princess Market shopkeeper Parisa Iqbal, 35.
"I am doing my best to expand my business," she said. "My objective is to become economically self-sufficient and support others. I want to prove to the wider public that women are creative and can make a difference in society."
"Women are an integrated part of the family, and their existence completes a household," she added. "Therefore, we have to earn a living. If we do not contribute to the cause, we will become a burden to society and our family."
Iqbal said women are very capable and that if they are given the opportunity, they can help their households overcome the economic challenges they are facing.
"I would love to make progress and will not let anyone sabotage and create obstacles on the way forward," said Princess Market shopkeeper Maliha Habibi, 19. "I wish all other women could work like I do."
"This situation requires women to support their families and society," she said. "I have been able to work with the support of my family. I call on other families to support their daughters so they can also achieve their wishes."
'Powerful arms' of households
Herat city resident Dr. Ateefa Barakzai, 36, who shops at the Princess Market, said the entrepreneurs who opened stalls there have inspired other women.
"These women are powerful arms for their households," the physician said. "They can overcome the very daunting economic challenges facing their families."
"When I see women work with great aspiration and determination under these circumstances, I feel very optimistic about the future," she added.
"Recent developments have overshadowed women's sense of motivation and self-confidence. They need support to open larger businesses and expand business activities in Herat city," Barakzai said.
Empowered women build society, she added, and they should help each other to overcome and solve challenges together.
Herat city resident Masouda Mowhid, 19, said she was happy that women may work in the current situation, and also that she was able to come to the market, "to a women-dedicated place with my friends and shop comfortably".
"Capable and talented women should come out and work," she said.
"There are many talented women who are confined to houses, and it would be great if they could come out, work and contribute to the development of society."