HERAT -- The carpet weaving industry is continuing to grow in Afghanistan's western region, offering women an important opportunity to earn money and support their families.
Some 500,000 people in the western region are weaving carpets, more than 70% of whom are women, according to data from the Herat Carpet Sellers Union.
Of those women, nearly 30% began carpet weaving in the past year.
Mahgul, 32, has been working in one of the carpet weaving workshops in Injil district for the past six months.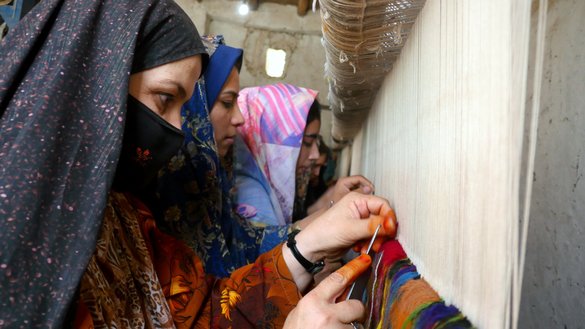 A mother of three, Mahgul said she earns 4,000 AFN ($45) monthly weaving carpets.
"My husband has a thrift store and earns 200 to 300 AFN (about $2-3) daily," she said. "Our economic problems have eased a bit since I have started working and earning money."
"I work at the carpet weaving shop from 8:00am to 4:00pm," she said. "I was not familiar with carpet weaving in the beginning, but now I can weave any kind of carpet and am very happy that I can support my husband."
Mahgul said that staying at home was very difficult for her, but her mental health and financial situation have improved since she started working outside her home.
Parigul, a 24-year-old mother of one, also said she is able to support her family with the 5,000 AFN ($57) she earns monthly from weaving carpets.
"My husband migrated to Iran five months ago to find work, but there is no work in Iran either and he wants to come back," said Parigul, who has been working in a carpet weaving shop in Injil district for the past eight months.
"I was unemployed before this job and was staying at home. Now, I have learned carpet weaving and I have an income too," she said, adding that she is happy to be able to work outside her home.
"I have been covering all the costs of the last five months with my income," she said.
Alleviating poverty
Most women weaving carpets in Herat are the sole breadwinners of their families.
Fatima Mohammadi, 15, a resident of Herat city, turned to carpet weaving and now plays a major role in the livelihood of her family.
Her father drives a rickshaw and earns less than 200 AFN ($2) daily, she said.
"We are an eight-member family and my father's income cannot cover all our family's needs," she said. "My monthly salary in the carpet weaving shop is 5,000 AFN, which is great support for my family."
"I had to learn carpet weaving since I could no longer go to school," said Mohammadi, who is in 9th grade.
"Now I know how to weave carpets and have an income. Once the schools reopen, I will attend school for half day and weave carpets for the other half to support my family."
Mohammadi added that she is happy that she can help her father support their family.
Khadija Rezae, 38, a mother of six, said her husband is unemployed, which makes her the only breadwinner for her family.
"My monthly salary is 6,000 AFN ($68) and I work from morning until evening in the carpet weaving shop," she said.
"My husband was working for the Department of Agriculture, Irrigation and Livestock under the previous government. He was let go from work and has been jobless for several months."
"We manage -- to an extent -- with the salary I get, but we have economic problems," she said. "It would have been very difficult if I did not have this job."
Industry growth, export problems
The carpet manufacturing industry in western Afghanistan has grown by 30% as more people become weavers.
Mohammad Arif Naderi, head of the Herat Carpet Sellers Union, said that 1.2 million square metres of traditional carpet was manufactured throughout the country in the first six months of the current solar year.
"Most traditional carpets are weaved by women at home," he said. "Weaving traditional carpets is time consuming. Completing a 12 square metre carpet takes more than six months."
"The main problems faced by the carpet industry in Afghanistan are a lack of exports and the high cost of raw materials," he said.
"Until last year, Afghan carpets were being exported to Europe, the United States, Canada, the Arab world and Asian countries," Naderi said.
However, the closure of air corridors and a decrease in international flights means there have been no exports.
Since Afghan carpets are no longer exported, some of them are now smuggled to Iran and Pakistan, according to Ezatullah Yousufi, a carpet seller in Herat city.
"Traditional carpets were exported via air to different countries in the past, but now since the air routes are closed, Afghan carpet is smuggled to the neighbouring countries and then exported to international markets under their name," he said.
Although the quality of hand weaved domestic carpets is very high, their prices has dropped up to 10% due to a lack of direct exports, he added.