HERAT -- The Resalat private school has opened more than 10 branches in Herat province in recent months, offering close to 1,000 female students over the age of 12 the opportunity to continue their education.
Resalat is the only school in Afghanistan's western region that provides education to female students in grades seven through 12 (ages 12 to 18).
Sixteen-year-old Maryia Yousufi, an 11th grade student at Resalat school, said the opportunity to continue her studies has given her hope for life.
Maryia said that while she believes she is closer to obtaining her personal goals, she remains "very disappointed that millions of girls across the country cannot go to school".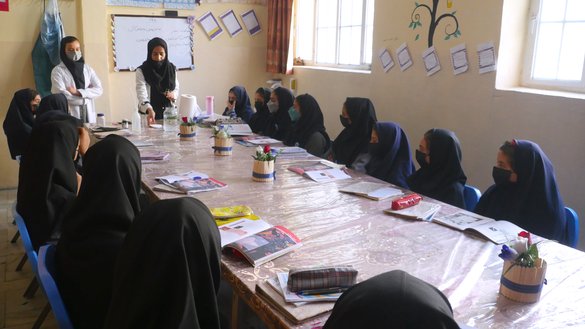 "My friends and I are delighted, however, that we can go to school and study," she said. "I wake up every morning with enthusiasm and aspiration."
Ninth grade student Marwa Shams, also 16, said she is happy that she can study alongside her friends at the school.
"I am happy that I am getting closer to my dreams and goals as I continue with my education," said Marwa, who hopes to become a physician. "I am indeed walking the right path of progress and achieving my goals."
"I felt so disappointed when the schools were closed and thought my dreams were all in vain," she said. "But when our school opened, I regained my confidence and became hopeful."
Reopening girls' schools
Students at the Resalat school called for the immediate reopening of girls' schools throughout Afghanistan.
Tenth grade student Mariam Noory, 16, said she hopes schools will open soon, noting, "Afghanistan will not prosper without educated Afghan women."
"If Afghan girls do not resume the acquisition of knowledge and education, Afghan society will be devastated," she added, noting the severe impact this will have on the country's women.
"Men cannot build society alone, and they need co-operation from women," Mariam said. "It is very important that women, as in other countries in the world, be active in all sectors in Afghanistan."
There should be no difference in educating girls and boys, said 10th grade student Salma Hamidi, 17.
"I demand the immediate opening of girls' schools so that they can study and serve our country," she said.
"Some people have a negative view of girls' education," she noted. "They believe that girls are not talented, and hence education is not necessary for them."
"Contrary to such wrong perceptions, however, girls are very capable, and educated women can contribute to the development and prosperity of our country," she said.
Each morning, Afghan girls wake up hoping that their schools will open, said seventh grade student Sayeda Faisal, 13.
"I want girls to go to school and achieve their dreams by completing their education and building a bright future for themselves," she said.
"Without access to education, girls' dreams will not materialise, and their goals will be destroyed," Sayeda added.
"In fact, many girls who have been prohibited from going to school want to become doctors, engineers, teachers, journalists, economists or professors."
"Supporting girls' education is the only path forward to help them achieve their goals," she said.
'Afghan girls should study'
"Islam has given equal rights to women and men to acquire education and knowledge," said Mawlawi Sayed Ahmad Hosseini, a religious scholar in Herat.
"Let me make it clear: women and girls have the same rights as men to study and build a future for themselves," Hosseini said.
The holy Koran "does not specify that only men should read ... all human beings are addressed without any discrimination", he said, noting that Afghan girls should study, just like women and girls in other Islamic countries.
Mawlawi Habib Rahman Zahid, a religious scholar in Herat, said women and girls should study Islam and modern sciences.
Islam highly values the pursuit of knowledge, he said, for both women and men.
"Educated women can also raise productive children and contribute to building a prosperous society," he added.