HERAT -- Most private education centres in Herat are going bankrupt after the fall of the previous government, leaving tens of thousands of students without access to education and thousands of teachers unemployed.
Of the 200 education centres in Herat, only 70 are still operational, according to the Union of Private Education Centres in Herat.
More than 50,000 students, mostly girls, were studying at these private education centres before the fall of the previous government, but now the number of students has dropped to fewer than 15,000.
After the mandatory separation of girls and boys in classes and imposition of restrictions on girls, the number of girls attending classes has dropped by more than 80%.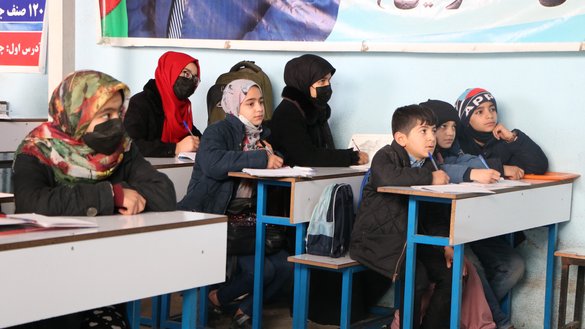 Of the 3,000 teachers previously employed by private education centres that prepare students for the university entrance examination, fewer than 1,000 still have jobs, said Mohammad Arif Ramesh, director of the union.
"The majority of our students come from other provinces who [want to] study at the public university in Herat," he said. "But since the university is closed, they have moved back to their home provinces."
All preparation classes for the Kankor (university entrance exam) have been cancelled since no one is interested in applying to universities, he said.
"More than 20,000 people took the Kankor preparation classes last year, but this year, no one is interested in taking them," Ramesh said.
Fear of attending classes
Families are afraid to send their daughters to university preparation centres after the fall of the previous government, said Nargis Sadat, a 7th grader in Herat city.
"There were 50 to 60 girls in my class, but after the recent developments, there are now only 15 girls left," she said.
"Girls' schools must reopen immediately," she said. "Today, we are children, but we want to work for the government tomorrow. Girls are important members of society and should not be sidelined."
"Girls have lost hope because of the closure of schools. They will resume their studies if the schools reopen," said Aasenat Atayee, another 7th grader in Herat city.
"Like any other country, schools in Afghanistan need to be opened so that today's children can become tomorrow's leaders," she added.
Fear of an uncertain future and hopelessness have discouraged girls from their studies, said Zakia Ahmadi, a 10th grader in Herat city,
"We were a group of 15 girls, learning English together ... but now only four of us are left in the class," she said.
"The current situation is very dangerous that can make the future of the country very dark," she said. "The education system of our country is severely damaged and can be further affected with every passing day."
There are many restrictions on girls now, Zakia said. They cannot study or move around as they once did.
Collapse of educational system
Private education centres are under great pressure following the collapse of the government in mid-August. The authorities now pressure them to teach religious topics instead of English and science.
Many centres have thus ceased operations, and those that continue to function are about to go out of business.
Mir Ahmad Atayee, who runs a private education centre in Herat city, said he has lost 60% of his students after the fall of the previous government.
Restrictions on education centres by the authorities, especially on women, have caused frustration, pushing the centres out of business.
"After the recent developments in the country, Afghan youth have lost hope, giving up on their studies," he said. "The majority of them have left the country, while those remaining are not that interested in education anymore."
"One thousand female students were studying at our centre last year, but now, fewer than 100 girls come to study," Atayee said.
Now, girls' and boys' classes must be separated and male teachers may not teach girls.
The future of the country depends on education and if the youth do not study, the future of the country will be bleak, he said.
Zemarai Mukhtar, who runs a private education centre in Herat city, said he had more than 4,500 students before the fall of the previous government, but now only half of them remain.
Most students are unable to pay their fees because of rising poverty and have several overdue payments to make, he said.
"Last year, 150 teachers were teaching at our centre, but this year, only 70 of them are left, while the others are now jobless in their homes," he added.
"Our centre will most likely be closed in a few months if the situation remains like this," Mukhtar said. "We cannot cover our expenses, including teachers' salaries, right now."