HERAT -- Facing a sharp spike in poverty and a growing economic downturn, Afghans in the western province of Herat are turning to flea markets for secondhand clothes and home appliances.
Abdul Karim Nazari, a seller at the Herat city's flea market, said the number of customers this year has increased almost threefold from previous years.
"Prices have gone up, so people come to the flea market to purchase used items. Many customers cannot afford to buy new garments, and they solve that problem by buying used clothes," he said.
"Many of my customers are poor, and they come from the villages; however, I have recently noticed that the number of city residents coming to my shop to purchase used clothes has increased," he added.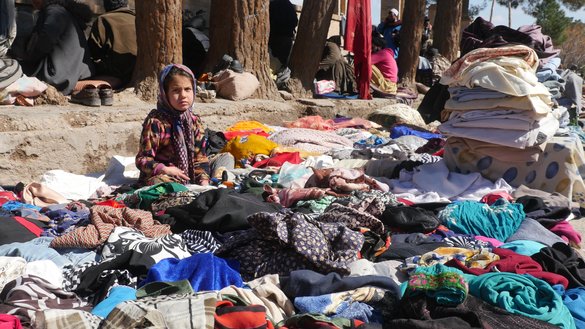 A new shirt that costs 500 AFN ($5.45) in the local bazaar costs 50 AFN ($0.54) in the flea market, Nazari said.
Because of the economic crisis, customers have started buying secondhand items because these items are very cheap, said Mohammad Nabi, a seller at the flea market in Herat city.
"Although we sell some of the clothes for only 30 AFN ($0.33), there are some who even cannot afford to pay that much," he said.
"The number of my customers has been increasing day by day. Many of those who come to buy used garments are either former government employees or teachers," he added.
Some educated customers and youth cover their faces to avoid being recognised while making a purchase, he said, adding that the economic challenges and poverty have made everyone's life miserable.
Helpless and poor
The growth in flea market customers comes amid rising unemployment and poverty in recent months.
Following the fall of the former government in August, thousands of former private and public sector employees became jobless, and many living in villages cannot even afford bread to survive.
Gul Ahmad Ferotan, a Herat resident who came to the flea market, said he wanted to buy used shoes and clothes for his wife and four children.
Ferotan said he has been unemployed for five months now.
"I used to buy new items each year, but I cannot do so this year because of my existing economic problems. I have no other option but to buy used clothes for 10 or 20 AFN ($0.11-0.22) in order to keep us warm," he said.
"My life has become difficult and challenging from the current situation and prevailing economic crisis," he added.
Shir Agha Sayedzada, who came from Herat's Chesht district to the flea market in Herat city, said he cannot afford new clothes for his family because he has not had any income for the past several months.
"There is no work and no income, and I have to buy these old and used clothes for my family. New clothes are very expensive, and I really can't afford them," he said.
"Unemployment has risen over the past few months. I used to work and earn enough for a living, but now we do not have anything [even a piece of bread] to eat," he added.
Rising prices
Meanwhile, commodity prices have multiplied.
Food prices have doubled in the past six months, according to Mohammad Nasir Sarwari, who runs a food store in Herat city.
He said he has lost 80% of his customers because of rising food prices, and he can barely pay his shop's monthly rent.
"Prior to the fall of the republic, I used to have 200 customers on a single day, but this number has now shrunk to some 20 to 25," he said.
Each customer would buy 5 to 10kg of food in the past, but now they buy only 1kg or 0.5kg, he said,
"The government has no oversight over the market, and shopkeepers sell food at any price they want. Meanwhile, those affected the most by the crisis are the poor, amid the markets' instability," he said.
"I have not worked for the past few months. When I go to the market, I notice food prices have gone so high and I cannot buy anything," said Ghulam Haidar Husainzada, a laborer in Herat city who is the sole breadwinner of his five-member family.
"Each time I go to the bazaar, I buy only a kilo or half a kilo of any kind of food just to survive the hardship. Sometimes I borrow from our neighbours to escape imminent starvation," he said.
Husainzada said he used to have a good job and earn enough to buy sufficient food and new clothes for his family.