HERAT -- Afghans are facing declining trade and rising poverty and unemployment alongside a spike in the prices of basic items.
Since the Taliban's return to power in August, food and fuel prices in Afghanistan have increased by more than 50%.
Noor Ahmad, a resident of Zaranj, the provincial capital of Nimroz, says that he cannot meet his family's needs because of rising food prices.
"I swear to God that we have not cooked meat since [the Taliban's] return one and half months ago," he said.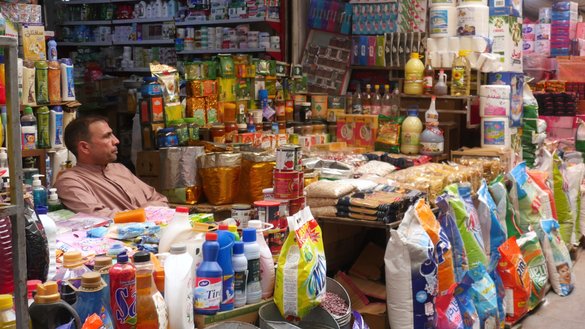 "To feed my hungry children, I will have to resort to begging."
Thousands of residents daily from Nimroz province alone have been forced to migrate to Iran because of hunger and unemployment, said Ahmad.
Mohammad Hemati, who runs a food store in Herat city, said that he has lost 75% of his customers in less than two months.
"Fewer people come for shopping because of the rising price of food, and they also buy less food than they used to," he said.
"Food prices are rising daily. We cannot buy the items we sell today at the same price tomorrow," he added.
"Food prices have increased by 40–50% over the past two months," Hemati said.
Poverty and unemployment have increased among Afghans, who are losing their purchasing power, he said.
Capital flight
The change in government in the country has had dire economic consequences, said Younus Qazizada, director of the Herat Chamber of Commerce and Industries.
With the Taliban coming to power, some businesses in Herat province simply left the country, moving their capital abroad, he said, adding that businesses and investors still do not fully trust the new system.
"The freezing of private sector assets in banks and [the Taliban's] imposition of restrictions on banking activities in the country have created serious problems for businesses," Qazizada added.
"Customs duty rates are not fixed ... and are increasing day by day," he said. "Lack of stability in customs operations has a direct impact on the price of food and fuel in the markets."
Importers have suspended the purchase of basic items from some countries because their capital is frozen in banks, said Abdul Wahid Waheedi, director of the Food Importers Union in Herat.
Importers use the little capital they have available to import food items, but those who can afford to operate at all are very few and cannot meet the needs of the market, he added.
"Food items are very scarce in the markets; therefore, the prices of these items are increasing day by day," he said.
"Many food importers are being discouraged from continuing their businesses by this difficult situation," Waheedi said.
"Many of them are thinking of fleeing the country and want to move their capital out."
Humanitarian catastrophe
The increasing poverty and hunger in Afghanistan have led to fears of a humanitarian catastrophe.
Because of increasing food prices and economic difficulties, many families are putting their children to bed hungry, said Mohammad Nader Karimi, a sociologist in Firoz Koh, the provincial capital of Ghor.
Afghan city dwellers do not have food, while villagers have resorted to eating wild greens, he added.
"People have been starving to death in the two months since the Taliban came to power," Karimi said. "Countless Afghans, especially children, will starve to death if their economic problems are not addressed."
It is the Taliban's responsibility to provide jobs and to manage the prices of basic foods in the markets, he said.
"[But] the Taliban have limited sources of revenues and cannot adequately meet the needs of the Afghan people," Karimi added. "A humanitarian catastrophe is inevitable in the country unless international aid resumes."
"In this difficult situation in which businesses are paused and Afghans do not have food to eat, the Taliban must lift restrictions on banks so that businesses can sign new contracts with different countries and resume imports," said Mohammad Ehsan Azizi, an economist in Herat city.
Ordinary Afghans are suffering the most because of the situation and they cannot tolerate much more suffering, said Azizi.
"Afghans neither have food to eat nor proper access to health services," he said. "The deaths of children and women due to starvation will be very painful."