KUNDUZ -- Rising prices and the depreciation of the afghani have left residents of Kunduz province and other parts of Afghanistan facing economic challenges.
United Nations (UN) Under-Secretary-General for Humanitarian Affairs Martin Griffiths on Sunday (December 19) warned of 23 million people facing hunger in Afghanistan.
"Families simply do not have the cash for everyday transactions, while prices for key commodities continue to rise," he said, addressing an Islamabad session of the Organisation of Islamic Co-operation (OIC) Council of Foreign Ministers.
The costs of wheat and fuel are up by about 40% (since the fall of the previous government in August) and food now accounts for more than 80% of the average household expenditure, the UN said in a statement.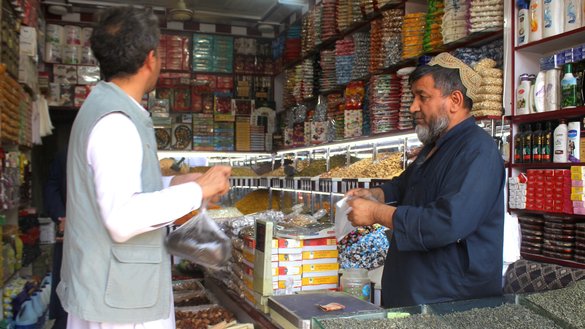 Now that the exchange rate has climbed past 100 AFN per dollar, food and fuel prices have soared, said Mirza Mohammad Naim, 53, a resident of Kunduz city.
Last week the exchange rate was 125 AFN per dollar.
"The rising prices of food items, especially of wheat flour, cooking oil and rice, as well as of other items like fuel and gas have hit the nation's poorest the hardest," he said.
The price of a bag of flour was 1,500 AFN four months ago, but it now has reached 2,800 AFN, which most customers cannot afford, according to Naim.
Jalaluddin Zakir, a food commodity merchant in Kunduz city, told Salaam Times that he has seen the fewest customers ever during the past four months.
"My business was previously flourishing, but now only a few customers are coming to purchase food. People are very concerned because there are neither jobs nor money," Zakir said.
Because of rising food prices and a lack of cash, fewer customers come to buy, and those who do buy less food than they did in the past, he said.
"The prices of food items are increasing every day," Zakir said. "Food prices have gone up 50% over the past four months."
Challenges mount
To make matters worse, a cold and harsh winter is putting many Afghans at risk of starvation and poverty.
Afghanistan's challenges are mounting every day, and many households are exhausting all options at hand to feed their children, Mohamad Kazim Sarwari, a civil society activist in Kunduz, told Salaam Times.
"A family was forced to consider selling off its six-year-old child for 60,000 AFN on December 1 in Kunduz province, but I shared this matter on my social media networks and was finally able to prevent trading of the child," he said.
Vulnerable families have been forced to feed their children just once a day, Sarwari said.
If the country's economic challenges are not addressed, an increasing number of Afghans, especially children, will starve to death, Hazrat Ali Mosawer, a civil society activist in Kunduz, told Salaam Times.
"Afghans have suffered immensely, and they cannot afford more desolation," he said.
The international community must support the Afghan people and address the looming humanitarian crisis, he added.
By the middle of next year, universal poverty -- reaching 97% of the population -- could be "the next grim milestone", warned Griffiths.
"Within a year, 30% of Afghanistan's gross domestic product could be lost altogether, while male unemployment may double to 29%," he added.