KUNDUZ -- Kunduz residents are increasingly selling their household goods and furniture to feed their families.
Afghans across the country have faced rampant poverty and unemployment since the fall of the previous government four months ago.
Residents are bringing their home appliances, televisions, refrigerators, air conditioners, cabinets, beds, cookware and so on to the flea market in Kunduz city, Mohammad Saber Saberi, a resident of Kunduz city, told Salaam Times on December 5.
"I can't believe that I am selling my household items," said Saberi, who worked for the previous government. "I bought these items with a lot of hopes and dreamt of a good life, but now I have to sell them."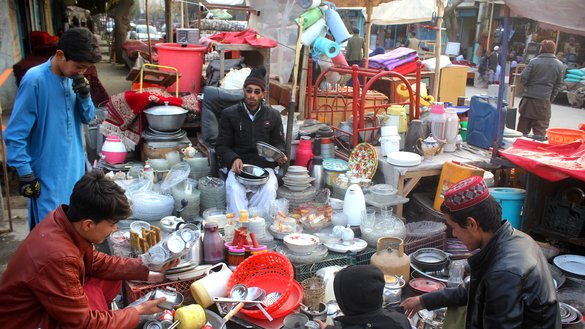 He said that he has been jobless for the last four months and does not even have enough money to buy necessities.
Esmatullah Rafiyee, another Kunduz city resident, was at a thrift store to sell his TV so that he could buy food for his family.
"We have nothing to eat at home. My children are hungry; I have come to sell this TV and buy food for them," he told Salaam Times.
"What can I do? We have no other choice."
Shafiqa Akbari, who also used to work for the previous government, told Salaam Times that she must sell her household items to feed her children.
"I don't know what will happen to us," said Akbari, a widowed mother of six children.
"I came today to sell my household items and buy food with that money, but what will happen if this situation continues?"
Regular shopkeepers in the Kunduz flea market have noticed an increase in the sale of household items, some of which the owners sell at low prices out of desperation.
These days, many families come to sell their household items, but sales are very low, said Ghulam Sakhi, 38, who operates a thrift store in Kunduz city.
Residents "bring all their household times to sell, but sales are low since buyers don't have a lot of cash and can't buy things at a suitable price", he said.
Items that cost 20,000 AFN ($170) in the market are sold for 5,000 AFN here, according to Mohammad Amin, 44, who also runs a thrift shop.
Some locals "sell necessary household items to buy food", he said. "In order to escape starvation, they sell their household items for even less than half-price."
Fleeing youth
Some of those selling their possessions are planning to leave Afghanistan.
After suffering poverty, war, unemployment, displacement, deprivation and death, such Afghans now want to leave their country, said Mohammad Fariq Shakori, a civil society activist in Kunduz city.
"We see young Afghans every day here selling their household items at half price in the thrift market and seeking to go to Iran and Pakistan illegally," he said.
Some of the young Afghans who have left the country have bachelor's and master's degrees, while others were university students, Abdul Hakim Zubaidi, a lecturer at Kunduz University, told Salaam Times.
"Unfortunately, some of these young Afghans lose their lives along the way, while some of them are arrested by the Iranian forces and are sent back to Afghanistan after being tortured," he said.
Neighbouring countries should not abuse Afghans and should not torture them, he added.
"Our demand [of the government] has always been to provide jobs and employment for our youth so that Afghans do not have to leave the country," he said.