KUNDUZ -- Financial constraints, raw material shortages and political uncertainty, among other factors, have forced about half of the factories in Kunduz province to cease operating since the fall of the previous Afghan government in August.
As many as 20 big and small factories were operating in the province before August, but that number has now dropped to 10, said Masoud Wahdat, a spokesperson for the Kunduz Chamber of Commerce and Investment.
The shuttered factories produced paper napkins, plastic dinnerware, toilet paper, flour, rice, cotton, marble, licorice, dairy, chemical fertiliser and soap, he said.
Among the reasons, Wahdat pointed to a variety of factors, including the lack of round-the-clock electricity, raw material shortages, price hikes, market decline, the inability to pay salaries, disrupted banking and political uncertainty.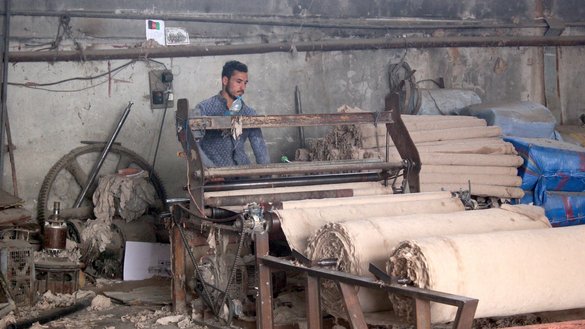 Hundreds have lost their jobs as some businesses closed, and others lost their jobs as well when factories reduced staff in struggling to stay open, he said.
Bashir Ahmad Saddiqi, the CEO of a toilet paper factory in Kunduz, told Salaam Times that his factory is on the verge of bankruptcy despite having operated in the province for the past 10 years.
"We were selling our products across Afghanistan in all 34 provinces. However because of various problems, the average production level and the number of workers have fallen significantly," he said.
"We will probably close down if the situation does not improve in the coming months."
The factory now employs only 10 workers -- down from 50 -- as a result of the collapse of the Afghan economy and deceased investment and production, he said.
Economic disruption
The factories that have remained open may be forced to suspend operations if they do not receive support, say economists and business owners.
The establishment of factories and their production are the main drivers of economic growth in any country, said Balkh province economist Ghulam Sayed Aseer.
"If they are not supported by their governments, they will not be able to continue their operations," he told Salaam Times.
"Thousands of businesses have opened across Afghanistan, particularly in northern provinces, over the past 20 years; however, most of these factories and manufacturers are facing imminent bankruptcy," Aseer said.
The economic crisis has affected the owners of manufacturing companies because the purchase of raw materials depends on the banking sector, he noted.
"The lack of remittances to buy raw materials is a daunting challenge facing the industry," he added.
If factories remain closed in the coming months, the number of unemployed Afghans will increase, said Allahuddin Malikzada, CEO of a cotton processing factory in Kunduz.
"Between 10 and 500 workers used to work in each factory in Kunduz; however, now that these factories are struggling with economic constraints, they are forced to downsize their staff," he said.
Local businesses must receive support so they can afford to retain their workers on the payroll, he added.
Unemployment
The closure of the factories in Kunduz means many are now facing economic hardship.
Enayatullah, 44, said he worked at a cotton processing and packaging factory in Kunduz for three years.
He became unemployed two months ago.
"I used to earn 10,000 AFN [$104] a month and was able to feed my seven-member family. Now I cannot provide even a single meal for my children," he told Salaam Times.
Enayatullah said that he has attempted to find day labourer jobs every day since he became unemployed but has been unable to obtain a full day's work even after waiting for hours.
As many as 100 of his fellow workers have lost their own jobs, and they are living in uncertainty and despair as well, he added.
Mohamad Ali Ahmadi, 39, a former worker at a disposable utensil factory in Kunduz, told Salaam Times that he lost his job when his factory shut down, and he is now seeking day labour to make ends meet.
"I may find a job for a day or two in a week, but I may not be able to find work on other days. I have to earn money to bring a loaf of bread to feed my family," he said.
Poverty has forced him to consider selling his three-year-old child, and his children have not eaten proper food for months now, he said.