KUNDUZ -- The United Nations Development Programme (UNDP) is working to provide short-term employment for 1,000 residents of Kunduz province amid rising poverty and unemployment in Afghanistan.
The project, which hires locals to clean streets and pick up trash, is set to be implemented in four phases in Kunduz city, according to Mohammad Farooq, director of the Local Governance department at Kunduz municipality.
The first phase of the programme started on November 17 and has created 250 jobs, he said. It is set to run for 40 days in eight districts of Kunduz city.
Residents employed as part of project receive 500 AFN ($5.30) for eight hours of work a day, he said.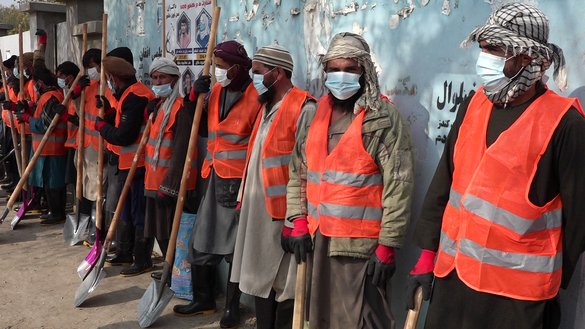 The objectives of the project are to create employment, reduce poverty, ensure food security, clean Kunduz city and its roads and ditches, and collect garbage, he said.
The stench of trash was overwhelming on public roads and in ditches in the city, and the refuse was spreading various diseases, Farooq said, adding that implementing such projects "changes the outlook of the city".
With public services halted in much of the country, trash and litter have become a major problem.
Trash ends up on roads and ditches and blocks them, causing water to flow into stores and public places during the winter, said Sediqullah Maihanpour, a resident of Kunduz city.
"Every year in winter, when water from snow and rain flows to ditches, it leaks into private houses and shops," he said.
"Therefore, we urge all residents of the city to dump the garbage in trash cans [to prevent the] clogging of ditches."
Poverty, unemployment
The income provided by the project is critical to those employed by it.
A number of Kunduz residents taking part in the project said they lost their jobs after the fall of the previous government and that the project will help them provide food for their families.
Abdul Shakur Mohammadi, 38, who works for the project, told Salaam Times that he lost his job as a driver after the past government fell.
"The majority of young Kunduz residents lost their jobs after the change of the government," he said.
The project enables participants to feed their families, he said.
The project enables the 250 workers taking part to return home every day with a smile on their face, said Rahimullah Aqtash, 38, another participant.
"Some among us have family members who can afford only one meal a day," he said.
"I know people who have waited for work in Kunduz city centre from dawn to dusk but went home empty-handed."
The recent developments in the country have badly affected the living conditions of the majority of families. Many families are living in poverty, Aqtash said.
Preventing brain drain
Implementing such projects will help prevent young Afghans from leaving the country, Hafizullah Rasouli, a consultant with Kunduz municipality, told Salaam Times.
The impetus for the majority of young Afghans who fled abroad in the past three months was unemployment and poverty, he said, adding that many are still looking to leave.
"If the international community and donor countries implement such employment creation projects, our youth will not leave their country."
Poverty and unemployment in the country force young Afghans to take dangerous and illegal journeys to foreign countries in search of work, and some of them perish along the way, Rasouli said.
Jora Qol, 49, who is taking part in the UNDP project, said that poverty and hunger forced him to send his two sons to work in Iran in October.
"Both of my sons had good businesses under the previous government. One was a mechanic, and the other was a tailor. When the government changed, more Afghans lost their jobs, and I was forced to send my sons to Iran," he said.
He later learned that Iranian border patrol forces arrested and mistreated his sons, he said.
He asked them to return to Kunduz.
All young Afghans who are being insulted or humiliated by neighbouring countries' border forces would return to Afghanistan if factories open in the country, especially in Kunduz province, he said.