KUNDUZ -- Kunduz residents are facing challenges from a result of a lack of government services as well as from a spike in crime rates since the Taliban took over Afghanistan in August.
With the majority of former civil servants now unemployed, locals have been unable to access courts and public offices that issue passports and national identity cards (tazkiras).
If the Taliban would rehire former government employees, "all public offices would be open, and social dissatisfaction would also decrease", said Mohammad Tahir Naqshbandi, a civil society activist in Kunduz province.
"There are about 35 government offices in Kunduz province, but only a limited number of them are operational ... the rest are closed for lack of staff and unclear Taliban policies," he said.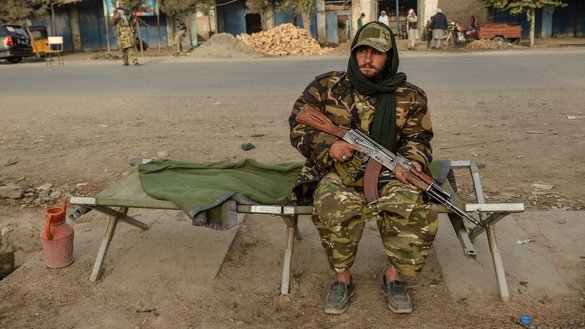 Residents will face more challenges if certain offices are not staffed, such as those managing electricity, water, tazkiras, passports, traffic and education, he said.
Ahmad Farid Tamim, a former civil servant in Kunduz, said he has been unemployed for the past three months.
"I have been a public servant for 14 years, but I lost my job when the Taliban seized power," he said.
The majority of the experienced employees of the former government have been laid off, and the Taliban are trying to appoint their own loyalists to government posts, he said.
Ignoring former government officials and employees not only challenges the administrative procedure of government institutions, but it also hinders delivering public services, Tamim said.
Mounting challenges
Hundreds are struggling every day to get passports, but because of the negligence of the current government, lack of professional workers and suspension of passport services, applicants have been stranded outside relevant government offices, said Mohammad Ismail, a resident of Kunduz.
"I had deposited passport fees to the bank before the recent political developments," he said. "However, the provincial passport office has remained closed and cannot process my application or issue the passport."
Neighbouring countries have closed their borders to Afghans, he said, so they may no longer travel overseas via border crossings.
Salima Sofizada said that she and her family had applied for e-tazkiras before the fall of Kunduz city and were supposed to receive them within a week.
Kunduz city fell to the Taliban August 8.
"After Kabul was captured [on August 15], my father went there to collect our tazkiras, but officials told him that they had already printed and mailed out our tazkiras," Sofizada said.
But when her father went to the post office in Kunduz, he discovered that the office was closed, she said.
Rising crime rates
The inability to access public records and identification documents is not the only challenge, facing residents. The closure of the prosecutor's office, courts and other offices has led to an increase in crime rates across the province, they say.
The number of house robberies, targeted killings and kidnappings in Kunduz province has increased in the past two months, said Shukrullah Rasa, a resident of Kunduz city's second district.
"On October 10, a house was robbed in Kunduz city's Nawabad locality," he said. "Armed thieves took everything, including household items and valuables, and the criminals are still on the loose."
On September 24, several unidentified individuals attacked and murdered a former government employee in front of his house in Kunduz city's Bandar-e-Khanabad locality, Rasa said, adding that the assailants fled.
During the fall of Kunduz, the Taliban released dangerous criminals and terrorists from the Kunduz prison and presumably most of them are now part of the Taliban government, said Abdul Latif Mirzad, a resident of Kunduz.
The Taliban have no governance experience, and they are panicking over how to conduct government affairs, he said.
"When the Taliban say they have arrested criminals, it is not clear how they are tried, because the prosecutor's office and the court are closed," he said.
"Afghans are concerned about the conditions of those being arrested and detained, questioning how they will be held and how their documents are processed," Mirzad said. "If this situation continues, the crime rate will inevitably rise."