KUNDUZ -- The United Nations Development Programme (UNDP) is providing temporary employment opportunities for about 600 women to clean the streets of Mazar-e-Sharif, capital of Balkh province.
The project was launched in 12 districts of Mazar-e-Sharif on December 14, said Mohmmad Rafi Amiri, head of the UNDP in Balkh.
About 50 women have been hired in each district to clean the streets for one month, after which the UNDP plans to expand the project.
The women street cleaners are paid 500 AFN ($4.80) per day, he said.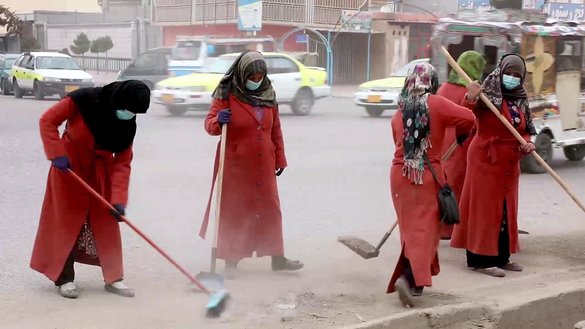 "The project aims to support destitute women so that on one hand they earn money and on the other find an enabling job opportunity," Amiri said.
The UNDP has recruited poor women in need of immediate support to participate in the project, he said. The hope is that their participation will enable them to improve the livelihoods of their households.
Mohammad Arif Yaqoubi, a civil society activist in Balkh province, praised the creation of job opportunities for women who have suffered immensely after the fall of the previous government.
"Many women who used to work either in the previous government or the private sector have been unemployed for four months and have lost their incomes," he said. "Now they have to choose hard labour."
Escaping poverty and hunger
Welcoming the launch of the project, several women said they were facing major economic challenges and now that the project provides them with an income, they feel a sense of relief.
Sharifa, 47, said she was living in a rented house in Mazar-e-Sharif along with her mother and five children.
"My husband was martyred in a land mine explosion in May 2017," she said. "My oldest son is just 10, and I have to work to earn a living."
Sharifa said she has confronted many challenges since her husband's death and still struggled to feed her children.
"I am sweeping streets from dawn to evening, collecting the garbage and putting it in trash cans," she said. "I am very grateful that I can earn a living and feed my children."
Zarmina, 36, a resident of Gozar-e-Naw in Mazar-e-Sharif, said she uses her daily income of 500 AFN to purchase food for her family.
"I used to do laundry, cook or serve people and was able to earn just a few afghanis," she said. "However, if this project continues to run, it will be of great help to the poor like myself."
Zarmina, whose husband is disabled, said they have been facing extreme poverty over the past four months and that the cold winter has multiplied their hardships.
"We did not have anything to eat nor any money to buy food," she said. "Now that I have an income, I can bring food for my children and family."
Fighting restrictions
After the fall of the previous government, hundreds of women in Balkh province lost their jobs and the living conditions of women and their families have significantly deteriorated.
Masooma Kohistani, a former employee of the Balkh Provincial Women's Department, said working women have suffered greatly as a result of the political changes and with the onset of winter they are now facing severe economic challenges.
"I was working in a government office like many other fellow women, and now that I am jobless, I have decided to work under the [UNDP] project so that I could save my children from starvation," she said.
Women have worked in government offices with pride and dignity over the past two decades, and if they are allowed to continue working, they will be able to improve the provision of services, she said.
"Preventing women from working in government offices will adversely impact our people and country," she said.
"I would prefer to work and be able to earn a living for my family," said Khadeeja Hussaini, who previously worked as a cleaner at the Balkh Provincial Women's Department.
"I was very concerned because I became jobless, but now that I have a job, I am very happy," she said.
Hussaini, a mother of eight, said her husband was also jobless.
"Jobs must become available for both men and women because it is really difficult to survive without an income," she said. "One has to pay for rent and electricity, and to buy food and clothing, all of which is almost impossible without an income."