HERAT -- Rising unemployment and soaring food prices compounded by the cold weather are exhausting the hopes of families living in Herat province.
Many say they are on the brink of starvation, unable to pay for food, and only able to eat one meagre meal per day.
With tears in her eyes, Zahra, 45, a resident of Zindajan district, said that most nights she and her four children go to bed with an empty stomach.
"I fell ill twice in the past month but didn't have money to see a doctor. I had to stay home and bear the pain of my illness and my children's hunger alone," she said, adding that her husband died five years ago.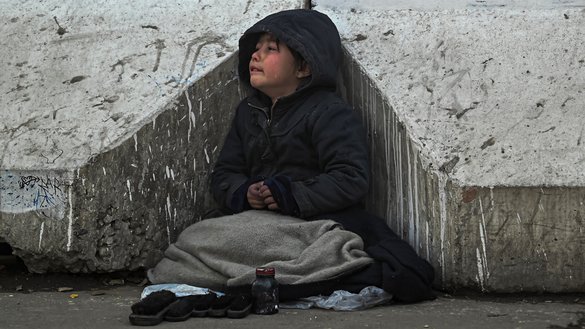 "We have nothing to eat," she said. "I was working as a cleaner in a government building in Zindajan before the fall of the previous government, but I lost my job and I have no other income."
Zahra said she has gone to various agencies seeking assistance, but none has helped her.
In Injil district, most of the residents have no food to eat as they cannot afford to buy flour, rice and oil, said Abdul Aziz, 70, the breadwinner of an eight-member family.
"The level of poverty in rural areas is higher because residents are unemployed with no source of income," he said.
"People are at risk of starving to death if assistance is not provided."
Aziz said the previous government used to assist him and his relatives by providing seeds and fertilisers to boost agricultural productivity.
But now, there is no assistance, he said.
"My wife is ill at home, and I don't have money to take her to the doctor," he added.
No work, no food
Zainab Firuzi, a resident of Herat city, said she used to work as a cleaner for the Directorate of Women's Affairs in Herat province and received a monthly salary of 5,000 AFN ($48).
She lost her job after the fall of the previous government and now faces severe economic hardship.
"I have to feed six people, but we have nothing to eat," she said. "When I see my neighbours, they are in an even worse situation than I am. None of us have anything to feed ourselves."
"There are no jobs for men under the current government, while employment for women amounts to nothing," she added.
Last year, under the previous government, more than 27% of civil servants were women. Now, they have been told to stay home until further notice.
Abdul Basir, a day labourer from Adraskan district, said he has not been able to find any work for the past five months, which has made conditions very difficult for him and his family.
"Under the previous government, I used to find work and earn 300 AFN [$2.90] daily, but now there is no work and no food... the situation is very tough," he said. "No one is willing to help us even if we beg for it."
It is good that there is still a little bit of foreign aid coming, he said, adding that without it, most Afghans will not have even dry bread to eat.
Rangin, 48, moved to Herat three months ago from Bala Murghab district, Badghis, where he used to farm the land.
He is now living in a camp for internally displaced persons along with three members of his family.
Rangin said he was forced to leave his village because of drought and extreme poverty, but life in Herat is not much easier.
"Badghis is severely affected by drought, and I have no source of income," he said. "I had no choice but to move to Herat in the hope that the government or aid agencies will help me."
"I go to local government agencies every day, seeking help, but no one is assisting me," Rangin said.
'No hope for survival'
The deepening economic crisis and rising poverty have made the future uncertain, creating a great deal of anxiety and frustration for millions of Afghans.
Construction worker Nizamuddin Hussaini, 45, said he has not worked for the past four months.
He said he has borrowed 20,000 AFN ($192) from his relatives to save his family from starvation, but going forward, no one is willing to lend him money.
"I come to the city every morning at six o'clock, hoping to get work, but I return home empty-handed and hungry at the end of the day," Hussaini said. "I cannot look my wife and children in the eyes since I have no income."
"I had never imagined myself in such a situation," he said. "There is neither an escape route nor hope for survival in Afghanistan."
Hussaini said he has lost hope in life and wishes for death.
Besides hunger and economic challenges, the loss of educational opportunity has left many young Afghans disappointed and sad.
Tawab Qaderi, a junior computer science student at Herat University, said he has lost hope for his future following the closure of the university after the fall of the previous government.
"I wanted to play an active role in building a progressive Afghanistan after my graduation, but the closure of the university destroyed all my dreams," he said.
Many young Afghans who had high hopes and aspirations were forced to flee the country because of unemployment and uncertainty, just to survive, he said.
"A generation has been destroyed in the past four months," Qaderi said. "It will take 100 years for things to return to the state they were."