HERAT -- The efforts of educated Afghan women in the Herat Department of Urban Development and Land have brought positive changes in the operations of the agency.
Almost 50% of the department's staff is comprised of young women who have graduated from Afghan universities, and some have been educated abroad.
With their knowledge, these women have been able to implement a modern land-management system in Herat that has helped prevent strongmen from seizing public lands.
Educated young women lead important sections of the department, said Haris Akhtarzada, director of the agency.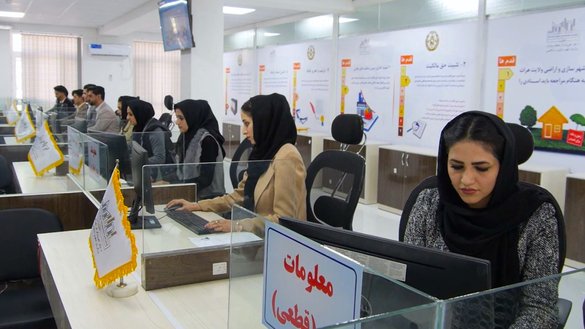 "Among our professional staff, 38 are women who hold bachelor's and master's degrees," he said. "They make an important contribution to modernising the land-management system and [protecting] public lands."
"Women who serve at government institutions are role models for integrity and hard work," he added. "The performance of our [female] colleagues at the Department of Urban Development and Land has been very effective in establishing systems and providing services."
In the past six months, the department has prevented 10,000 hectares of land throughout Herat from falling into the hands of land grabbers, whose names have been reported to law enforcement and legal agencies, said Roya Sharifi, a manager of land management at the department.
"We have rolled out new land-management systems with the help of our female colleagues, and the new systems have allowed us to record all the public lands in the city and districts in our database," she added. "No one can [now] steal a single piece of land."
Transformation in land-management systems
Women have played a key role in developing the province's land-management systems.
Suhaila Ghafoori, an engineer and manager of the Land Bank at the Herat Department of Urban Development and Land, helped roll out the new database on public lands in Herat.
"I studied construction engineering at Herat University and obtained a master's degree in Geographic Information System (GIS) from [a university] in Thailand, and I am adept in new skills of recording public properties and lands," she said.
"Our goal is to create a system for collecting and storing land information in Herat Province," Ghafoori said, adding that the system would help prevent land grabs.
Women's service is just as effective as that of men in government institutions, said Sima Ghausi, a civil servant at the Herat Department of Urban Development and Land.
"We women have received an education, and we want to serve our country and people," she added. "We are equipped with new training that can help us contribute to building a new Afghanistan."
These educated young women want their achievements to be preserved in peace talks, and they demand an active role for women in civil service if the Taliban become part of the government, according to Ghausi.
"The Taliban have left a shameful history in Afghanistan, and they have always created obstacles to women's work and have been the enemy of their growth and education," she said. "But that time has passed now, and no one can prevent women from growth."
If the Taliban make peace and become part of the government, they will no longer be able to restrict women's work in civil service and [broader] society, she added.
Women in civil service
The government of Afghanistan is committed to bringing women to the civil service, say local authorities in Herat Province.
Women's presence at government institutions in Herat has increased severalfold compared with a few years back, said Munesa Hasanzada, the deputy governor of Herat.
"Currently, 38% of civil servants in Herat Province are women," she said. "There are a considerable number of women serving in leadership positions at government institutions, and a few key government agencies are led by women."
Women in government have shown that they have great capabilities, and they are able to outpace men in serving their people and country, added Hasanzada.
"Women lead government institutions such as the Department of Treasury, the Nuclear Energy Agency, the Department of Economy and Government Printing Press [in Herat Province]," she said. "In addition, a number of deputy director positions at several key government institutions are held by women."
Women work with integrity and enthusiasm in government institutions, where they serve the public and play an important role, said Jahantab Taheri, a member of the Herat provincial council.
Educated young women working in any government or private institution have had great achievements as they have the necessary qualifications and management skills, she added.
"Female professionals should be given more opportunities to serve at government institutions," said Taheri. "If women are given more managerial and decision-making roles, they will be able to bring a change in governance and fight against corruption."
The country has many educated and capable women who are able to bring important changes in the government and society, she said.