HERAT -- Susan Ehsan Behboodzadah's determination is serving her and residents of Injil District in Herat Province well.
Behboodzadah, whom the Independent Directorate of Local Governance appointed about six months ago, is the first female mayor serving in a district of Afghanistan.
There are 550 villages in Injil District, all which receive municipality services under the leadership of Behboodzadah. She travels to villages daily to oversee and evaluate municipal services.
Aided by the leadership of Behboodzadah, Injil District collected revenue of more than 30 million AFN ($338,000) in fiscal year 1398 (December 2018 to December 2019), and the district has been able to spend all of the funds on various projects, said local authorities in Herat.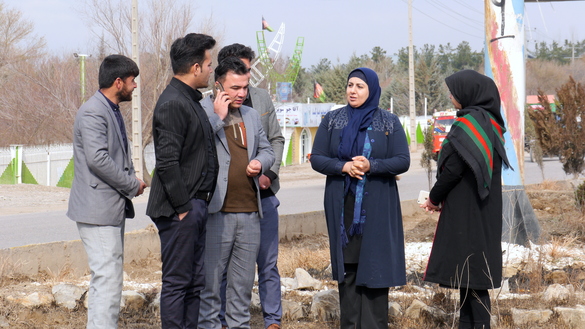 It can be challenging for women to work in traditional Afghan society, and Behboodzadah said she faced cultural limitations from the very beginning when she started in her role as mayor.
"I began my first day of work amid limitations and opposition," she said. "Most of the influential people and elders in Injil District were not in favour of my serving in the district, and they didn't allow me to work here. But I stood against these obstacles, and I was eventually able to prove to them that Afghan women can work just like men in high government positions."
"Now, the same people who were not happy with my appointment as a woman stand with me and help me in delivering municipal services," said Behboodzadah.
"I was able to convince them that women are able to work in civil service and that they can contribute to building Afghanistan."
Led by determination
"If I hadn't had such strong intentions and hadn't been determined to work outside my home, I would now be at home living in oppression like thousands of other women," Behboodzadah added.
Now women have opportunities to work outside their homes and in civil service, and that the government supports women and respects their capabilities, she said.
Since women make up half of Afghan society, they have much to contribute to the prosperity and development of the country, she noted.
Behboodzadah also is calling for women to boost their presence at different levels within the government and to assume high government positions such as minister and governor.
"I believe that women can work better than men in organisations that are responsible for sanitation, greenery and urban development," she said. "If all the municipalities of Afghanistan were managed by women, air pollution would drop, and cities would get a new look."
Other women have preceded Behboodzadah in mayoral posts at different levels.
In 2009, the Afghan government appointed Uzra Jafari as the first mayor of Nili, Daikundi Province, which was followed by appointments of other women in similar positions.
President Ashraf Ghani appointed Zarifa Ghafari as mayor of Maidan Shahr, Maidan Wardak Province, in 2018.
Ghafari lamented to the media at the time that strongmen in the city tried to prevent her from working in her new role. After a determined five-month struggle, she finally was able to occupy her position.
Women have been governors too -- of Bamiyan (2005-2013) and Daikundi (2015-2017) provinces.
Government efforts
Herat Province is leading the way when it comes to women's involvement in civil service.
The province has more women serving in local government than does any other province, with women making up 34% of all civil servants in Herat, said Herat Governor Abdul Qayum Rahimi.
Women in the province hold such positions as deputy governor for social affairs, director of economy, commissioner of revenue and director of the government printing press and are the deputy director or director of a number of other government agencies.
"There are talented women in Herat, and we are trying to increase the number of women in civil service as well as in decision-making positions," said Rahimi. "The Afghan government continues to support women."
In recent years, women have seen considerable achievements and growth in the province and have played an active role in the private sector, said Anisa Sarwari, director of the Herat Department of Women's Affairs.
"There are many educated and experienced women in Herat Province who are capable of managing key government institutions," she said. "The government has always tried to benefit from the capabilities of women and has provided support to them."
"Efforts are under way to recruit women in more government agencies in Herat Province," added Sarwari. "Our goal is that women take responsibility for managing key and decision-making government agencies."
"We don't want just a symbolic presence of women in civil service, but we'd like to see women take decisions on important matters," she said.
Empowering women
Since the Taliban regime was toppled in 2001, women have had the opportunity to work outside their homes, take part in social activities and participate in civil service. They also have been able to boost their skills by attending schools and universities.
Those educational opportunities enabled women to serve as directors, managers and leaders of key government institutions, said Mariam Jami al-Ahmadi, a women's rights activist in Herat Province.
Now, women are able to comfortably work as district governor, mayor and other positions in districts, she added.
"Corruption has dropped in all those government agencies where women work," added al-Ahmadi. "[Women] have been able to fight the phenomenon [of corruption]. We haven't seen a woman serving in a government agency ever prosecuted for corruption."
"Women have been fighting and advocating for achieving their rights for more than one and a half decades, accomplishing a prominent place for them in every field," she said, referring to the social limitations on women. "Thanks to these struggles, women have reached a great position, and the government also lends support to them."