HERAT -- Despite decades of obstacles, including societal restrictions and Taliban oppression, Afghan women are raising their voices and fighting for their rights.
Raising awareness through effective campaigns run by the Afghan government and international partners has been key to achieving this progress, women's rights activists say.
Afghan women showed their strength and determination during the 16 Days of Activism against Gender-Based Violence.
The international campaign kicks off each year on November 25, the International Day for the Elimination of Violence against Women, and runs until December 10, Human Rights Day.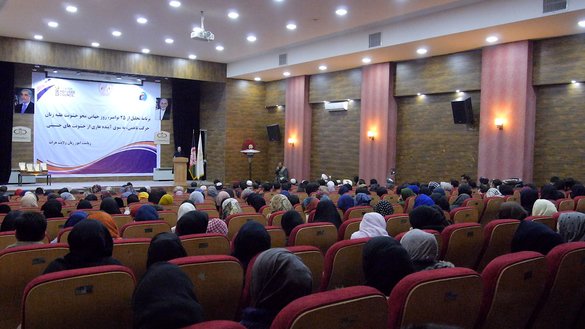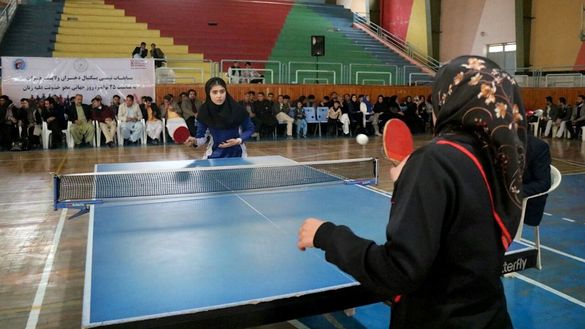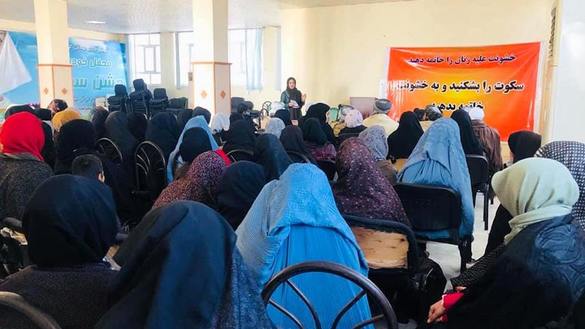 During the campaign, women in the western provinces demonstrated their capabilities through various activities that included awareness raising programmes, handicraft exhibitions, education of families about women's rights and identification of root causes of violence against women.
The awareness campaigns were successful in educating women and their families, said Anisa Sarwari, director of the Herat Department of Women's Affairs.
As a result, more women are saying "no" to violence and are reporting their complaints to law enforcement agencies, she said.
"This is an achievement, when a larger number of women have registered their complaints about violence with the relevant institutions," Sarwari said. "This shows that women's awareness has increased, and they are now able to defend their rights."
Compared to last year, reported incidents of violence against women in Badghis Province have dropped by 50%, said Rahela Naderi, director of the Badghis Department of Women's Affairs.
The main reasons for the reduction in violence against women is increased awareness among families about women's rights and women's access to government institutions where they can report incidents of violence, she said.
"During the 16 Days of Activism against Gender-Based Violence, many programmes including awareness raising, speaking with the media, exhibits, educating families on women's rights, and identifying causes of women's problems were held in Badghis Province," Naderi said. "These programmes have proved valuable for improving women's lives in Badghis Province."
"Women in Badghis Province have been successful in fighting harmful traditions, and they have achieved a better place in society," she said. "Despite all the problems and challenges women face, they have improved their presence in society as they work at public and private organisations."
Women still face brutal oppression, however, in certain villages and districts under the Taliban's control, Naderi said.
"The Taliban don't respect anyone, especially women," she said.
Punishing perpetrators of gender-based violence
Punishing perpetrators of gender-based violence deters ill treatment of women, said Sakina Hussaini, a member of the Herat Provincial Council.
"The [provincial] government's special prosecution unit to fight violence against women has been very effective as it has been able to reduce incidents of violence," she said.
Mary Maihanyar, head of the special prosecution unit, said that 280 cases of gender-based violence were registered last year with the Herat prosecutor's office.
The office investigated all the cases and the perpetrators received strict punishment, she said.
"The special prosecution unit ... has provided the opportunity for women to come to the office and raise their problems with prosecutors," Maihanyar said. "We reassure all women that we won't allow their rights to be violated."
"Cases of violence proven with evidence have been referred to the court of law," she added. "The perpetrators of violence have been punished based on the court decisions. Based on women's legal rights, we closed certain cases because the women reached compromises."
In Ghor Province, law enforcement investigated nine cases of violence against women during the past year, said Halima Parastesh, director of the Ghor Department of Women's Affairs.
"Police have arrested nine perpetrators of these incidents and put them in jail based on the court's decision," she said, adding that most of the perpetrators were powerful men.
"Based on the data, cases of violence have declined by 50% in Ghor compared to three years ago," she said.
"Women have seen great achievements in education and social liberties," Parastesh said. "Women work alongside men in the civil service, which wasn't a possibility a few years ago."
A bright future for Afghan women
The improvement in women's rights and their participation in civic activities in Herat Province make residents hopeful, Hussaini said.
"Despite the limitations, women have been able to engage themselves in social, political and economic activities," she said.
"Women's growth in education is amazing," she said. "There are more women and girls than men at schools and universities, and this shows that Afghan women will have a very bright future."
"Afghan women are not those of 20 years ago," Hussaini said. "Women raise their voice if they see even the smallest violence and mistreatment and defend their rights. We have successful women in law enforcement agencies who bravely defend women's rights."
Several projects to build women's capacity have been under way in Herat city and other districts, said Sarwari of the Herat Department of Women's Affairs.
Twenty-five projects were implemented in the past year to build women's capacity in Herat Province, she said. They included programmes for raising awareness, capacity building, skill development, job creation and empowering of women's handicraft businesses.
"We try to improve women's skills in districts and remote villages so that they can earn an income for their families," she said.