HERAT -- Afghan women, once denied education and other rights under Taliban rule (1996-2001), are demanding that they not be overlooked in potential peace negotiations between the Taliban and the Afghan government.
"The Taliban's time was a terrible and dark one, and we will never forget the darkness of that time in which we suffered a great deal of hardship," said Gulsoom Sediqi, an adviser to the office of Afghan Chief Executive Officer Abdullah Abdullah.
"Several times I saw the Taliban harass and beat up women in the bazaar," she said.
Under Taliban rule women did not have the right to work and only a limited number of women were secretly busy providing education and health services, said Malika Rasooli, a child protection officer at the provincial office of the Afghanistan Independent Human Rights Commission in Herat.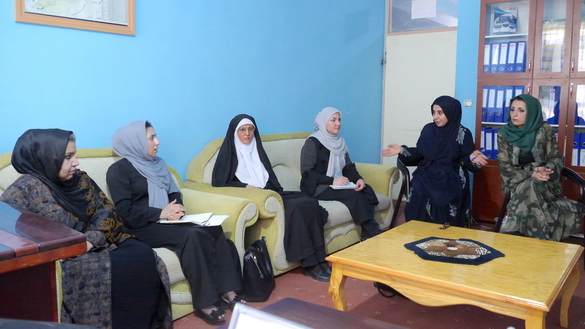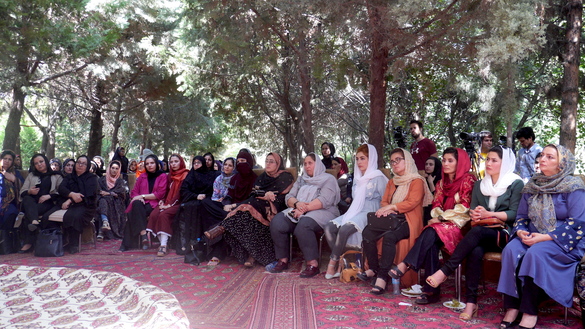 The dark experience of women under Taliban rule "cannot be compared with today's", she said.
"In the past two decades, they [women] have been able to improve their capabilities and assume high-level and key offices," she said.
"I was covertly involved in educating girls during the Taliban's time," added Rasooli. "I operated in a few villages of Injil District, Herat Province, to keep alive women's right to education, which the Taliban denied."
"Women had lost all their rights during the Taliban's time, which limited women ... to working inside their homes," said Suraya Pakzad, director of the Women's Protection Centre in Herat Province.
Recalling that era is painful, she said.
"I underwent two years of the bitter Taliban rule and stayed at home, but I then decided to begin educating girls and women," said Pakzad. "At that time, we opened 10 home-based schools where we used to teach [local] girls."
Deprived of rights
Women seen studying or working outside their homes received harsh punishment during the rule of the Taliban.
Maria Bashir, a women's rights activist and former chief prosecutor general of Herat Province, described her bitter memories.
"I graduated from university before the Taliban's time," she said. "I studied law and political science, majoring in 'judiciary and prosecution', and had started working. I was busy delivering professional services."
"The onset of the Taliban regime was a very painful and unbelievable event for me as they [the Taliban] used to say that women could not work and that they had to go home," Bashir said.
"Once, I took my education documents to the governor's office during the Taliban era in Herat Province," she said. "I showed my prosecution internship documents and told them that I was a prosecutor."
"I thought that if the Taliban governor saw my educational documents, he would agree that I could go to work, but I unfortunately faced a very negative reaction," she added. "He rejected my documents, and I had to sit at home."
"We never want the dark time of the Taliban to reoccur, and we won't allow this to happen," said Bashir.
"Today's Afghan women are not like those of the Taliban's era, and I believe we will together and with one voice ask the international community not to abandon us," she said.
Protecting women's achievements
"The United Nations [UN] wholly supports Afghan women's activities and their achievements," Aleta Miller, UN Women representative for Afghanistan, said on August 1 in an interview.
"Afghan women's achievements are our red line, and we won't allow them to be lost," she said.
"We try to improve links between rural and urban women so that they can lead to a strong network of women who can fight for their rights," she added.
Afghan women have made many sacrifices in recent years and have earned their rights, said Miller, adding that no individual or group may prevent women's growth, according to Miller.
"We don't allow anyone to play with our fate," said Pakzad, the director of the Herat Women's Protection Centre.
Afghan women suffered through Taliban rule, paid a price for their accomplishments and "don't want to lose them", she added.
"Afghan women are no longer the women of the Taliban's era," said Pakzad. "A girl would easily obey orders not to go to school at the time, but if you ask a girl of the same age today to stay at home, she ... will go to school."