HERAT -- Afghan women have a new platform to boost their role in the peace process, protect their rights and amplify their concerns amid the ongoing talks to end the decades-long conflict with the Taliban.
A number of computer science students at Herat University have developed a website and an application called "Women and Peace" upon which women with internet access can share their views about peace talks with the relevant authorities, say the developers.
"Our project has been designed in a way that raises women's voices for peace, and we're trying to strengthen women's role in the peace process," said Mahsa Qanawizi, 19, a freshman in the computer science college of Herat University and one of the developers of the service.
"Our aim is to ensure that women have a role in the peace process; therefore, we have developed a website and an application that will improve women's participation [in the process]," she added. "This project will be applicable throughout Afghanistan, and women can use [the service] on their regular and smart phones."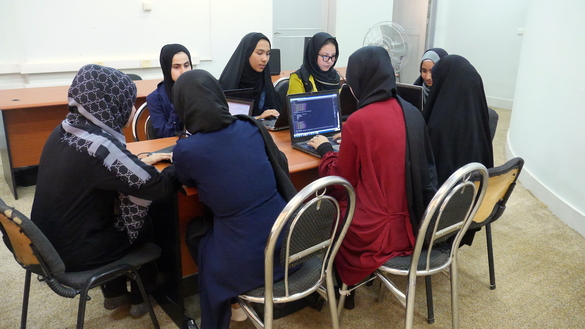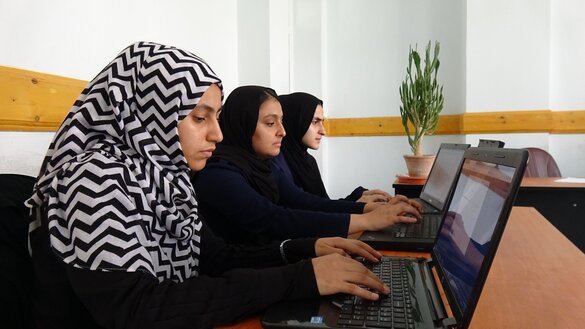 The site will allow Afghan women to promote their concerns about the peace talks to a worldwide audience, said Mursal Yousufi, also a freshman in the computer science college of Herat University.
"This project will help women have their voices heard by everyone around the globe," she said.
"At the end of each week, we gather the views of women and publish them on the website," the 20-year-old added. "Our colleagues even compile and share these views with relevant institutions."
"We have implemented the project with our own funds, and if we get support, we could implement better projects to improve Afghan women's lives," said fellow student Sudaba Sulaimankhil, 21.
'My Red Line'
On August 1, women from five provinces gathered at Queen Gawharshad Garden in Herat city to call for the preservation of women's accomplishments upon the signing of any peace agreement with the Taliban.
The campaign, known as "My Red Line," is taking place throughout the country with support from UN Women Afghanistan and scores of Afghan women activists.
"Women have an important role to play in society, and the main goal of the 'My Red Line' campaign is to ensure women's role in the national processes like that of peace so that they can share their demands and concerns with parties to the conflict," Aleta Miller, UN Women representative for Afghanistan, said in an interview.
"In this campaign, we will form a network of Afghan women who will be able to communicate among themselves in cities, districts and villages and share their demands and concerns on a daily basis," she added. "The United Nations [UN] is committed to preserving the achievements and values of Afghan women."
"The [UN] creates an environment in which Afghan women can network and establish strong relations so that they are able to decide their future. We help them to have their voices heard," she added.
The campaign is needed as women are worried that parties participating in the peace process may overlook Afghan women's rights for their own political gains, said Maria Bashir, an activist in Herat Province.
"This campaign helps women reveal their position on the political situation and the peace process and to present their demands and needs to the negotiating sides of the peace process," she said.
"Countries that try to ensure peace in Afghanistan should establish a strong monitoring system after the peace agreement is reached to avoid repeating history," Bashir added. "We expect the [UN] to establish serious monitoring so that human rights violations are not repeated in Afghanistan."
The 'dark era' of the Taliban
Women who have taken part in the "My Red Line" campaign vow never to permit the Taliban to impose their dark era on them again.
"As a student, I support the peace process, but it needs to be the kind of peace that can guarantee women's and girls' rights and their human dignity," said Nargis Sadaat, a journalism student at Herat University.
"Women are concerned that they may return to the dark era when there was war in Afghanistan, laws were breached, the government was broken and everything was in chaos," said Muqadasa Ahmadzai, a resident of Nangarhar Province.
"There are concerns that we may lose the achievements and values we have accomplished in the past 18 years," she added.
A return to harsh Taliban rule is unacceptable for Afghan women, especially the younger generation, agreed Monesa Sadaat, a Herat resident.
"We, the young people, need peace and we have the right to study in a peaceful and safe environment and prosper," she added. "But if the Taliban return and try to impose their former strict rules, it means there won't be peace and we cannot accept it."