HERAT -- As the Taliban and Afghan government move closer to launching peace talks, women in the country are vowing to fight any effort by the militant group to return to the "dark rule" of the past and to oppress their achievements and participation in society.
To highlight their concerns, a number of female activists have launched a social media campaign with the slogan "No to the return of dark history" to warn of the dangers posed by a return of the Taliban to Afghanistan's political system.
One of the messages of the campaign says, "Women have a strong memory of history; we accept only a fair peace settlement."
Women's concerns are rising as President Ashraf Ghani has vowed to complete a Taliban prisoner release that is a key condition to beginning negotiations aimed at ending almost two decades of war.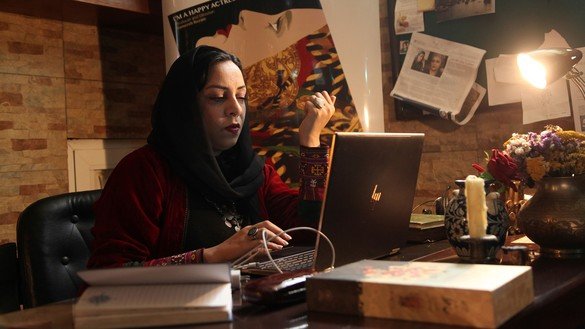 "The Taliban have lied during the peace talks as they have evil intentions," said Nooria Afghan, a women's rights activist in Herat city. "Given their situation at this time and in order to deceive everyone, they haven't said anything about restricting women. But when they return to power, they will again impose their dark rule on women."
The Taliban cannot be trusted because of their violent and misogynistic past, she added.
"The Taliban haven't changed from the time of their rule as their policies are still anti-women, and they still don't approve of women's participation in civil and political activities in society," Afghan said.
"The goal of this campaign is to make sure that the Taliban aren't allowed to violate women's rights should they make peace and become part of the government," said Shabnam Salahshoor, a student in the sociology department at Herat University. "Afghan women don't want the dark history of the Taliban's rule to be repeated."
"We can never forget the trauma and harm inflicted by the Taliban on our mothers and sisters," she added. "And we, as young women, are not ready to experience that bitter and dark rule of the past."
Any peace that includes violating women's rights and overlooking their role in society is not acceptable, said Salahshoor.
"Afghan women have made great effort in the past two decades to gain their fundamental rights and participate in government, but if the Taliban return, they [women] don't want to go back to the era of a few decades ago," she said.
Misogynistic behaviour
Afghan women have made significant strides in the past 20 years and the Taliban should think twice if they have any ideas about treating women as they did in the past, said Bahara Ahmadi, a women's rights activist in Herat city.
"Afghan women won't remain silent about the Taliban's oppression and dark rule," she said. "We are no longer alone as the international community stands with us. If the Taliban intend to oppress women in Afghanistan again, we'll raise our voice and share it with the entire world."
The Taliban are worried about the political, civil and social achievements that Afghan women have made and the militant group once again will attempt to place restrictions on them should it return to power, added Ahmadi.
"Our message to the Taliban is that the time of oppressing women ... has gone, and they need to embrace the current and new circumstances in Afghanistan," she said.
"We women defend our rights and achievements, and we no longer want the Taliban to take women back to the dark era of the past," she added.
Afghan women have made sacrifices in order to achieve their rights in the past 20 years and they never want to see that compromised in any political deals, said Anjila Ghayur, a women's rights activist in London.
The lack of a single woman on the Taliban's peace negotiation team "shows the worst of the misogyny among the Taliban", Ghayur said.
"The peace talks have a big impact on the situation of Afghan women, and when there aren't any women on the Taliban's team, it means they won't respect women's rights at all," she added.
"We women don't have any hope that the Taliban's mentality or attitude towards women has changed, and we believe that they will continue their efforts to shut down women's [liberties]," she said.
"The Taliban have always proved that they're the enemy of women's activities, and their tactics and approaches show that they have no respect for women," added Ghayur.
"We're concerned if the Taliban take over control, they will again impede Afghan women, denying them the opportunity to get an education or go to work."
Protecting women's achievements
Efforts are under way to preserve women's achievements, say government officials.
The preservation of women's rights and their fair participation in political and social activities are among the main topics in peace talks between the Afghan government and the Taliban, said Munesa Hasanzada, the deputy governor of Herat.
The achievements of women in the past two decades will not go ignored in the peace talks, she said.
"For women, the red line in the peace talks for the Taliban is respect for women's rights and their achievements," added Hasanzada. "Women should retain an active presence in peace talks so that they can defend their rights and map their future participation [in government and society]."
"The Afghan government is committed to preserving women's rights, and it will never allow anyone to violate their rights," she said. "Afghan women have an important role in the government and participate in key decisions."
"Islam has ensured women's participation in various social, political, cultural and commercial endeavours, but the Taliban, based on their personal beliefs that have no place in Islam, have always tried to curb women's activities and confine them to their homes," Hasanzada said.
Afghan women have changed greatly over the past 20 years and will no longer allow anyone to challenge their rights, said Anisa Sarwari, the director of the Herat Department of Women's Affairs.
"If the Taliban think that they will again shut down women's freedoms and their participation in social and political activities when they return to power, they are making a big mistake, because the international community, the Afghan government and women themselves won't let them do it," she said.
"Women constitute a core part of the government and society," added Sarwari. "No individual or group has the ability to overlook women's [fair] share of power. If the Taliban intend to limit women's role, they will face a harsh reaction from women."
Women's achievements and rights will not be compromised, and Afghan women intend to play an active role in the future government and in Afghanistan's development and prosperity, she said.