KUNDUZ -- With support from the international community, women in Baghlan Province have made remarkable achievements since the collapse of the Taliban's regime in 2001.
Over the past two decades, women have achieved considerable improvements in economic, social, cultural and political areas, said Khadija Yaqin, director of the Baghlan Department of Women's Affairs.
"With support from the Aga Khan Foundation, the German Society for International Co-operation [GIZ], USAID [US Agency for International Development], Swedish Committee for Afghanistan, Asian Development Bank and the World Bank, we have implemented skill development projects, constructed buildings for women's protection [shelters], built women's parks, established women's markets for selling handicrafts and set up other facilities for improving women's economy," said Yaqin.
"More than 2,000 women in Baghlan's capital and 14 districts have benefited from tailoring, carpet weaving, livestock raising, gardening, poultry raising and handicraft skill projects implemented by partner agencies in Baghlan, and these projects have helped women achieve self-reliance," she said.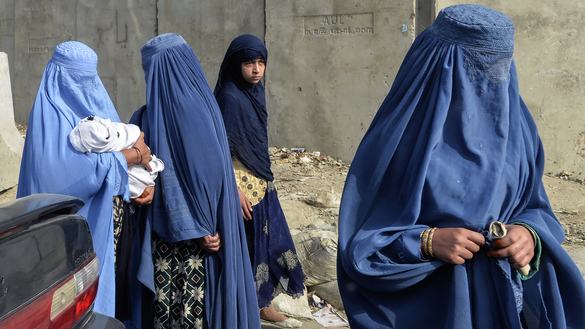 "The Ministry of Women's Affairs is determined to improve [women's] financial capability through providing loans to agricultural co-operatives and by bettering the prosperity of women and families," she added. "The ministry has plenty of programmes planned for the next solar year."
As a result of such programmes, families are now ready to encourage their women and daughters to work outside their homes, she said.
Women's role in government
"We see that women work alongside their brothers at the Department of Education, Department of Police, Department of Public Health, [Baghlan] University, Gender Unit at the governor's office and other government agencies," Yaqin noted.
"Besides increasing women's presence in government agencies, we have put in place job creation programmes that encourage women to improve their role in society," she added.
A survey conducted by the Baghlan governor's office at 30 government agencies in last December revealed that 28% of civil servants in the province were women, she said.
Women's presence has grown this solar year in government agencies, and the government is trying to provide further opportunities for women to flourish, said acting Baghlan Governor Abdul Qadim Niazi.
"Baghlan women are capable, and they are able to play a fundamental role in political, economic, social and cultural activities as well as in other areas," said Niazi.
"We witnessed a prominent presence of women in parliamentary elections in the province as a considerable number of them ran for seats," he said, referring to the October 2018 elections.
In the past, civil servants at the Department of Women's Affairs could not sufficiently cater to the problems and challenges of women, but they are now able to easily gather information from all the districts, said Uranus Atifi, director of the legal affairs section in the department.
"We have established a reception office for [the residents of each of the] 14 districts of Baghlan Province with support from the Aga Khan Foundation, and one woman [in each office] has been assigned to resolve women's problems and issues," said Atifi.
"Women in the districts needed help for processing their cases of domestic violence, abuse and harassment and for obtaining tazkiras, marriage certificates and other legal documents," she said. "Women can now receive the legal support they need with the help of these reception offices."
"In the past few years, it took longer for a woman's case from a remote area to reach the Department of Women's Affairs, but now our local agents at the district level cater to women's issues sooner," she added.
Preserving women's achievements
A number of women in Baghlan called on the international community to preserve women's achievements amid peace talks with the Taliban and to continue to support women.
Many women have obtained high positions over the past 10 years, and if society does not impose restrictions on women, they can achieve even more progress in society, said Fariba Hakimi, a civil society activist in Baghlan Province.
"Many women have established foundations ... to implement projects that create job opportunities for hundreds of jobless women," said Hakimi.
"Unlike a few years back, women now are able to earn a living for their children and families [through these jobs], and the credit for these achievements goes to the support provided by the Afghan government and the international community," she said.
"We see that the [peace] talks are progressing nicely," said Shukria Faqirzada, a student at Baghlan University. "We want women to have a role in intra-Afghan talks so that they can raise their demands with both parties."
"Afghan women will never go backward," said Faqirzada.