KABUL -- With momentum apparently building for a breakthrough in talks between the Taliban and the Afghan government, younger Afghans whose lives have been overshadowed by nearly 18 years of war remain skeptical of the militants.
Zalmay Khalilzad, the US special envoy leading the push for negotiations between the Taliban and the Afghan government, is meeting with Taliban officials in Doha for the latest in a months-long series of talks, with expectations high.
The talks, now in their eighth round, began Saturday (August 3) and entered into their third day on Monday (August 5).
Efforts have been made to organise a direct meeting between Khalilzad and Taliban co-founder Mullah Baradar, who heads the movement's political wing, a Taliban source earlier told AFP.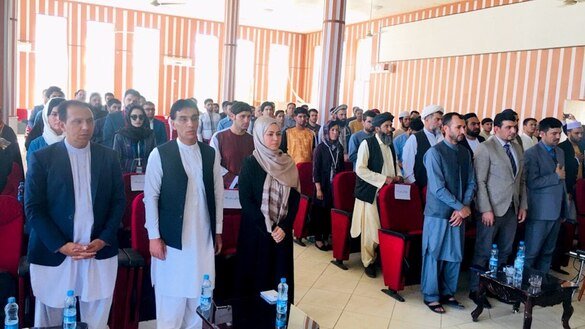 A peace deal reportedly would be built around the premise that US military and other foreign forces would reduce their presence in Afghanistan.
No numbers have been announced, but the Washington Post reported August 1 that an initial deal to end the war could see US troop numbers fall to as low as 8,000 from their current level of around 14,000.
In return, the Taliban would vow, among other things, to prevent Afghanistan's use as a safe haven for various terror groups including al-Qaeda.
"We are pursuing a peace agreement not a withdrawal agreement, a peace agreement that enables withdrawal," Khalilzad tweeted August 2 as he arrived in Doha after talks with Pakistani Prime Minister Imran Khan in Islamabad.
"Our presence in Afghanistan is conditions-based, and any withdrawal will be conditions-based."
The US Defence Department has not been directed to withdraw forces, spokesperson Cmdr. Rebecca Rebarich said in a statement.
In another sign of progress, the Afghan government has formed a negotiating team for separate peace talks with the Taliban that diplomats hope could take place as early as later this month.
"We have no preconditions to begin talks, but the peace agreement is not without conditions," President Ashraf Ghani wrote on his Facebook page August 2.
"We want a republic government, not an emirate," he said, a challenge to the Taliban, which has insisted on reverting to the "Islamic Emirate" name Afghanistan bore under its rule.
"The negotiations will be tough, and the Taliban should know that no Afghan is inferior in religion or courage to them."
Doubts remain
Still, young people have doubts about the Taliban's sincerity in a negotiated settlement.
"We cannot trust the Taliban and their commitments because they were cruel and oppressive in their regime," said Abdul Jamil Qureshi, a 23-year-old psychology student at Kabul University.
"We are worried for the lives of women and girls who have fought hard for their rights following the fall of the Taliban."
Abdul Hadi, 32, who runs a stall selling energy drinks and cigarettes in Kabul, worried what would happen to the Afghan National Army if its American benefactors and trainers leave.
"The withdrawal of US troops from Afghanistan is not the solution," he said.
Ahmad Jawed, 25, another Kabul University student, also expressed doubt about the Taliban's promises not to turn back the clock on Afghans' rights and freedoms.
"They are seeking a monopoly of power that is unacceptable for us," he said. "This is not Afghanistan of the '90s. We live in the 21st century. We do not trust the Taliban and their commitments."
Hopes for durable peace
But Abdullah, 20, who works for a private firm in Kabul, said he would welcome a deal if it leads to durable peace.
"We do not have a military solution for our country; the talks are the only way we can resolve the issues in Afghanistan," he said. "If the Taliban do not oppose women working and the education of girls and leave them to be the way they are now, we will be happy to have them in Afghan society."
Afghanistan desperately needs a peace deal -- but only one in which the Taliban "accept women and their achievements", said Kabul resident Somaya Mustafa, 20.
Mohammad Ashraf, 27, a Kabul taxi driver, said all he wanted was an end to Afghanistan's raging violence.
"We don't care if the Taliban come or not; we want only peace and security. That is all we want," he said.