HERAT -- In Jalilabad village, Karukh district, 35km east of Herat city, 10 members of a family live in a mud house.
They were forced to leave their home in Dolina district, Ghor province, two years ago by the war, and now live in deplorable conditions on the outskirts of a desert without any facilities.
The children -- seven girls and one boy -- go to sleep at night on empty stomachs because of the family's extreme poverty. Their father is unemployed. When they are sick, they cannot afford a doctor.
After weeks of hunger and hardship, Sakhidad, 55, made the difficult decision to sell his 4-year-old daughter Fatima.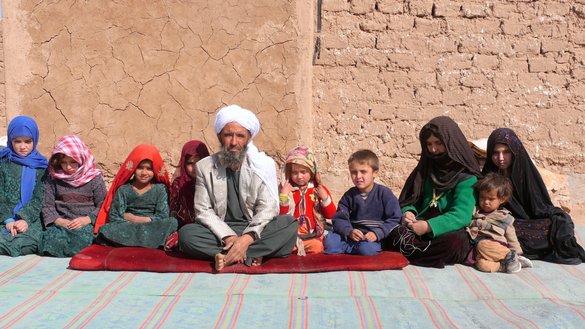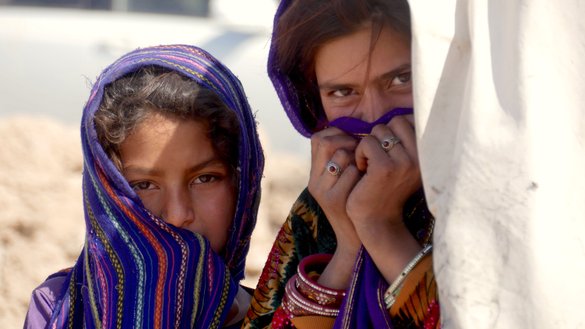 Sakhidad took Fatima three times to Herat city to find a buyer for her. He finally found one and is making progress on the deal.
"I took my daughter Fatima to the city and a shopkeeper agreed to buy her," Sakhidad said. "I asked for 100,000 AFN [$1,099] but the shopkeeper wants to pay less. He will pay 70,000 AFN [$769] for Fatima."
Although he had hoped for more money, Sakhidad said he intended to sell Fatima to save his other children from starvation.
"We have run out of flour, rice and oil, and nothing is left to eat," he said. "We are all hungry, and our children go to bed with empty stomachs."
It is the hardship that forces Afghans to sell their children, said Shahzada, Fatima's mother.
A mother does not even want to marry off her grown-up daughters, much less sell a toddler, she said.
"While Fatima is a child and it is very difficult for me to stay away from her, hunger has forced us to sell her."
Shahzada said she cries day and night for her daughter, fearing that she might never see her again after the sale.
Fatima's eldest sister Ayesha, 12, said she loves her sister very much and does not want her to be sold.
"The government should help us stop Fatima's sale," she said. "We have nothing to eat. We have gone to sleep hungry several nights."
Growing hunger and poverty
With the fall of the previous government in Afghanistan, the number of Afghans suffering from hunger and poverty has increased across the country. Those displaced by war and drought are affected the most and have nothing to eat.
Mohammad Ibrahim, from Bala Murghab district of Badghis province, has been living in Herat for the past two years because of the war.
Out of desperation and extreme poverty, Ibrahim married off his 7-year-old daughter Jamila in return for 70,000 AFN ($769).
He said that he made the agreement with Jamila's future in-laws that she would be married after three years.
"There is nothing to eat at home, and we all sleep hungry at night," he said. "I had to marry Jamila off to save my three other children from starvation."
He said he did not want to marry off his young daughter but was forced to do so amid poverty and unemployment.
"There is no work," Ibrahim said. "I collect plastic and garbage and sell each kilogram of plastic for 10 AFN [$0.11]. My daily income is 30 to 40 AFN [$0.33 to $0.44]. I can't even provide bread with this money."
With the fall of the government, aid agencies have reduced their assistance to internally displaced persons (IDPs), said Fazel Ahmad, a representative for IDPs at Shaidaye Camp on the eastern side of Herat city.
"Afghans are forced by hunger to beg," he said. "There is nothing to eat, and everyone is hungry."
"The government and aid agencies used to help us in the past, and the poverty rate was low, but now... the IDPs have been forgotten."
Some parents are forced to sell their young daughters for as little as 50,000 AFN ($549) to save other children from starvation and death, Ahmad said.
Cold winter awaits IDPs
Many IDPs live in tents without anything to warm themselves. With temperatures dropping and harsh winter approaching, their lives are at risk.
Qamar Gul, an IDP in Herat originally from Bala Murghab district of Badghis, is a widow and mother of eight children.
She said she is not able to make any preparations for winter.
"I do not even have the money to buy bread," she said. "I cannot get warm clothes and fuel to keep my children warm in the winter."
"All nine of us live under a thin tent that was provided to us by a non-governmental organisation," she said. "It is very cold at night. All my kids are suffering from the cold, and I don't have the money to treat them [if they become sick]."
"I don't know what I should do," she added.
The US government on October 28 announced that it would give almost $144 million in aid to those affected by the humanitarian crisis in Afghanistan, raising the total US humanitarian aid in Afghanistan, and for Afghan refugees in the region, to almost $474 million in 2021, the largest amount of assistance from any nation.