HERAT -- With the arrival of colder weather, international aid organisations have increased their assistance to save internally displaced persons (IDPs) in Herat province from hunger.
The World Food Programme (WFP), United Nations High Commissioner for Refugees (UNHCR), International Committee for Red Cross (ICRC), Norwegian Council, UN Population Fund (UNFPA) and UN Children's Fund (UNICEF) are the main aid providers to the IDPs in Herat.
Global aid agencies have assisted 22,837 IDP families in the past nine months in Herat, said Abdul Ghafoor Jalali, a manager at the Herat Department of Refugees and Repatriations.
"Each family received assistance worth 23,000 AFN ($260), which includes cash, food and clothing," he said.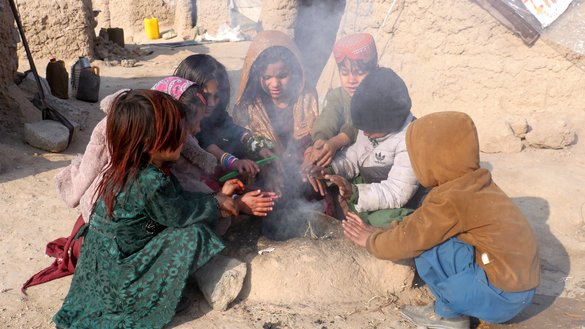 "Winter assistance for the IDPs will start in a few days," he added. "International aid agencies have promised to increase their assistance to the families in need."
IDPs rely heavily on aid, and without it, their life will get even worse, Jalali said.
According to data from the Herat Department of Refugees and Repatriations, more than 5,000 families from Badghis, Faryab and Ghor provinces were displaced to Herat in over a year.
These IDPs live on the outskirts of Herat city in tents and mud huts that they have built themselves.
Need for more assistance
With the winter approaching, life for IDPs in Herat has become even more challenging.
IDPs need firewood to keep their tents and huts warm as well as food to feed their families.
Bismillah, 66, a resident of Shahrak district, Ghor province, was displaced to Herat a year ago.
"With the cold weather, our life has become very difficult. We do not have money to buy food for our children or firewood to warm up our houses," he added. "There are no jobs that would let us earn a living for our family, either."
Bismillah called on aid organisations to increase their assistance to IDPs.
"If we do not receive more assistance this winter and the weather gets colder, a humanitarian catastrophe could take place in the IDP camp," he said.
His children have been suffering from pneumonia, he said.
"Our children are ill, and we do not have money to take them to the doctor," he added.
Abdul Ghafoor, 46, a resident of Ghormach district, Faryab province, who was displaced to Herat six months ago along with his family of six, said his house is cold and his children are sick.
"Aid organisations have provided assistance to us, but we need more," he said. "We received food and cash in three phases, but that is not sufficient for my family's expenditures."
"We stay awake many nights from the cold. We burn plastic to warm up my children, but it turns cold right after the fire goes out. The fumes from burning plastic have made us all ill," he added.
His children do not have enough dry bread to eat, and they need more humanitarian assistance in winter, he said.
"I borrowed 2,000 AFN ($23) from my neighbour and took my sick child to the hospital," he added. "Our children will die if we do not get more assistance in this cold winter."
Children at risk
Ghafoor and Bismillah's children are not the only ones who are sick, as the children of IDPs face increasing cold and hunger.
Fatima, 10, who lives in a tent in Herat city with her parents, younger brother and two sisters, is sick.
Her family does not have a heater or warm blankets for the cold nights, she said.
"Nights are very cold. Many nights we cannot sleep," she said. "My younger brother has pneumonia."
"We shiver ... the whole night under a thin blanket. My wish is to have a heater at home so that nights would be warmer and we could sleep well," Fatima said.
Ibrahim, 11, an IDP, said his family's tent is very cold during the night, and they do not have food to eat.
"We don't have a heater to warm ourselves up with. We cannot sleep well at night because of the cold weather," he said. "We wake up in the middle of the night ... and cannot go back to sleep."
"We build a fire in the middle of the night in our tent to warm ourselves up. But when the fire goes out, it turns cold again," he added. "We do not have firewood to warm up our tent; we burn plastic to warm it up."
Instead of sleeping at night, he is forced to sleep during the day under the sun when it is a bit warmer, Ibrahim said.