HERAT -- Amid increasing poverty and hunger in Afghanistan over the past year, the United Nations (UN) World Food Programme (WFP) has been helping Afghan families who face grave conditions.
With the help of a number of countries and international aid organisations, the WFP has delivered cash and food assistance to 2.5 million impoverished individuals in Afghanistan's western region since last August.
"Our assistance will continue, and poor families will receive monthly cash and food assistance as long as they need it," said Abdul Qadeer Asemi, director of the WFP office in the western region.
"Our teams work in the field to identify poor families and enrol them in our programme."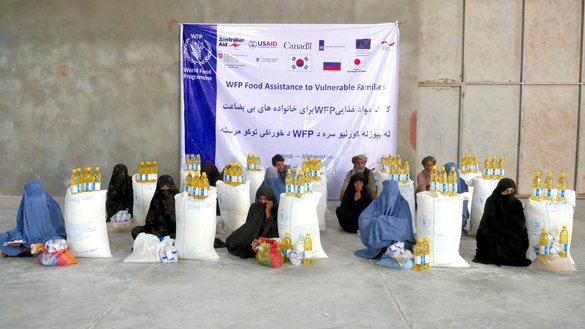 "We are even prepared for next winter," he said. "Thousands of tonnes of food items have been transferred and stored ahead of time in areas that become inaccessible in the winter because of snow and rain."
The WFP has been distributing cash and food assistance to 15 million needy inhabitants of Afghanistan since the beginning of 2021, including more than 500,000 pregnant and breastfeeding women and more than 1 million children under 5 suffering from or at risk of malnutrition.
The United States, Canada, the European Union, Australia, Japan, South Korea, France, Switzerland, Norway and the Netherlands have been sending aid to Afghanistan through the WFP, which has been operating in the country and providing food assistance to its citizens for the past six decades.
The WFP's aid packages include vitamin-fortified flour and oil, chickpeas and salt. Supplementary nutritious food is also provided to lactating women and their babies.
Lifesaving aid
Many needy families in Afghanistan say receiving monthly food assistance from the WFP has helped them return to normal life.
Shirin Gul Sufizada, 40, a mother of four, lost her husband in an explosion in Herat city two years ago. She worked in a government office in Herat city at the time but has been unemployed since last August.
"I am unemployed and heavily dependent upon assistance," said Sufizada, who received aid at a WFP office in Herat city on July 24.
"I don't know how I would have survived along with my four kids if it weren't for this assistance," she said. "I receive the assistance on time, and it saves me from hunger."
"Before I received aid, my children would sleep on an empty stomach and cry most nights," she said. "We had nothing to eat, and our neighbours also could not help as they did in the past."
Mohammad Tahir Osmani, 53, a daily labourer, has been a recipient of WFP's aid for a year and receives food assistance every two months.
He is the breadwinner of a family of seven and this assistance is enough to feed his family, he said.
"I go to the designated area for daily labour, but there is no work," he said. "I haven't worked even for a week in the past year. I would have not been able to sustain myself without this assistance."
"We want international assistance to continue," Osmani said. "There is no work in Afghanistan, and the economy is worsening by the day. Most people would lose their lives without the UN's assistance packages."
Seema Gul, 40, whose husband is also a daily labourer, is the mother of five, two of whom are paralysed.
Her husband goes to the city every day to find work but returns empty-handed, she said.
She has received food aid five times over the past year and the aid has saved their lives, she said.
"We would not cook even once a week before starting to receive this assistance," she said. "Many nights, I would feed my children bread and tea, and some nights they would sleep hungry."
Critical humanitarian assistance
With a staggering 95% of Afghans not getting enough to eat, households are forced to resort to "desperate measures" to put food on the table, Ramiz Alakbarov, the UN resident and humanitarian co-ordinator and deputy special representative for Afghanistan, said in March.
For female-led households, that number is almost 100%.
"It is a figure so high that it is almost inconceivable. Yet, devastatingly, it is the harsh reality," said Alakbarov, who also serves as deputy head of the UN assistance mission in Afghanistan (UNAMA).
While more support is needed, the WFP's assistance has saved millions from extreme hunger.
Millions of Afghans would have been forced to migrate to neighbouring countries without the international community's humanitarian assistance, said Mohammed Rafiq Shaheer, chairman of Herat's Shura Council.
"Besides the economic crisis, drought has affected millions in districts and villages," he said. "Thousands of Afghans have lost their jobs, leaving them with no income, and they heavily depend on international assistance."
"International humanitarian assistance reaches the needy in the most remote areas and helps them to avoid displacement," he said. "If such assistance is not provided, thousands of villagers will leave because of drought and move to cities."
The international community's cash and food assistance is critically needed and must continue, Shaheer said.
The political and economic crisis in Afghanistan has deprived residents of their right to food, said Abdul Qader Rahimi, a human rights activist in Herat.
"Government services are almost nonexistent right now, and Afghans have lost their source of income," he said. "During this crisis, international aid has really saved their lives."