KABUL -- International donors have provided food and livelihood support to nearly 22 million Afghans between January and September, the United Nations (UN) Office for the Co-ordination of Humanitarian Affairs (OCHA) reported.
In total, donors provided 24.3 million Afghans with at least one form of assistance throughout 2022, OCHA said in a report released November 3.
"Between January and September 2022, humanitarian partners reached at least 21.7 million people with food and livelihood support [and] 9.4 million people with access to health care consultations and treatment," the report said.
They also reached "5.2 million children and pregnant and lactating women with support to prevent and address acute malnutrition; 9.8 million people with water, sanitation and hygiene assistance, [and] 518,000 children with access to education and education materials", it said.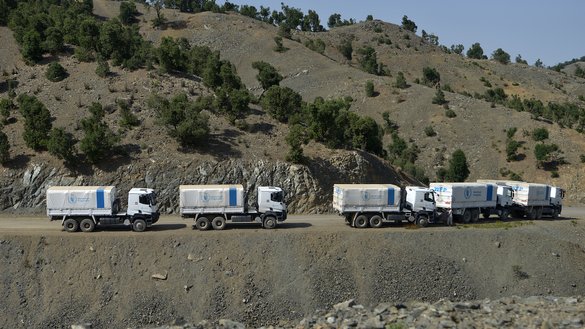 Additionally, 1.5 million Afghans were provided with emergency shelter and household items, and 4.7 million Afghans with protection assistance, the report said.
"In reality, millions of people who received one form of assistance will continue to require multiple rounds of support over the course of the year to survive," it added.
The aid was enabled by a combination of new funding -- $2.14 billion in 2022 -- and $542 million in funds rolled over from last year.
The United States was the top donor, providing a total of $614.8 million (25.7%), followed by the United Kingdom with $358.7 million (15%), the Asian Development Bank with $300 million (12.5%), Germany with $276.7 million (11.6%) and the European Commission with $187.1 million (7.8%), according to OCHA.
Critical winter support
The World Food Programme (WFP) is one of the UN agencies providing critical support in Afghanistan.
"WFP has so far disbursed a total of 770,000 metric tonnes of food and $208 million in cash and commodity vouchers to directly support Afghan families," said Philippe Kropf, WFP's spokesman in Afghanistan.
"WFP has provided nutritious mid-day snacks to 750,000 primary school students, and assistance for the prevention of malnutrition to 3.9 million women and children," he told Salaam Times.
"It has pre-positioned 62,000 metric tonnes of mixed food commodities across the country ahead of the winter lean season to ensure unhindered access to food assistance for vulnerable populations in particularly remote areas, where snowfall and freezing temperatures will limit accessibility," he said.
"To this end, WFP had to borrow funds internally and still needs $50 million to pre-position more resources to meet its predetermined programmes," he added.
As Afghan households are preparing for another harsh winter, WPF plans to increase aid distribution to 15 million of the most vulnerable Afghans to help them survive the winter, Kropf said.
"In the coming six months, WFP needs more than $1 billion to implement its programmes and help 15 million people survive the forthcoming winter," he added.
"The international community fulfilled their continued support to Afghanistan, and donors have also been generous, but the scale of the hunger crisis is huge, and it needs more funding," he said.
Some $2.3 billion -- more than half of the $4.4 billion required to deliver humanitarian assistance in 2022 -- remains unfunded, according to OCHA.
"Despite the historic scale of response so far in 2022 (including in previously inaccessible areas), underfunding has meant that people's needs were not reduced and they have not been able to start the path towards stability and independence," the OCHA report said.
"In fact, there are more people today in Afghanistan who rely on humanitarian assistance as the only source of survival."
Afghans welcome international aid
Afghans expressed gratitude for the humanitarian assistance provided by the international community and urged donors to continue to support fundamental projects towards alleviating poverty and boosting the economy.
"The humanitarian aid is provided by the donor countries from their taxpayers' money for the people of Afghanistan," said Khaybar Khoyeshki, a university lecturer and economic analyst based in Kabul. "Distribution of the assistance is done by non-governmental organisations, [and] the recipients of such assistance are the Afghan people."
"During this time, where the country and our people are facing an unprecedented economic crisis, humanitarian aid from the United States and other countries is vital, and I thank the donors," he said.
Afghans are facing crises on many fronts including public services, internal displacement and natural disasters, he said.
"Out of every 10 people, nine do not have any food to eat. It is therefore crucial to have a sustained humanitarian aid programme that is well managed," he said. "Alternative livelihood programmes and employment generation projects must commence."
"The weekly multi-million dollar aid package contributed to Afghanistan has helped maintain the stability of the Afghan currency and to some extent stabilised the price of food items in local markets amid price hiking," he said.
Abdullah, 56, a Kabul resident and father of four, said he lost his job last year.
"We are now facing serious economic challenges," he said. "If I had not received humanitarian assistance, we wouldn't have had anything to eat."
"We have received cash assistance from WPF at least three times so far this year, and are grateful for the assistance and thank the international community."
Long-term solutions needed
"Considering that as much as 97% of the population is at risk of sinking below the poverty line, we welcome the humanitarian aid provided by the relief organisations," said Darya Khan Baheer, a US-based Afghan economic analyst.
"However, this is not enough, and more aid is required to help Afghans fight poverty," he said.
Poverty reduction projects need to be implemented, he said, and restrictions on the banking sector should be eliminated so that Afghans can have access to more cash, which will in turn ease some of the economic problems and poverty in Afghanistan.
"Many Afghans would have perished from hunger if not for the international humanitarian assistance," Baheer said.
"Unfortunately, unemployment has gone drastically up over the last year," said Bashir Shabiri, a Kabul-based economist.
"The root of the economic crisis and poverty is very deep in Afghanistan," he said.
"Humanitarian organisations can reduce poverty in our country only if they support the implementation of economic infrastructure projects, parallel with undertaking ad hoc [not permanent] humanitarian aid interventions to reach the most vulnerable population," he said.