HERAT -- Banks in Afghanistan remain closed following the Taliban's takeover of the country, disrupting daily life and leaving businesses and the Afghan people struggling to access their own funds.
The Taliban, lacking the skills to run a financial system, have presided over a banking freeze.
They suspended the operations of Da Afghanistan Bank, the nation's central bank, and forbade private banks from opening.
Some private banks are open anyway but are not permitting withdrawals or deposits.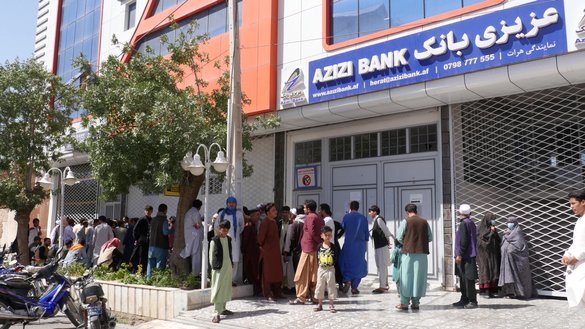 Fardin Atayee, a resident of Herat city, said he tried to go to a private bank in the city Monday (August 30) to withdraw some cash but that he was unsuccessful because the bank had been closed for the past 10 days.
"Since the arrival of the [Taliban's] Islamic Emirate, we have been facing economic hardships and have run out of cash to purchase our essential needs," he said.
"It has been almost 20 days that I have been borrowing necessities for my family from a shop near my house," Fardin said.
"If this is how an Islamic government functions, we do not want such a system," he said.
Afghans fear being reduced to begging under Taliban rule and their children starving to death, he added.
Mohammad Azimi, a resident of Badghis province, travelled from Qala-e-Naw to Herat city on Monday to withdraw cash from a local bank to pay for the hospital treatment of a family member.
The continued bank closures blocked him from obtaining the necessary funds.
"Banks were also closed in Badghis," he said, adding that he has 10,000 AFN ($113) in his account that he wanted to withdraw.
Azimi said he did not even have enough money to return to Badghis.
Disrupting lives
With the closure of the banking sector and the disruption of economic activities, the price of basic commodities has increased by more than 50%, while rising prices are preventing many from purchasing the necessities.
"The rates of unemployment and poverty have sharply risen, and people cannot afford a bag of wheat flour or a can of cooking oil," said Wahid Ahmad Azizi, a resident of Herat city.
Prices for wheat flour, rice, oil and other commodities have skyrocketed, and the Taliban have failed to control market prices, Azizi said.
If the new regime does not solve economic problems soon, Afghans will be forced to flee abroad, he added.
With the establishment of the Islamic Emirate by the Taliban, Afghanistan's future is uncertain, said Mohammad Nabi Karimi, another resident of Herat city.
"Afghans are very concerned about their future under Taliban rule," he said.
Many citizens cannot afford food, and there is a fear of a humanitarian catastrophe in Afghanistan if the situation continues to deteriorate, he said.
Karimi urged the Taliban to accept the international community's conditions in order to gain recognition as a legitimate government.
"The Taliban cannot govern Afghanistan ... there is no other option to address the current crisis but to establish an inclusive and broad-based government."
The price of a litre of gasoline has soared from 40 AFN to 65 AFN ($0.45 to $0.73) just over the past month, said Nazir Ahmad Haidary, a rickshaw driver in Herat city.
"I drive around the city all day long, but I cannot make enough money to pay for fuel," he added.
Prices are rising day by day, and as unemployment and poverty increase, life becomes more difficult, he said.
"We are very afraid of the dark future; we don't know what will happen."
Businesses in upheaval
Businesses in Herat have also been affected, preventing many traders and importers from buying food, oil and construction material from abroad.
Business activities have come to a standstill due to the closure of banks, said Hamidullah Khadem, director of the Herat Chamber of Industries and Mines.
"Because of the unavailability of cash and banking services, factories in Herat Industrial City cannot import raw material," he said, referring to an industrial park that the Taliban repeatedly sabotaged for years.
Importers have been impatiently waiting for the banks to reopen, he said.
"We urge the Taliban to immediately take the necessary steps so the banks can re-open and resume their operation," Khadem said.
Domestic production in Herat Industrial City has been suspended and factory owners are waiting for the new government to form, he added.
The problem of the banking sector is a serious concern and has severely affected the private sector, said Sayed Siddiqi, deputy chair of the Herat Chamber of Commerce and Investment.
"Traders have to pay for the supplies they import," Siddiqi said, adding that when banks are not open, traders cannot pay suppliers.
The closure of the banking sector and of money exchange markets has severely reduced or even stopped imports, he added.
If the banking sector does not resume operation immediately, the country will have an economic crisis in the coming weeks, he said.