HERAT -- This year, Eid ul Adha has arrived as many Afghans suffer from poverty, unemployment and hunger.
Most cannot afford to buy new clothes, dried fruit, or an animal to sacrifice (qurbani) for the major religious celebration, which starts Tuesday (June 27) in Afghanistan.
Mohammad Rasoul, 45, is a labourer in Herat city and the breadwinner of a family of five.
Rasoul, who is unemployed, has not bought clothes for himself or his children. He cannot afford Eid shopping or qurbani either, he said.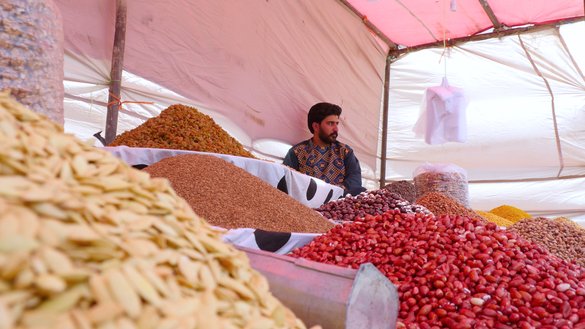 "I cannot buy clothes and nuts for my family if I don't have work and an income."
"I am broke rather than happy, so the arrival of Eid has saddened me," he said.
"Despite waiting for work every day on the side of a road, I can't find anything. All I have is 500 AFN ($5.80) -- how could I celebrate Eid with that little money?"
"If I had money, I would buy clothes and dried fruit for my kids as well as a sheep for qurbani," he said.
Mirza Jafari, 58, a resident of Herat city, is the breadwinner of a family of eight who came to the market to buy dried fruit on Monday.
"In the past, I would buy new clothes for my wife and children and enough dried fruit to celebrate Eid, but this year, because of economic problems, I could not buy new clothes for every member of my family," he said.
"I will just buy enough dried fruit for my relatives and neighbours to eat when they visit us during the Eid celebrations so that I won't feel embarrassed. In the past, I would buy 2kg or more of each kind of dried fruit, but this year, I can only afford to buy 1kg or less of each," he added.
Until a year ago, Jafari was working at a hotel, but the hotel management had to lay off a number of workers, including him.
He is now working with his brother in a mechanic shop and makes 5,000 AFN ($58) a month, which meets only the basic needs of his life, he said.
Purchasing power declining
With the arrival of Eid, over 200 pop-up shops selling nuts, dried fruit and sweets have appeared on one side of a 64-metre-long road in northern Herat.
The shopkeepers complain that compared to previous years, fewer customers come to the market to buy treats for Eid.
Sayed Wali Haqmal, 24, a shopkeeper in Herat city, says he had many customers until August 2021, but the number of his customers has decreased in the past two years.
"In the past, I had so many customers that I could not tend to all of them, but this year I've been waiting for hours for one customer to come and buy dried fruit for Eid."
"The situation this year is not comparable to two years ago," he said.
"Some people come, check the prices and leave, because they cannot afford anything. Sometimes I end up offering the fruit at the price I bought them, but [they] still won't make a purchase."
Despite the arrival of Eid, he has had no sales and will have to sell the dried fruit at a loss, Haqmal said.
Omid Alizada, 28, a shopkeeper in Herat city, echoed Haqmal's complaints.
"Customers only check the prices and leave. Prices have gone up, and [they]have lost their source of income. Compared to two years ago, the economy has deteriorated so much that they cannot afford Eid shopping," he said.
"In the past, some shoppers would buy 15 to 20kg of dried fruit for Eid, but now they can afford to buy only up to 3kg," he added.
"Labourers and low income individuals would also spend up to 5,000 AFN ($58) on dried fruit every Eid, but now only a few can spend even 1,000 to 2,000 AFN ($12–23)."
Customers were happy in the past and had incomes, but they have lost their spirits now and do not shop, as they are poor and destitute, Alizada said.
Disappointment, despair
Unlike previous years, Faisal Sarwari, a student at Herat University, has not bought new clothes or prepared for Eid.
He is very disappointed by the current situation as he cannot celebrate Eid like he did in years past, he said, adding that most of his classmates and friends have left the country.
"Studying at the university is not as appealing as it used to be, either. I attend classes only so that I'm not marked absent, but I'm constantly stressed out about where I could work after graduating," he added.
"Every time I walk in the city, I see hundreds of impoverished women, men and children begging as they have nothing to eat."
"This situation is very painful for me and has made me completely lose hope for the future."
The thought of wearing new clothes on Eid while millions of his fellow Afghans cannot celebrate the occasion amid poverty is not pleasant to him, Sarwari said.
Shir Aqa, 58, who has a family of five, owns a handcart and earns a living by carrying goods for his clients from one part of Herat city to another.
In the past, he used to make up to 500 AFN ($5.80) a day, but work has slowed down in the past year amid economic woes in society. Now, he is making 50 to 100 AFN (59 US cents to $1.18) a day, he said.
"Eid is joyful for those who have money and can afford to buy clothes and sweets, but I have no money for Eid shopping."
"I spend entire days on the streets, but there is no work, and the income I have doesn't even cover dry bread for my family," he added.
Most Afghans who suffer from poverty like him do not really celebrate Eid, Aqa said.