BADGHIS -- The United Nations (UN) Food and Agriculture Organisation (FAO) has implemented a programme to provide financial support to impoverished families in Badghis.
Co-ordination of Humanitarian Assistance (CHA), a humanitarian organisation based in Afghanistan, is implementing the programme, which began in January and is expected to continue for two years.
Under the programme, the FAO gives cash to needy individuals in return for work. Each worker receives 8,500 AFN ($97) for 20 days of work cleaning canals and streams and rehabilitating roads in the area.
Some 2,960 families in Qala-e-Naw city and Bala Murghab district of Badghis were included in the programme's first phase, and needy individuals from other parts of the province will be included in the future.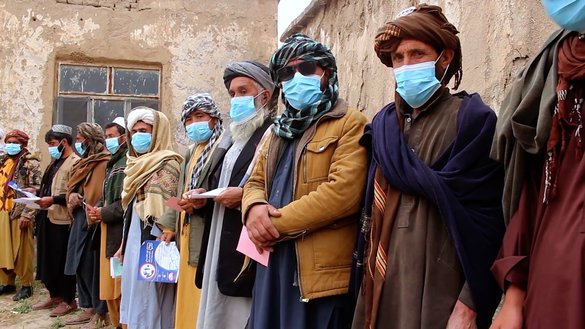 Raknuddin Sadat, who directs the programme, said unemployed breadwinners who were suffering from poverty are among the programme's beneficiaries.
"Our teams regularly conduct surveys in the city and its districts and, after identifying needy households, include them in the programme," Sadat said.
"Assistance by the aid agencies reaches families who need it most."
"Projects implemented in Qala-e-Naw city and Bala Murghab district are cleaning canals, digging streams and building roads in remote areas," he added.
"After digging of streams, water from the Murghab river reaches agricultural lands, and the construction of new roads makes commuting easier."
Shah Mohammad, 40, a farmer in Bala Murghab district, said the UN's aid has saved him and his family from hunger.
"I am happy that the aid agency helped me in such a difficult time," he said.
"I would have not been able to provide for my family had I not received the assistance. I have seven mouths to feed, and I am the only breadwinner."
"These aid packages are very valuable because they came at a time when [residents] were hungry and did not even have dry bread to eat."
"They saved people from starvation," he said.
Aid saves families
Residents of Qala-e-Naw city and Bala Murghab district are happy to receive cash in return for construction work in their villages.
Abdul Razaq, 37, a resident of Bala Murghab district, said he is no longer struggling thanks to the UN's assistance, and he hopes the aid continues.
"For years, our canals were full of soil and dust and we did not have the economic means to clean or deepen them," he said.
"The road in our village was also in very bad shape, and commuting on it in the winter was very difficult. But now, canals in our village are clear and the road is repaired."
"I was tired of unemployment and economic problems. I have been working for a month, and my mental pressure has eased," he added.
UN aid saves Afghans from poverty and hunger, and contributes to the construction of the country by supporting development projects, Razaq said.
Naqibullah Samim, 31, a resident of Qala-e-Naw city, said the cash assistance he has received from the UN has addressed his family's economic problems to an extent.
"It is very difficult to be unemployed and broke. I experienced more suffering and pain in the last year than I had in my whole life."
"I am very happy that with cash assistance, our economic problems are addressed for now," he said.
"If it weren't for the support of the aid agency, we would have never been able to rehabilitate the canals and roads in our area."
"Unemployment and economic problems have led to psychological pressure for most [Afghans]. We can't even think about the reconstruction of our area," he added.
Need for continued assistance
Safiullah, 36, a resident of Qala-e-Naw city, was working on a ring road project in the province until he lost his job two years ago.
He had a good income when he was working on the project and could easily provide for his family of six. After losing his job, however, he has been facing poverty and hunger, he said.
"I received UN aid at a time when I had lost my income and did not have anything to eat."
"I received cash and food assistance seven times in the past 18 months from UN-affiliated aid agencies," he added.
"There is no work right now, and I am dependent on the aid agencies' assistance," Safiullah said.
"Had it not been for these assistance packages, I would have had to go to Iran to work a year ago. I hope the aid agencies' assistance continues until the situation in Afghanistan improves."
The majority of residents of Badghis who have lost their sources of income and have been affected by the drought need continued assistance from the international community, he said.
Mohammad Amin, 65, a tribal elder in Bala Murghab district, said most of the district's impoverished population has received assistance from international aid agencies in the last two years.
"Drought on the one hand and economic problems on the other have made life very difficult," he said.
"They have no source of income, and their only hope is assistance from aid agencies. I hope the assistance will continue so [Afghans] will not have to leave their country."
"I know many families that have no income and wait every month for assistance from aid agencies," he added.
"These impoverished [Afghans] will be able to continue living their normal life if the aid continues, but it is difficult to imagine what they would do if aid is reduced or stopped," he said.