NIMROZ -- The main circle in Zaranj, the capital city of Nimroz province, is known as an assembly point where young Afghans gather together daily before they attempt to illegally migrate to Iran.
The youth, which include teenagers and children, come to Nimroz from other provinces to travel to Iran illegally with the help of human traffickers and smugglers.
Although the exact number of Afghans who travel to Iran from Nimroz is unclear, local officials say as many as 1,000 individuals enter the province each day before illegally travelling to Iran.
Unemployment, poverty and fear of an unknown future are driving their migration.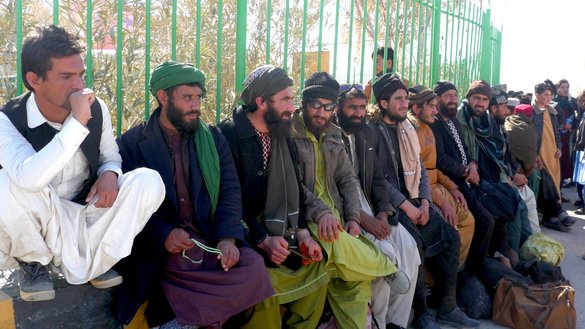 Nabiullah, 23, a Kunduz resident who travelled to Zaranj on February 20, told Salaam Times that he has decided to illegally travel to Iran with his friends.
He said migration is the only viable option for him and his young friends.
"There is no work in Afghanistan, and economic problems are continuously increasing. I must go to Iran to work and earn a living for my family. Our economic problems are great, and I have no choice but to leave the country."
"I used to work in a hotel with 15 other young people. The hotel business has slowed down amid the economic crisis, and 13 of us were terminated," he said.
Nabiullah acknowledged that he could die on the way to Iran but added that he had to take the risk to escape unemployment and economic hardship.
Nisar Ahmad, 15, a resident of Guzara district, Herat province, told Salaam Times on February 20 that he has been searching in Zaranj city for someone to take his group to Iran.
"This is the first time I am going to Iran through an illegal route. I am terrified, and I do not have a relative accompanying me on the trip. I don't know if I will reach Iran alive," he said.
"My father is a farmer. We did not have a good harvest this year because of drought. We did not earn enough and plunged into poverty. My father decided to send me to Iran," he added.
Lost aspirations
Many of the young Afghans who have decided to abandon their country are educated.
Aimal Pasarlai, 21, is one of them.
Pasarlai is from Nangarhar and graduated from Nangarhar University's School of Science two years ago but has since been unable to find a job.
"There are no job opportunities for young and educated Afghans," he said. "I devoted my entire life to completing my studies, but I was left with no choice [but to migrate to Iran]."
"I hope I can safely reach Iran via the illegal route and earn a living to support my family," said Pasarlai.
He said many educated young Afghans have no choice but to leave the country and travel to neighbouring countries via illegal routes.
Maruf, 22, a resident of Qarabagh district, Kabul province, graduated from Kabul University three years ago. He lives in a hotel in Zaranj city, and said he has been preparing to illegally migrate to Iran.
Maruf said on February 19 that he had tried his very best to find a job but is now forced to abandon his home and country.
"I want to go to Iran and from there to Türkiye. The trip is very dangerous, and I am not sure I can make it to my final destination," he added.
"I used to work in a construction company, but it closed because of the economic crisis. It has been a year and a half since I lost my job. I have no other choice but to migrate and find work to earn a living and support my family," Maruf explained.
He said it was not an easy decision to leave his home country and that he does not like to be apart from his family. However, unemployment and uncertainty have forced him to migrate via treacherous routes.
Dangerous journey
The route taken by human traffickers into Iran crosses through difficult and perilous terrain.
From Nimroz, they first enter Balochistan province, Pakistan, and then enter Iran on foot through the mountains. The roads are dangerous and frequented by armed robbers, and, in some cases, patrolled by Iranian soldiers.
The route human smugglers take to Iran is mountainous and death is always lurking for travellers, said Mohammad Nabi, 23, a resident of Moqor district, Ghazni province, who himself undertook the journey starting February 20.
"Human traffickers take huge amounts of money from us, but our lives are worth nothing to them. They load 20 to 25 people in a Toyota and drive at high speed in the plains and mountainous areas," he said.
"When we arrive in Pakistan, we have to walk 24 hours through the mountains to enter Iran. There is no water or bread, and some children and elderly people who fall behind the caravan could lose their lives," said Nabi.
Afghan youths have been forced to take the deadly journey by unemployment and uncertainty about the future, he said.
Sayed Ahmad Hosseini, 26, a resident of Shindand district, Herat province, spoke in Nimroz province as he prepared for a second attempt in a year to reach Iran.
On his first trip, he managed to reach Kerman, a city in Iran.
After he worked in Iran for four months, the Iranian police detained and deported him.
Once again, he has decided to travel to Iran illegally to escape unemployment.
"I am aware of the dangers of traveling illegally and the possibility of death at any moment, but I have no choice. It is better to die once than to be tortured ... every second because of poverty and unemployment," he said.
"I go to Iran out of despair and desperation. The Afghan economy is shattered, and one cannot find a job here. When there are no job opportunities, young people are forced to migrate to neighbouring countries."