BADGHIS -- A job creation programme in Badghis province is giving children and their parents a viable alternative to working in hard labour or on the streets.
The programme is funded by the United Nations Children's Fund (UNICEF) and a German NGO called Hilfe zur Selbsthilfe (Help for Self-help).
A total of 550 children are now enrolled in schools or in vocational training centres to prevent them from the dangers of working on the street.
Some programme beneficiaries are children and teenagers deported from Iran whose poverty had forced them to migrate to Iran illegally.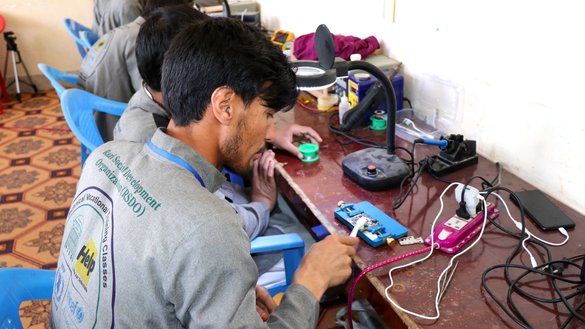 The children's support programme is implemented by Tawhid, a local NGO.
"Eligible children are admitted to schools. We have also enrolled one of their family members in the technical and vocational training programme," said Ishaq Waseq, Tawhid director in Badghis.
The programme started in April 2022 and will continue until the end of 2023, he said.
"The adults learn a trade, earn a salary and in return send their working children to school instead of sending them to the streets."
Children working on the streets are the main targets of human traffickers, but the technical and vocational training programme saves these vulnerable minors from human traffickers, Waseq said.
There are three vocational training centres located in Qala-e-Naw, the provincial capital, and in Moqor district.
"Some working children and teenagers that were already in schools are enrolled in the technical and vocational training programme so they will be saved from hard labour on the streets," Waseq said.
"Children and their relatives undergo professional training in tailoring and mobile phone and motorcycle repairs," he said.
Working children attend school
Since the vocational training programme launched, 400 impoverished working children who were deprived of schooling have been admitted to schools in Badghis.
Abdul Rasool Rahmati, 28, has an 11-year-old brother named Ajmal who was a child labourer in Qala-e-Naw city.
Being disabled, Rahmati cannot perform physical labour. To earn a living, he said, he had to send his younger brother to the streets to work.
Now, Rahmati is enrolled in vocational training classes.
"In return for learning a vocation, the NGO has admitted my brother to school and pays me a monthly salary," he said. "Our economic problems have been addressed since I have enrolled in vocational classes."
"I get 5,000 AFN [$57] for attending the vocational training," he said. "I am very happy that my brother is going to school and I am earning a salary while learning how to repair mobile phones."
"This is a golden opportunity that has saved us from poverty," he added. "We have witnessed a major change in our lives."
Ajmal would have remained deprived of education, resulting in a dark future for him, had it not been for UNICEF's support, Rahmati said.
"I am very happy that my son is attending school," said Khairuddin, 31, whose son Jawad, 10, was a child labourer in Qala-e-Naw city. "He was deprived of going to school in the past because he worked on the streets."
"There is no work and we had economic problems due to unemployment," he said, adding, "I would have never sent my young son to the streets to work if I didn't have to."
With the NGO's assistance, Jawad is admitted to school while his father is enrolled in the vocational training and gets a monthly salary.
Khairullah said he will open a shop in Qala-e-Naw after completing his training and will provide training opportunities for his children.
Preventing migration to Iran
Dozens of teenagers who had migrated to Iran for work and were deported by the Iranian police are enrolled in UNICEF's technical and vocational training centre.
Hamidullah Ahmadi, 18, traveled to Iran illegally three times in the past year with the help of human traffickers.
Along the road to Iran by way of Nimroz province, Hamidullah said he walked for several days and nights and endured hunger and thirst.
Twice, he was detained by the Iranian police before reaching his destination and was deported back to Afghanistan. After the third attempt, he was able to get to Iran's Kerman province and start working.
But two months later, Iranian police arrested Ahmadi on his way to work and deported him after a few days and nights of detention and torture.
"When I think about the hardship of traveling to Iran; the beating, kicking and deportation by the Iranian police, I lose sleep," said Hamidullah, who is now training to be a tailor. "I went through so much and will never forget it."
"I am very happy that I'm getting trained and I do not have to migrate to Iran again," he said.
"After graduating from this training, I want to open a tailoring shop and provide for my family," he added.
Ahmad Wahidi, 17, used to have a hand cart and carried people's goods from one point to another in Qala-e-Naw city.
Despite working hard, he would only make 100-150 AFN ($1.15-1.70) a day. Some days, he could not find work at all and would return home empty-handed to his family of four.
"I intended to go to Iran illegally if I were not enrolled in the training," Ahmad said.
"The money I was making with my hand cart daily was not sufficient for my family's expenditures," he said. "I am very happy that I found an opportunity here and I don't have to go to Iran."
"I am very happy that I am no longer doing hard labour on the streets. It is very tough to work on the streets, but I had to do it," Ahmad said.
"I will open my own tailoring workshop after I complete my training and I will create work opportunities for other young people, too," he added.