HERAT -- With the drastic increase in the number of child labourers amid severe economic challenges and poverty in Herat province, three international bodies have launched a joint project to support children.
The United Nations (UN), the European Union (EU) and the German-funded Help Organisation have activated an initiative to aid more than 1,600 Afghan children who had been forced into child labour.
The initiative, launched on May 8, offers vocational courses for children and distributes cash assistance to families of working children.
For 24 months, each household will receive $80 per month as an incentive to deter families from sending their children to work.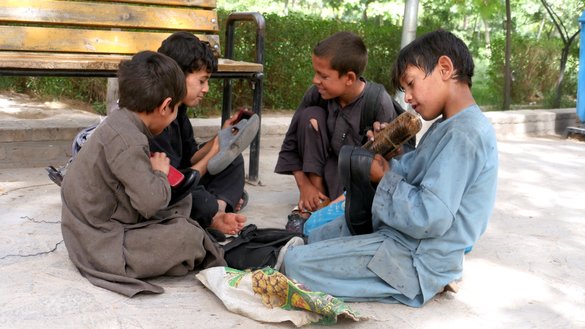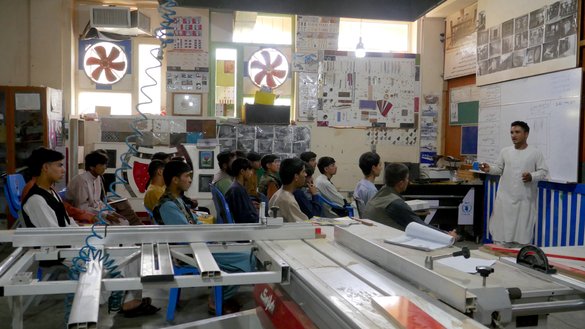 For each child under 15, an adult member of the family may also be enrolled in the initiative's vocational training programme. The first phase of the initiative includes six-month-long courses preparing students for careers.
More than 40% of Herat's working children are girls who have been forced to work as vendors across Herat city and some districts in the province because of economic hardship.
Courses in 7 fields
Faraidon Rahmanyar, director of the Ansari technical and vocational centre, said his centre offers six-month-long vocational courses in seven fields.
"These fields are tailoring, handicrafts, carpet weaving, carpentry, cell phone repairs, electrical work and TV repairs," he said.
The centre will also help participating teenagers or adults find opportunities in the job market after graduation, he said.
"Fifty percent of students come from the city and another 50% from Herat's Kohsan, Keshk Rabat Sangi, and Pashtun-e-Zarghun districts," he said.
The number of child labourers on the streets of Herat city has increased by 50% in recent months because of dire economic conditions.
According to the Herat Provincial Labour and Social Affairs department, 9,000 working children were registered as labourers nine months ago. That number has now exceeded 15,000 across the province.
Hopes for a brighter future
A number of children who are no longer working on the streets appear very hopeful about their future since enrolling in vocational classes.
These children have struggled hard to support their families by collecting garbage, shining shoes, and even panhandling.
Mahmood, 17, the eldest son of a six-member family, said he had no choice but to abandon school and start working on the streets because his father fell ill and his family was facing economic hardship.
"Working on the streets was very difficult. Some people made fun of me, but I had to make a living for my family," he said.
Mahmood used to collect garbage across Herat city and then sell the items he collected for barely 100 to 150 AFN ($1.12 to $1.68) total a day.
"I feel so happy since I started attending the vocational course. I am studying to become an electrician and am very hopeful that I can build a good future for myself," he said.
Sixteen-year-old Ahmad Faizan also used to collect garbage from the streets of Herat city and sell it.
"I was working on the streets in the hot days of summer and cold days of winter. I could not continue my education. Now, in addition to my vocational class, I can attend English and computer classes," he said.
"I am so grateful that after learning how to repair different kinds of TVs, I can earn a living for my family and serve my country," he added.
Opportunity to attend school
Hundreds of children who were forced into child labour have been able to return to school under the new international initiative.
Zubair, 8, is one of those children.
His sister, Abeda, 21, has registered in a vocational training course and now says that the monthly cash assistance to her family, provided by the joint initiative, has eliminated the need for Zubair's street labour.
"Because of poverty and economic pressure, we sent my brother to work, and he earned 50 to 100 AFN (56 cents to $1.12) a day by collecting and selling garbage," she said.
"But now everybody in my family is happy since I've joined the vocational programme. Zubair is very happy to be going to school," she added.
Abeda said she will start working as a seamstress after graduation and will not allow Zubair to work on the streets again.
Malalai, 40, said her 11-year-old son Mohammad Qasim is now able to go to school instead of shining shoes on the streets.
"Mohammad Qasim is my eldest son, and we were forced to send him to work. My husband is sick, and he cannot work. My son was making 100 AFN a day, and with that money we used to make a living," said Malalai, the mother of four children.
"I am very happy that I have the opportunity to learn tailoring and that my son can go to school. Mohammad Qasim is now busy with his studies and wears a school uniform instead of dirty clothes," she added.