KABUL -- Iran is forcibly returning Afghan refugee children to Afghanistan after subjecting them to hard labour in camps near the border, raising concerns among Afghan officials and human rights activists.
Afghanistan is also taking issue with Iran after reports emerged in October accusing Iran's Islamic Revolutionary Guard Corps (IRGC) of sending Afghan immigrant and refugee children to fight in Syria.
Between September and October this year, Iran deported 1,316 Afghan children, with 65% of them under the age of 15 and the remainder between the ages of 15-18, according to Abdul Qayum Afghan, head of the Herat Province Department of Labour and Social Affairs.
A majority of these children, 936, returned through the Mizach border crossing in Nimroz Province, while 380 came through the Eslam Qala border crossing in Herat Province, he said.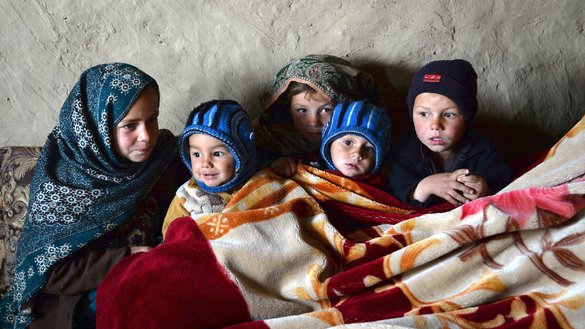 The children say Iranian police rounded them up while they were working, Afghan said.
"The police come and throw them in jail, [subjecting them to] utterly inhumane conditions and even beatings and without even asking any questions," he told Salaam Times. "These children have committed no crime."
"After a while, they move these children to a centre near the border of Afghanistan," Afghan said. "At that centre, they are forced to do hard labour so that they dare not ever again return to Iran. It is only then that they send the children back to Afghanistan."
Protecting children from exploitation
The compulsory deportation of Afghan children has raised serious concerns for the Afghan government, human and children's rights organisations and Afghan citizens.
"Forced deportation of children from Iran is contrary to internationally accepted conventions," Maryam Ataei, spokeswoman for Save the Children, told Salaam Times November 25.
"Meanwhile, there is a shortage of government and international institutions to absorb these children in Afghanistan's orphanages," she said. "Therefore, there exist serious concerns regarding the exploitation of these children."
"We have also heard from these children about cases of Iran subjecting these children to hard labour before returning them to their country," she said.
"We are deeply concerned about such actions, and we hope that the efforts recently made with the help of the United Nations and other international institutions to improve the lives of Afghan children will bring positive results," said Ataei.
Iran's actions are "a violation of international laws ... and must be seriously addressed", Ataei said.
Iran violating international law
The Afghan Independent Human Rights Commission (AIHRC) also sharply criticised the Iranian government's treatment of Afghan children.
"Regrettably, the Iranian regime does not adhere to accepted human rights obligations," AIHRC spokesman Bilal Sediqi told Salaam Times.
"In recent years, the Iranian government has deported dozens of children from Iran, with no regard for their consent or for the consent of their families," he said. "This, in and of itself, raises concerns for [the children's] future."
A majority of these children do not have a guardian and remain vulnerable as orphans, Sediqi said.
"There is no doubt that the insurgents will use them in their destructive activities," he said. "We call on the Iranian government to put an end to such disturbing actions."
"Iran's action is contrary to the international conventions that Iran itself has accepted," said Herat official Afghan. "Today, however, we see that Iran violates them."
Afghan called on international human rights organisations, especially the United Nations and Amnesty International, to "pay serious attention to this situation more than ever before so that these innocent children can be saved from this evil".
Some of the children recently returned to Afghanistan have been placed in orphanages, while others are living with Afghan families, he said.
"Nevertheless, our serious concern is that the future of those children, who remain in the streets without shelter or guardians, is alarming."
Efforts to halt deportations
"The Herat provincial governor is in contact with the Iranian side, doing his best to prevent further forced deportation of Afghan children to Afghanistan," Jilani Farhad, spokesman for the governor, told Salaam Times on November 24.
"Our goal is to stop them from crossing the border at least in the winter, when it's cold and there are more problems," he said.
Masuda Karrokhi, a member of the Human Rights Commission in the Wolesi Jirga (lower chamber of parliament), accused Iran of explicitly violating the rights of children.
"Since the beginning of Afghans' migration to Iran, no one -- including children, elderly, youth, women or men -- has been safe from the oppression of that country," he told Salaam Times. "This ruthless regime has never hesitated to oppress the Afghans in any way."
"Afghans do not go to Iran out of passion -- hard times have forced us to do so," he said. "Therefore, I call on the United Nations, international human rights institutions and supporters of the Afghan government to put a stop to the Iranian regime's tyranny of oppressed Afghans."
"Where are children supposed to go when they are deported from Iran without their parents? How should they be raised?" said Zubair Basiri, 25, a resident of Kabul.
"It is obvious that they will be used either as sex slaves or as operatives in destructive activities," he told Salaam Times. "The government does not possess the ability to raise and support all of them. Therefore, it's a concern for all of us."