HERAT -- Zabihullah Shafahi was deported recently from Iran with his family, and recounted bitter tales of torture and mistreatment he underwent at the hands of Iranian forces.
Shafahi, who is living in a United Nations (UN) refugee camp in Herat city with his family, said the Iranian police hold thousands of Afghan refugees in hangars for extended periods without food or water.
Speaking on April 10, the father of four, who is 45 and from Panjshir, said that Iranian authorities would not even allow refugees to use the bathroom.
"Ten refugees fainted in the hangar from lack of oxygen," he said. "The Iranian police did not allow us to take them out of the hangar, saying, 'Let them die.' The Iranian police even beat the ones who fainted with cattle prods."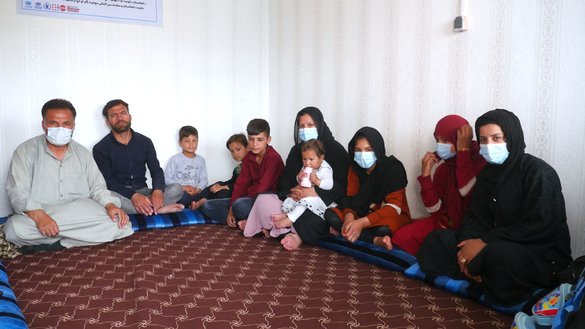 Two refugees died from dehydration and lack of oxygen in the hangar, Zabihullah added.
"Iranian police treat refugees like animals, beating them badly in front of hundreds of people," he said.
"I agree that refugees are in detention, but even detainees have the right to eat, drink and use a toilet," he added. "But in Iran, detained refugees are deprived of even their basic rights."
The Iranian police did not even allow him to buy water and milk for his infant son for 24 hours while on the road, leaving him to suffer from severe hunger, said Shafahi.
"The Islamic Republic of Iran is not Islamic. Only the name is Islamic Republic, not the action," he added. "Islamic Republic? Iran calls the US and Israel bloodthirsty, but it is Iran that is actually bloodthirsty."
"The US flies Afghans for 18 hours from here, providing them with water and food, and enrols their children in schools in the US, while in Iran, Afghan children cannot go to school and their parents are afraid to work," he said.
Crimes against humanity
In response to the increasing mistreatment and torture of Afghan refugees in Iran, some human rights activists are calling the actions of the Iranian military against Afghans a clear violation of human rights.
Horrific images of Afghan refugees in Iran have been circulating on social media lately. The images show bloodied young Afghans who have been attacked with knives and other lethal objects.
The mistreatment of Afghan refugees in Iran is unprecedented and is increasingly becoming catastrophic, said Sadiq Mosadeq, a human rights activist in Herat city.
"Refugees are treated nowhere in the world the way they are treated in Iran," he added. "The treatment of refugees in Iran, whose sole purpose is to find work and food, is a crime against humanity."
"The blatant violations of Afghans' human rights in Iran must stop immediately," he said. "Although Afghans have always been deprived of their rights in Iran, crimes against humanity are taking place against Afghans lately."
A humanitarian catastrophe is imminent soon if violations of Afghan refugees' rights in Iran are not stopped immediately, Mosadeq warned.
Some Iranians and their military do not consider Afghan refugees to be human beings, said Musa Safi, 22, from Kapisa, who was deported recently from Iran.
"The police picked me up from my room in Tehran," he said on April 10, while in the UN camp for refugees in Herat.
"They did not even allow me to take my mobile phone and clothes. My hands were numb because they tied them so tight. They put more than 100 people in a vehicle meant for 30."
"The police beat everyone in the refugee detention camp. They are very brutal," he added.
Calls for investigation
Some human rights activists and Afghan citizens are calling on human rights organisations to investigate crimes against humanity being committed against Afghan refugees in Iran.
Refugees have certain universal rights that host countries must respect, said Mohammad Javed Silab, a human rights activist in Firoz Koh, capital of Ghor province.
Violations of Afghan refugees' rights in Iran have been documented, he said, adding that international human rights organisations need to address these issues.
"Horrific crimes have been taking place against Afghan refugees in Iran secretly for years," he said. "But some of the abuses and oppression by the Iranians that have come out to the media lately offer an opportunity for investigation."
"Many Afghan refugees have been killed in Iran lately, but no organisation has investigated those cases yet, unfortunately. These crimes cannot go on," he added.
It is the duty of human rights and refugee protection organisations to prevent violations of Afghan refugees' rights in Iran, Silab said.
Afghans in Iran are being punished without having committed any crime, said Sayed Ashraf Sadaat, a civil society activist in Herat.
"We have seen in many instances that innocent refugees have been imprisoned for years or even sentenced to death," he said.
"Afghan refugees in Iran have no access to justice, and the Iranian government decides their fate as it pleases," he added.
These crimes should be investigated and those involved should be brought to justice, Sadaat demanded.