HERAT -- Calls for investigations are growing as Iranian soldiers continue to carry out bloody assaults against Afghan refugees, with some Afghans accusing the Iranian military of harvesting their organs after.
The news comes as Iranian authorities deny entry even to Afghans with valid documents and deport them by the thousands to face uncertainty and fear.
During this period, Iran returned almost 100 bodies of Afghan refugees to Afghanistan via the Nimroz crossing alone. Most of these refugees crossed into Iran illegally to escape poverty and uncertainty and to find work there.
All of the dead Afghans -- which included children and adolescents -- were killed by Iranian troops' gunfire.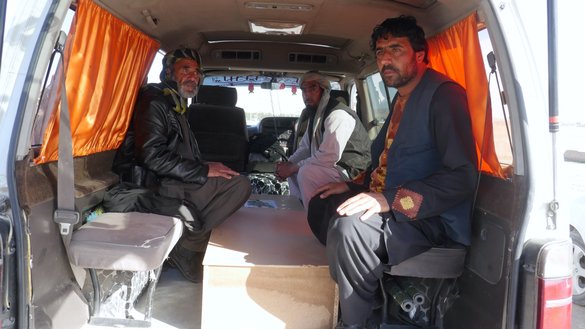 Iranian authorities sent nine refugees' bodies to Afghanistan in a three-day period in the first week of February. All of them had been shot, Mohammad Hashem Hanzala, border commissioner of Nimroz province, said Tuesday (February 8).
"Two or three bodies arrive in Nimroz province via the Milak border crossing from Iran daily," he said. "Victims are shot mostly in the chest or head."
"The Iranian military beat most Afghan refugees very badly and deport them to Afghanistan without dignity or any medical treatment," he added.
The majority of victims are youth who wanted to go to Iran or via Iran to Turkey and other European countries, Hanzala said.
More than 20 Afghans, all with gunshot wounds, have been hospitalised recently after expulsion from Iran, said Ghulam Jilani Sharifi, director of the nursing department at Nimroz Hospital.
"The majority of the wounded ... are permanently disabled as bullets have damaged their vital organs," said Sharifi.
The wounded include children, he said.
"The people who are shot in Iran are abandoned in critical condition," Sharifi said. "Many of the wounded ones die from loss of blood because they don't reach a hospital in time."
Organ harvesting
Some of those who are shot suffer an even worse fate.
Sohrab, 16, was shot by Iranian forces who took him to a military hospital.
Once there, Iranian doctors harvested his organs, said his mother, Najiba, who did not provide their last name.
Sohrab's body arrived in Herat Monday. When his family retrieved the body, his organs were missing, the family said.
"My son was alive for two hours after getting shot and was under treatment at a hospital," she added. "But since he was completely alone, they killed him and removed his organs."
"The brutal Iranian government is the killer of my son. I will never forgive these tyrants," she added. "They did not have mercy on a child and cut open his abdomen after killing him."
The Iranian government sells organs, said Mustafa Ahmadi, Sohrab's relative.
"Afghans are being mistreated in Iran. Iranian security forces kill many young people for their organs," he said.
"Human rights organisations should not remain silent about these crimes committed by the Iranian government," Ahmadi added. "The world would be shocked if such incidents occur in other countries, but dozens of Afghans are massacred daily in Iran and no one is bothered."
The Iranian government does not consider Afghan refugees to be human, said Abdul Hakim, a Nimroz resident who goes by one name.
"Many Afghans are forced to go to Iran to feed their starving children, but the Iranian government tortures them," he said.
"I know many Afghans who went to Iran for work, but their bodies were returned to Afghanistan," he added. "The Iranian government removes organs of these Afghans to transplant into its citizens."
Horrific crime
The killing of Afghan youth in Iran and the use of their organs are shocking and should be investigated by reputable international organisations, said Mohammad Yusuf Alemi, a human rights activist in Herat.
"Based on human rights values and international conventions, Iranian security forces have no right to fire at Afghan refugees," he said. "Refugees are supported around the world. If they cross borders illegally, they are arrested and deported to their home countries."
"Tens of thousands of residents of different countries migrate to Europe every year, but soldiers from the European countries have never opened fire at migrants or removed their organs," he added.
The Iranian government, against all human values, has been killing and torturing Afghans for years, but it has never been held accountable, said Alemi.
Nobody is investigating the murder of Afghan refugees, said Mohammad Nazir Hadafmand, a civil society activist in Zaranj, the provincial capital of Nimroz.
"In the current situation where Afghans are completely alone, it is the duty of human rights organisations and the United Nations to monitor the situation and stop Iran's crimes against Afghan refugees," he added.
"The Iranian security forces are committing inhumane crimes against the refugees," he said. "Human rights organisations must pressure the Iranian government to end its oppression."