HERAT -- Videos showing Iranian border guards and Iranian mobs beating Afghan refugees in Iran sparked angry protests across Afghanistan on Monday and Tuesday (April 11-12).
On Tuesday around 200 Afghans gathered at a square in central Kabul, carrying posters reading "Iran should stop its cruelties" and "We want justice".
On Monday, protesters attacked the wall and building of the Iranian consulate in Herat with sticks and stones, destroying parts of the wall and its security cameras.
While chanting "Death to Iran!" and "Iran is a killer state!", the demonstrators burnt the Iranian flag and set a fire at the entrance gate of the consulate, sending plumes of smoke into the sky that were visible across Herat city.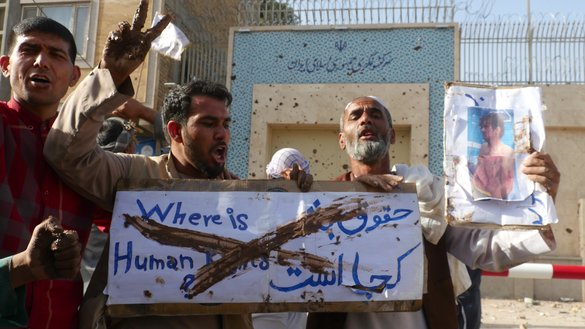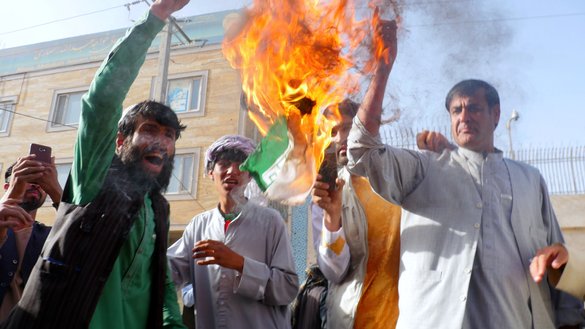 Similar anti-Iran protests took place in Khost and outside the Iranian embassy in Kabul on Monday.
The Iranian government Tuesday announced the closure of all its Afghan missions until further notice.
The Iranian embassy in Kabul on Sunday had dismissed the beating videos, saying they were "baseless and invalid" and aimed at harming the historical relations between the two countries.
But for many Afghan migrants who have experienced brutality at the hands of Iranian security forces or employers, the images spoke to reality. Among many such incidents, Iranian authorities in 2020 fatally shot three Afghans in a car in Yazd province and were accused of forcing dozens of Afghan migrants into a river, where they drowned.
Last year, dozens of Afghan bodies were repatriated at a single border crossing in Nimroz, with many missing vital organs after being at Iranian military hospitals.
Though it was unclear when the latest videos were recorded, one seemed to show Iranian border guards beating Afghan refugees in a room, while other footage appeared to show a group of Iranians dragging and beating refugees in a compound in Iran.
Iran, which hosts more than five million Afghan refugees, has seen a fresh influx of Afghans entering the country since the fall of the Afghan government last August.
An un-Islamic Republic
"The Iranian government is not the Islamic Republic but the Republic of Kafiristan," said Mir Hamza Khadem, one of the protesters in Herat.
"Iranian security forces and civilians have stormed the houses of Afghan refugees in Iran looting their money and belongings," he said.
"Besides beating and torturing Afghan refugee children, security forces have also raped them," he said.
"We came here today and threw stones at the Iranian consulate to ease some of our pain caused by the Iranians," Khadem said, adding that violence against Afghan refugees is unacceptable.
"We will defend the rights of our people," he said.
"Iranians think that they will not be held accountable for their crimes, but Afghans will not remain silent and will take their revenge," said Homayoun Kakar, another demonstrator.
"We gathered here today in front of the Iranian consulate to tell the world that Afghan refugees, like any other refugees, are humans and should have the right to live and work," he said.
"The Iranian government is not Islamic and has always mistreated helpless Afghan refugees," he added.
A brutal neighbour
Violence against Afghan refugees in Iran has increased recently, according to media reports and eyewitnesses.
Causes include Tehran's anger after Afghanistan inaugurated the Kamal Khan Dam last year, cutting off the free flow of Helmand river water to Iran.
Photographs showing bloodied and severely wounded Afghan young men have been circulating on social media. These young Afghan men are said to have been attacked with knives and other lethal tools by the Iranian security forces and civilians.
"My blood is boiling in anger because of the beating and killing of Afghan refugees in Iran," said Ghulam Farooq, a protester who was holding a picture of a bloodied Afghan refugee who was recently stabbed in Iran.
"The blood of Qassem Soleimani, a murderer, is valuable for Iran, but the blood of our children who are killed in Iran has no value to them?" he said, referring to the former commander of the Islamic Revolutionary Guard Corps (IRGC) Quds Force, who was killed in Baghdad in 2020.
"Iran is not an Islamic country," Farooq said. "The treatment of the Afghan refugees and the youth is cruel and inhumane."
"Iran is the killer of Afghans and should be prosecuted in international courts," he added
For years, Afghans have considered Iran a friendly neighbour with a common language, but Iran has always been hostile towards Afghans, said Javed Karimi, another protester.
"Afghans go to Iran to work and find food, but the oppressive regime and people of Iran brutally mistreat these poor workers," he said.
"The Iranian government claims to be a friend of Afghanistan, but in reality, it is the enemy of Afghans," he added.
"The world should not remain silent about the Iranian crimes against Afghans and must bring the perpetrators to justice," Karimi demanded.
Regretful Fatemiyoun fighters
One demonstrator in Herat recalled his time in the Fatemiyoun Division, an IRGC-backed militia founded by Soleimani to fight in Syria.
Sayed Hussain Hussaini, 27, said he had fought against the "Islamic State of Iraq and Syria" (ISIS) for five years in Syria as a member of Fatemiyoun.
One year after he returned from the Syrian war, Iranian authorities arrested Hussaini in Tehran and deported him to Afghanistan last Saturday.
"The IRGC promised me a house and citizenship in return for fighting in Syria, but it never fulfilled its promises," Hussaini said.
His two brothers also fought in Syria, where they were disabled in the war, and are now staying at home in Herat.
"The Iranian government issued me a 10-year passport in return for fighting in Syria, but the Iranian military tore up my passport when I was in custody and forcibly deported me to Afghanistan," Hussaini said.
"If Iranians are really men and if Soleimani was really a man, I challenge them to come forward and stand in front of me," he said angrily. "I will show them who the real man is."
Iranians "lack the courage to go to the battlefield and fight" while they send Afghans and others to the front lines, he said.
Hussaini said he regrets fighting in Syria and wishes he had never been fooled by the Iranian government's false promises.
The government and people of Iran have launched a brutal campaign against Afghans without showing mercy to anyone, said Nazir Ahmad Ghulami, a friend of Hussaini and another Fatemiyoun veteran, who also was expelled from Iran at the same time.
"Iranian soldiers do not differentiate between Fatemiyoun and non-Fatemiyoun," he said. "They arrest Afghans wherever they find them and deport them to Afghanistan without any investigation."
As long as the Iranian government needed the Fatemiyoun, it sent the group to fight in Syria and Iraq and put Afghans in harm's way, but now that Fatemiyoun is no longer needed, Tehran breaks its promises and deports Fatemiyoun members to Afghanistan, he said.