HERAT -- Afghans outraged by the mistreatment of their compatriots in Iran are contrasting its policies with those of other countries that have taken in Afghans.
Afghans last week demonstrated outside Iranian consulates and the Iranian embassy, angered by videos that showed Iranians beating up Afghans.
More than three million Afghans now live in Iran, as the Los Angeles Times reported last December. However, many do not find a friendly home in Iran and are upset by their ongoing mistreatment.
Afghan refugees in Iran live in hiding and fear, said Ghuncha Gul Karimi, a resident of Herat.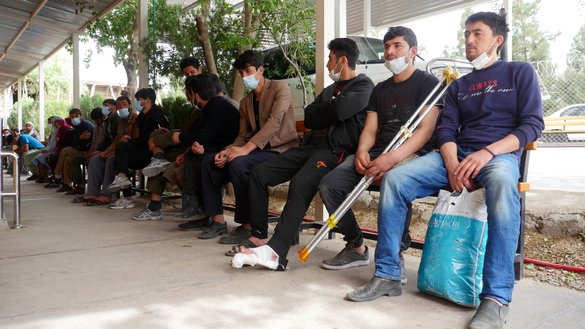 "While Afghans have been forced to flee their country in the past couple of months, instead of helping and sheltering them, Iran has been torturing and deporting them," he added.
"Afghan refugees are a money-making business for the Iranian government," Karimi complained. "It charges Afghans a lot of money for visas and then daily extorts money from Afghan workers in Iran under different names."
Iran's mistreatment of Afghan refugees while non-Muslim countries help and shelter them brings great shame to that Islamic regime, said Abdul Rahim Sarwari, a resident of Herat city.
"Iranian leaders always claim in the media that they are Afghans' friends and are always there to help them," he added. "But in reality, they do the opposite."
"How long will the Iranian government continue oppressing Afghans? It has taken everything from us for 40 years; enough is enough," he added.
Afghan refugees around the world live in peace -- but not in Iran, Sarwari said.
Open hostility towards Afghans
Two murders in Mashhad, Iran, have unleashed Iranian hostility against Afghan refugees.
After two mullahs were killed there April 5, a public campaign began against Afghan refugees in Iran, even though Iranian authorities arrested a suspect and identified him as of Uzbek descent.
Giving in to anti-Afghan prejudice instead, police and civilians reportedly are hunting for Afghan refugees across the country. Upon finding them, they attack them and deport them to Afghanistan.
Scapegoating and persecution of Afghans in Iran have been widespread since the slayings, some Iran-based Afghans claimed.
The campaign against Afghan refugees by Iran is a crime, said Mobin Ahadi, a resident of Herat city, calling it a planned effort.
"Afghan men and women, old and young, are being attacked and tortured in Iran even though they committed no crime," he added. "This is the peak of hostility and discrimination against Afghans."
It is inhumane to punish thousands of innocent refugees for the slaying of two mullahs by someone else, said Mohammad Rafi Hussaini, a resident of Herat city.
In the United States, an Iranian refugee woman stabbed an American man as her stated revenge for slain Islamic Revolutionary Guard Corps Quds Force (IRGC-QF) commander Qassem Soleimani's death, he said, referring to a non-fatal assault in March. "Did the American people assault and torture all Iranian refugees in the United States [in retaliation]?" he asked.
"The Iranian government has been treating Afghans like a brutal enemy for decades, be it torturing Afghan refugees or interfering in Afghanistan's internal affairs," he added.
"The United Nations and other human rights organisations must pressure Iran to stop the mistreatment of Afghan refugees," Hussaini added.
Undermining rights
After the latest abuses of the Afghan refugees by the Iranian government, a number of Afghans have branded Iran as a bad and brutal neighbour.
Iran has always mistreated Afghans, Sayed Rahim, a resident of Herat who goes by one name said.
"We go to Iran because we have shared language and religion, but instead of giving us refuge, the Iranian government mistreats us," he added.
"Iran's visa fee for Afghans is 15,000 AFN ($171)," he said. "No other neighbouring country charges us that much for a visa."
Afghans are forced to emigrate to Iran because it borders Afghanistan, Sayed Rahim said.
Refugees around the world have specific rights, but Tehran violates Afghan refugees' rights, said Mohammad Nader Muzafari, a resident of Herat city.
"Assuming that it is an Islamic and friendly country, we Afghans go there for work," he added. "But Iran's treatment of us Afghans is neither Islamic nor humane."
"Some photos circulating on social media might show a percentage of Iran's brutality against Afghans," he added. "The world would be shocked if all of Iran's crimes were documented."