HERAT -- The Iranian regime's decision to close all border crossings with Afghanistan, after citing an outbreak of the new COVID-19 variant, has stranded thousands of Afghans who hold legal entry visas to Iran in extreme winter at the border points.
Many of these Afghans have come from remote provinces to legally enter Iran through Afghanistan's western borders, but the Iranian border guards have stopped them from entering.
Almost 1,000 Afghans with valid entry visas to Iran waited at Islam Qala Port in Herat province to cross the border on December 26, but they were denied entry.
They spent several days at the border in cold weather without access to any basic facilities and, as of Tuesday (January 4), remain stranded.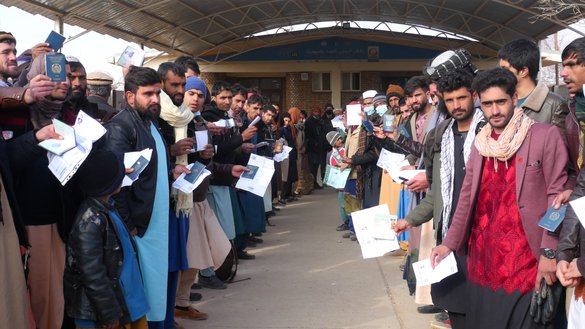 The Iranian regime is not honouring its own issued visas, said Yousuf Miakhail, a resident of Nangarhar province.
"I paid 800 AFN [$7.70] to reach here, and am now spending about 1,000 to 1,500 AFN [$9.60–$14.40] each night," he said December 26 at the Islam Qala crossing.
"I am not sure under what law they issued us visas, but they are not allowing us to enter Iran," he said.
Most of the passengers came from far away and will run out of money if they have to wait much longer at the border, he said.
Shaghi Omari, a resident of Kapisa province, described the entry ban as oppression.
"I obtained a legal entry visa and paid 5,000 AFN [$48] to travel from my province to get here, but now they are not allowing us to enter Iran," he said.
"I borrowed money to pay for the visa fee so that I can legally travel to Iran, but it seems I have to cross the border like a smuggler," he said. "Our hands and feet are shaking from the cold, and we are waiting to hear what they have to say to us."
The Iranian regime should have notified travellers about the border closure so that they could have avoided unnecessary travel expenses, Omari said.
Extortion of visa fees
On average, an Iranian visa costs more than 20,000 AFN ($192) for each Afghan applicant.
According to many travellers, the Iranian embassy in Kabul and its consular offices in a number of provinces have been extorting large sums from applicants under various pretexts, including paying for insurance and for COVID-19 tests, but they provide no services in return.
Juma Gul Rahmani, a resident of Herat, said he spent more than 30,000 AFN ($288) to obtain his Iranian visa and pay for travel to the border.
"It has been four nights that we have spent in cold weather without proper food, water or accommodation," he said on December 26. "When we go near the border, the Iranian guards say that it is closed."
"If the Iranian regime intended to close the border, why did it take our money? This is clearly extortion," he said. "We will definitely demand our rights from Iran under any circumstances."
If the stranded travellers are not allowed to enter Iran soon, their visas will expire and their money and time will be wasted, Rahmani said.
Sarajuddin Rahimi, a resident of Takhar province stranded at the Islam Qala crossing, said he waited three months for the Iranian embassy in Kabul to issue him a visa.
Now, with the Iranian regime's refusal to allow him to enter the country, he not only lost money but wasted much of his time, he said.
"I sold off my household items and other belongings to pay for the visa fee and my travel costs to the Islam Qala border crossing, but now I have to go home," he said.
"Hundreds of other people like me have been stranded here and do not have the money to return to their provinces."
Mirwais Nadery, a resident of Maidan Wardak, said he paid more than 50,000 AFN ($480) for his and his wife's visas.
"I paid 4,000 AFN [$38] for transport to the Islam Qala border crossing," he said. "I do not have any money to return home in Maidan Wardak province."
With the Iranian regime's entry ban, he will lose his money, most of which he had borrowed.
The Iranian regime must allow everyone who holds a valid visa to enter the country or reimburse the visa fees, said Nadery.
Continual brutality and torture
The Iranian regime has also recently accelerated the deportation of Afghan refugees.
Between 2,000 and 5,000 Afghans who enter Afghanistan via the Islam Qala crossing are being deported from Iran daily, based on official data published in Afghanistan.
Each deportee has his or her own terrible account of torture and mistreatment by the Iranian military and Iranian employers.
Assault and torture in places where Afghan deportees are being held by the Iranian police have become routine, said Zia-ul-Haq Zia, a resident of Balkh province whom Iran recently deported.
"There were 40 buses full of Afghan deportees," he said in Islam Qala on December 26.
"The Iranian police made several stops en route to the Afghan border and forced us to buy stuff from Iranian shops," he recalled. "I paid 500,000 IRR [$1.90] for two oranges, and when I said I didn't want to buy oranges, an Iranian soldier told me to pay instantly and to shut my mouth."
"I worked for a steel company in Isfahan for four months, but my employer did not pay me," Zia said. "When I asked for my wages, the employer refused to pay. I was later arrested ... and deported to Afghanistan."
Iranian soldiers extort money from Afghan deportees on the way to the Afghan border under various pretexts, and if anyone does not pay, he or she will be severely beaten and tortured, he said.
Farzad Azimi, a resident of Kabul, said Iranian forces arrested him when he was working in Tehran.
After spending a week in a camp for undocumented immigrants under harsh conditions, he was forcibly returned to Afghanistan.
"Afghans experience very bad conditions in the camp," he said. "More than 30 people are kept in each room for several nights."
"Even women and children were detained in extreme cold without any appropriate arrangements to keep them warm," he said. "Proper food was not available, and if they [Iranian authorities] brought food, they would sell it for four times higher than the market price."
The Iranian soldiers would pick whomever they wanted to beat and take all the money the person had in his pockets, Azimi said.