KABUL -- About 34 million Afghans are living below the poverty line, the United Nations Development Programme (UNDP) said Tuesday (April 18).
That figure is a staggering increase -- nearly double -- from the last recorded estimate of 19 million in 2020.
There are no contemporary census data for Afghanistan, but the UN uses a population estimate of 40 million, meaning 85% of the nation is projected to be in poverty.
"Some have been compelled to sell their homes, land or assets that generate income," the UNDP report said.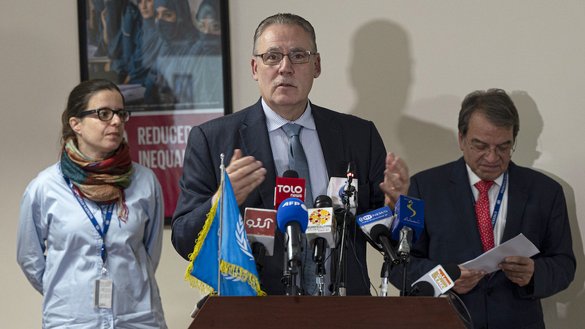 "Others have resorted to the distressing practice of commodifying their own family members, turning children into labourers and young daughters into brides."
Vast foreign subsidies were halted and aid programmes dramatically cut back since 2021 as many countries refused to deal with the current rulers in Kabul.
Those NGOs still providing vital help were dealt a further blow in December last year when Afghan women were barred from working for them.
The curb was extended this month to the UN's Afghan female employees, and the organisation said it faces an "appalling choice" over whether to continue its aid schemes.
The order is the latest in a slew of creeping restrictions on the freedoms of women since 2021 that have seen teenage girls barred from schools and women pushed out of universities and many jobs.
'Into the abyss'
The UN airlifts vast sums of US dollars into Afghanistan to pay staff and operating costs -- cash injections that have been vital in shoring up the nation's faltering economy.
About $1.8 billion was imported this way between December 2021 and January 2023, according to the UN's mission in Afghanistan.
It warned at the start of the year "if the volume of assistance that the UN is able to provide diminishes, the amount of cash shipped will be reduced".
Therefore, if the UN winnows down its work, it will have the double effect of reducing aid and cutting a crucial economic lifeline for desperate Afghans.
The UN has also warned that restrictions may turn off the aid tap at the source, with donors wary of committing cash to projects that cannot be implemented.
The UN's 2023 Afghanistan appeal has thus far raised only 5% of its $4.6 billion goal.
"If foreign aid is reduced this year, Afghanistan may fall from the cliff edge into the abyss," the UNDP resident representative in Afghanistan, Abdallah al-Dardari, said in a statement.
'Very negative consequences'
Many organisations suspended their operations in protest against the December ban on NGOs employing Afghan women.
An exemption was granted to those working in the health sector following days of wrangling, but the UNDP said 150 NGOs and aid agencies "have suspended all or part of their work".
Aid officials say they need female workers to help identify and support Afghan female beneficiaries across the country.
"The ban has very negative consequences," al-Dardari told reporters during the release of the UNDP report in Kabul.
"If we don't have those female colleagues, who will knock on the door and provide support and talk to Afghan women in their homes?"
The UN has told all Afghan citizens, both men and women, to stay away from its offices since the ban on Afghan female UN staff from work two weeks ago.
"For now they are working from home and they will continue to be UN staff and they will continue to be paid," al-Dardari said.