URUZGAN -- The World Bank has initiated new infrastructure projects in Uruzgan to create employment and alleviate poverty at a time when Afghans are grappling with economic challenges.
Work on these development initiatives, which include 111 small and large projects, started on March 15 in the Chora and Chinartu districts of Uruzgan province.
The projects include the construction of roads, bridges, water intakes and retaining walls, and the cleaning and/or building of streams and canals.
The projects, which cost more than 900 million AFN ($10.6 million), are funded by the World Bank and implemented by the Sanayee Development Organisation (SDO).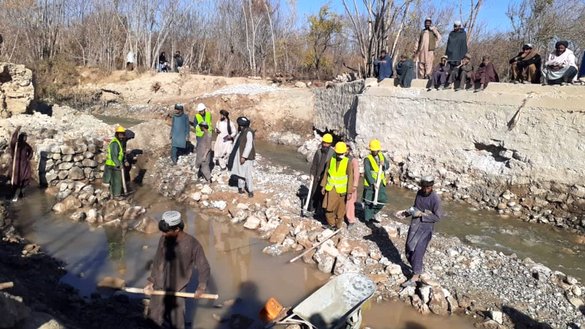 These infrastructure projects in Uruzgan have created jobs for 100,000 individuals, said Zubair Ahmad Badloon, director of the SDO in Uruzgan province.
"Every worker gets 450 AFN [$5.30] a day for working on these projects, and they get paid monthly," he added.
"These projects are medium term, and their construction will take a year and a half," he said.
"Workers will be employed for the duration of the project and will be paid regularly each month. The objective of these projects is to create employment for the unemployed and impoverished residents and build the villages."
In Chora and Chinartu districts, 181 villages will benefit from these projects, Badloon added.
These infrastructure projects will serve the province for decades, Abdul Ghani Bilal, director of the Uruzgan Department of Rural Rehabilitation and Development, said.
"These development projects are the main priorities of the population of Uruzgan. It had been asking for the implementation of such public projects in the villages for years."
"Roads, bridges, dams and retaining walls bring great convenience to their lives," he said.
"These projects have transformed the lives of the local population," he added.
"On the one hand, thousands of them earn a living by working in these projects, and on the other hand, they will benefit from these projects for decades to come."
Then implementation of so many projects never would have been possible in Uruzgan without the World Bank's support, Bilal said.
Saving residents from unemployment and poverty
Residents of Uruzgan are happy to work after enduring extreme poverty and extended periods of unemployment.
Wali Mohammad, 29, a resident of Chinartu district, is the breadwinner of a seven-member family. He had been unemployed for more than a year and a half before the launch of the projects.
Mohammad was a member of the police force before August 2021 but lost his job and started to face severe economic challenges, he said.
"These projects are a major help to us, providing employment for most of the locals."
"Most people in our district are poor and can't provide their families even one meal [a day]," he said.
"All of the youth and other locals were suffering from unemployment and economic problems, but almost all of them are now busy working. With the continued implementation of such projects, poverty will be eradicated from our area," he added.
Wali Mohammad is happy that his village will be developed with the construction of roads and bridges.
Such development projects had never been implemented in their districts, said Qudratullah, 32, a resident of Chinartu district.
"One of the benefits of this project is that thousands of locals who were suffering from poverty are busy working and earning a living for their families," he added. "Another benefit is the development of our villages."
"The launch of these projects by international aid agencies is a good opportunity for our people. We are very happy that we are making money in return for building our villages," he added.
Most residents of his district are suffering from mental illness due to poverty and economic problems. In addition to alleviating poverty, these projects will help improve mental health, Qudratullah said.
Development and convenience
Delighted about the launch of these infrastructure projects in their area, residents of Chora and Chinartu districts are hopeful that these projects will serve them for decades.
Khairullah, 53, a resident of Chora district, said that currently, trucks cannot drive into his village because it lacks roads and bridges, but with the construction of new roads, trucks and cars will easily move through the village.
"Passenger vehicles transporting people to the city don't come to our village for lack of a road, forcing us to walk for half an hour to catch vehicles. But once the road and bridges are built, drivers will drive to our village and our trip to the city will be convenient," he added.
"Our village will be developed once roads, bridges and streams are constructed in a standard manner," he said.
"Our villages have been destroyed in wars, forcing most residents to leave their homes. Once the villages are rebuilt, they will return home and resume farming."
The residents of these districts are poor and unemployed. On their town, they never would have been able to build roads and bridges in their villages, but the assistance provided by aid agencies has made it possible, Khairullah said.
Gul Khan, 49, a farmer in Chinartu district, said floods have destroyed his farms every year, but a new retaining wall will hold back the water.
"Streams in our village were full of dirt, preventing water from reaching farms."
"People were preoccupied with finding food for their families and could not clean up the streams. International assistance has made it possible for them to rebuild their villages," he said.
"Assistance by international aid agencies has made our lives much easier," he added.
"Before this, we were receiving food monthly, but now we get a salary in return for work in our villages."
Assistance by aid agencies has saved residents from poverty and hunger and is helping to develop their villages and districts, Gul Khan said.