SAMANGAN -- Residents of Samangan province welcomed the completion last month of four development projects funded by Japan and the United Nations International Organisation for Migration (IOM).
The projects were handed over to beneficiaries on January 23, according to local authorities.
They include the construction of retaining walls, culverts and an irrigation canal, as well as clearing of flood zones in Aibak, the provincial capital, and two districts.
The newly completed retaining wall is 302 metres long and 3 metres tall, and the culverts, built in Aaq Paikal village in Aibak, are 3 metres wide, said Ashratullah Aqeel, spokesperson for the IOM in Samangan.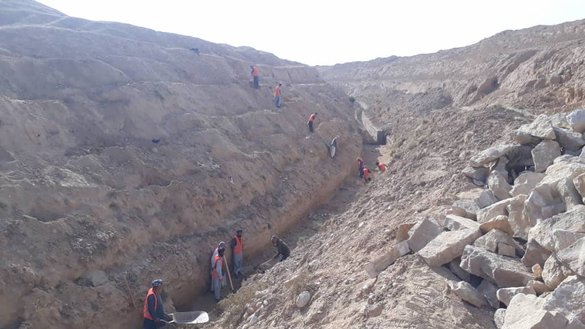 The projects also included the construction of a 250-metre-long irrigation canal in Asyab Abad village, Hazrat-e-Sultan district, and the cleaning of 177 metres of flood zone in the Zaw village of Khuram wa Sarbagh district, he said.
The total cost of these projects, which were completed over the past four months, was more than $77,000, he added.
"About 15,000 households in Aibak city and Hazrat-e-Sultan and Khuram wa Sarbagh districts benefit from these projects," Aqeel said.
"The completion of the irrigation canal in Hazrat-e-Sultan district and clearing of the flood zone in Khuram wa Sarbagh district irrigate more than 800 hectares of land and provide hundreds of households with clean drinking water," he said.
"We help the public adapt to climate change through projects that mitigate the risks of natural disasters," he added.
Mitigating flood risks
The construction of the retaining wall and flood channels is a relief, as they reduce the risk of houses being destroyed, residents of Samangan province said.
"Unfortunately, there were no retaining walls in this area in the past to divert floods," said Mahfuzullah Sharifi, 55, a tribal elder in Aaq Paikal village. "In addition to destroying houses, floods would damage thousands of hectares of [agricultural] land."
"But now, with the retaining wall, our lands are protected from floods," he said.
In the past, seasonal flooding would threaten many houses, forcing families to move out of the area, Sharifi said.
"About 2,000 families located along the river would live in fear and at risk of flooding during the flood season," he said.
"But now they are very happy that the threat of flooding is addressed and that the wall will divert dangerous floods."
In the past, all residents, but especially farmers, faced many problems from the lack of an irrigation canal, said Shamsuddin Nazari, 42, a resident of Asyab Abad village.
"An irrigation canal did not exist in this village in the past," he said. "Agricultural lands were harvested one season only, but now farmers can harvest their lands two seasons, thanks to the canal, which is constructed using modern methods and materials."
"This canal provides irrigation water to more than 400 hectares of agricultural land," he said.
"I am sure that next year, our farmers will harvest the highest yields from their lands," he added.
Critically important infrastructure
Such projects are "critical" for residents' lives and livelihoods, Ehsanullah Ehsan, director of the Samangan Department of the country's Disaster Management Authority, said.
"Our people have suffered greatly in previous years. Therefore, they need support in various areas," he said.
"We try to take concrete steps towards implementing projects that can mitigate natural disasters and address the needs of our people."
"Aid agencies should make the implementation of such infrastructure projects their priority," he added.