KUNDUZ -- Samangan province has become Afghanistan's second-largest producer of pistachios, after Badghis, in light of the government's prohibition on cultivating poppies in Samangan, which took effect in 2017.
With support from farmers, officials at Samangan's Department of Agriculture, Irrigation and Livestock (DAIL) said, they have succeeded in replacing opium with pistachios in the province over the past four years.
Pistachio trees cover 42,500 hectares in the province, said Samangan DAIL director Abdul Rahman Arghandiwal.
Most of them are planted in Hazrat-e-Sultan, Firoz Nakhchir, Roi-do-Ab, Khuram wa Sarbagh and Dara-e-Sof districts, he said.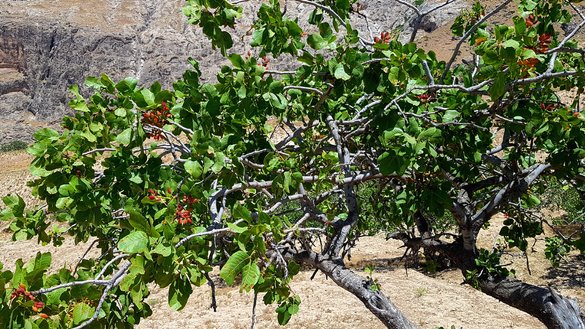 "This year, we established pistachio orchards on 400 hectares of land, planting 160,000 saplings. We have established associations to maintain and protect these farms," Arghandiwal said.
Pistachios are a better alternative to poppies and are a viable option for Samangan province farmers, he said.
"Since poppy cultivation in Samangan has fallen to zero, we are trying to provide more facilities to farmers to strengthen their agricultural activities," he said.
"We have provided pesticides and other agricultural equipment to farmers to help them improve their harvest," he added.
Alternative to poppy cultivation
A number of farmers in Samangan who grew poppies between 2012 and 2017 told Salaam Times that, after they realised the crop is haram and would damage Afghanistan's reputation, they turned to pistachios.
Opium poppies are cultivated for their narcotic compounds, and the cultivation, transport, trafficking, sale and use of narcotic drugs are strictly forbidden in Islam, religious scholars say.
Hazrat-e-Sultan district farmer Abdul Khaliq, 57, said he had turned to pistachio farming "since the Taliban profit from poppies" and since local youth are afflicted with opium addiction.
"We used to cultivate poppies, but when we saw that pistachios are more profitable and the profits are halal, we stopped cultivating poppies," Khaliq said.
"My profits from pistachio farming, just from last year, were 300,000 AFN ($3,863)," he said.
"I call on other farmers to turn to growing pistachios instead of poppies," said Abdul Qayoum Ahadi, a Hazrat-e-Sultan district farmer.
Farming pistachios is more profitable and is not dangerous, said Mohammad Salim, 43, a farmer in the Samangan provincial capital of Aibak.
Farmers used to cultivate poppies because they were not aware of the implications, he explained.
Farmer Mohammad Sadiq, 44, also of Aibak, called on the government to help farmers market their products "so that other farmers are encouraged to engage in halal farming".
"Besides pistachio, hing [asafoetida] is another alternative. A farmer can make $10,000 to $15,000 (774,870 to 1.2 million AFN) per harvest," he said.
A 0.2-hectare plot can support an average of 4,000 hing plants, which would start becoming profitable in five years, producing about 300kg of resin, each kilogramme of which is sold for $120 (9,400 AFN) in local markets, said Sadiq.
Hing extract is used in medicines for digestive ailments, rheumatoid arthritis and even pain, he said.
Poppy eradication efforts
The conflict with the Taliban has created obstacles to the eradication of poppy cultivation, as the Taliban rely on the proceeds of poppy cultivation to fund their activities, said Afghan officials.
Residents of areas under Taliban control are still coerced to cultivate poppies on their land, said Capt. Abdul Muneer Rahimi, spokesman for Samangan Police.
"Our information indicates that farmers are forced to grow poppies in some Taliban-controlled areas, while security forces try to launch eradication operations," Muneer told Salaam Times.
The lucrative market and high demand for pistachios in Afghanistan and abroad have prompted farmers to turn to pistachio cultivation, said Mohammad Tahir Khujandi, a local trader in Samangan.
The price of 7kg of high-quality pistachios in local Afghan markets is between 5,000 and 7,000 AFN ($65 to $90), Khujandi said.
Pistachios have the potential to transform Afghanistan's economy, provided that the government pays attention, said Aibak-based analyst Safiullah Haidari.
"One of our concerns is the import of pistachios from Iran," he said. "The government should stop the import of pistachios from Iran to avoid a drop in the price of domestic pistachios."