HERAT -- Thousands of local residents in Herat and Badghis provinces are depending on this year's pistachio picking season for vital income.
The two provinces are home to some 45,000 hectares of pistachio forests.
Pistachio picking began in late July and will continue for several weeks. Some 12,000 tonnes of pistachios are expected to be harvested in Badghis and 4,000 tonnes in Herat province.
A kilogramme of raw pistachios currently costs between 100 and 150 AFN ($1.10 and $1.70) in regional markets.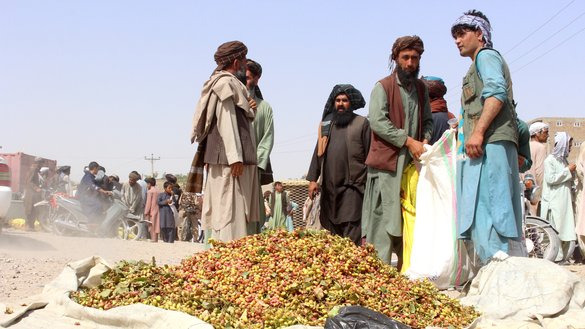 Badghis resident Mohammad Akram Nazari said he has collected 100kg of pistachios, which he is taking to sell in the main market of Qala-e-Naw, his provincial capital.
"I collected pistachios from morning to evening in the forests of Ab Kamari district for two days, and I now want to sell them. Badghis pistachios have ripened well and will have more customers this year," he said.
"I will pick more pistachios after I sell my stock," he added.
Thousands of households will be able to make a living during the pistachio harvest season, said Abdul Aziz Tawakuli, a civil society activist in Qala-e-Naw.
Locals spend weeks gathering pistachios in the forests and earn tens of thousands of afghanis by selling them, he said.
"Residents do not invest in pistachio forests but collect thousands of tonnes of pistachios for free every year. The pistachio harvest is a great source of income and helps poor families," he added.
Afghanistan's pistachios are of high quality, and if exports are facilitated, farmers and locals will profit, Tawakuli said.
'United against warlords, militias'
The income from the pistachios is particularly important amid Afghanistan's unprecedented economic crisis.
The pistachio harvest has saved many families from starvation, said Abdullah, 71, a resident of Keshk Kuhna, Herat province, who goes by one name.
"Pistachio forests are public property and belong to every resident. Each family collects pistachios from the forests in Keshk Kuhna district and sells them. This year, the pistachio yields are far better than last year," he said.
"The price of pistachios has doubled from last year. Impoverished families can buy cooking oil, wheat flour and other foods with the money they make from selling pistachios," he added.
Abdul Razzaq, 67, a resident of Ab Kamari district, Badghis province, said the quality of the pistachios has improved this year, which means they will be sold at a higher price.
"The people of Ab Kamari are very poor. Pistachio products have helped them in many ways," he said.
Each family has made up to 15,000 AFN ($170) from selling pistachios, which it can survive on for several months, he added.
"Local warlords did not allow residents to collect pistachios from forests in previous years, but this year, the residents did not allow them to enter the forests. They stood united against the warlords and irresponsible armed militias," said Razzaq.
More than 90% of the district's residents have benefitted from the pistachio harvest, said Sayed Ishaq, 63, a resident of Keshk Kuhna.
"Pistachios are riper and have more nuts this year, so their price is higher than in the past," he added.
"I sold 4kg of raw pistachios for 100 AFN last year, but it is 600 AFN for the same amount this year," he said.
Sayed Ishaq called on officials to create opportunities to export Afghan pistachios.
Expanding pistachio forests
Badghis residents have launched efforts to revive and expand the pistachio forests in the province, which have been damaged in recent years by a drought and arbitrary tree-cutting.
Badghis province's pistachio forests have shrunk from 90,000 hectares to 30,000 hectares in the past decade.
Local residents have planted more than 25,000 pistachio saplings in Badghis forests during the planting season this year.
Mohammad Asif Shahabi, 25, a resident of Ab Kamari district, said that he planted hundreds of pistachio saplings this year.
"I will earn money from the pistachios of these trees, and it will improve our economic situation," Shahabi said.
"Badghis pistachios have a special place in the international markets because they are very valuable ... That's why I borrowed pistachio seedlings so that I can harvest more pistachios in the future," he said.
Local residents will not allow pistachio forests to dry up and vanish, said Shahabi.
Planting new saplings is crucial in reviving the forests, said Abdul Halim Sajid, an agriculture specialist in Qala-e-Naw city.
"If new seedlings are not planted, pistachio forests in Badghis will disappear in the coming years. Local residents have an important role to play in maintaining and expanding these valuable forests," he said.
"Pistachio forests have a vital role in boosting the economy in Badghis. Thousands of families have been able to make a living from pistachio products every year," he added.
"The more pistachio forests are developed in Badghis, the more the economic condition of the local population will improve," said Sajid.