KUNDUZ -- After undergoing treatment for drug addiction in Afghanistan's Badakhshan province, some women say they have been able to stay clean and support their families by finding income-generating work.
Faizabad resident Bibi Gul, 45, said she spent 18 years of her life addicted to drugs. She turned to illicit narcotics out of despair, she told Salaam Times, as she faced unemployment and poverty.
"I would go to my neighbour's house when I was too sad, and they would give me something to calm me down," said Bibi Gul, who gave only her first name.
"I did not know what it was, but the neighbour would tell me it was relaxing," she said. "I slowly got addicted, and here I am now."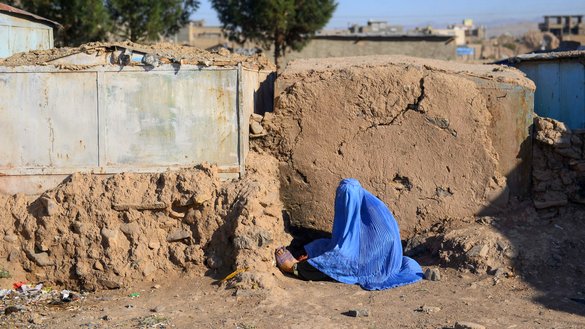 Bibi Gul said she tried several times to kick the habit, but each time, she had to leave the rehab centre to tend to family problems.
Now that she is clean, she said, she is weaving clothes at home and is optimistic for her future.
Faizabad resident Latifa, 52, who gave only her first name, is also a recovering addict.
"Both my husband and I were taking opium," said Latifa.
"We were living on the streets, and we were transferred to a rehab centre after our health deteriorated," she said. "We are now healthy and clean."
"We had heard that opium relieves muscle pain and relaxes the body," she added.
"We regret it greatly now, because we destroyed both our own lives and that of our family."
Latifa had previously trained as a tailor, and she now puts those skills to good use by stitching ladies' and children's dresses at her home to sell.
With the income she brings in, she is able to support her family.
"We had a very tough time," she said.
Now, however, she is looking forward to "opportunities to improve our business so that we can get to learn as well as improve the economic situation of our family."
Dignity and respect
If women can stand on their own feet and support themselves and their children, then it is a major morale boost for them, and they can earn a living with dignity and respect, said Badakhshan women's rights activist Naisa Mubarez.
"Women who have fought addiction and have returned to normal life are busy weaving and using their own capital," she said.
"We are trying to find work for the women who have successfully undergone treatment," she added, calling on aid agencies to assist these women by creating job opportunities for them.
"We transferred 12 female addicts and their children to the rehab centre for the first time in late May, and we are trying to collect all of the female addicts and transfer them to the hospital to receive 55-day treatment," Mubarez said.
"These women may relapse if work opportunities are not provided for them," she warned.
The 70-bed Baharak hospital is the only rehab centre for women in Badakhshan.
There are four other rehab centres for addicts in Badakhshan, including two 20-bed hospitals in Faizabad, a hospital in Ishkashim, and one in Sheghnan district.
Hospitals in Badakhshan have the capacity to treat 150 addicts at a time, with 1,300 people, including women and children, undergoing treatment at these facilities each year, according to officials.
Preventing relapse
An estimated 35,000 to 40,000 residents of Badakhshan are addicted to drugs, a quarter of whom are women and children.
More than 1,000 drug addicts have been collected from Faizabad in recent months, said Shafiqullah Hafizi, who heads the counter-narcotics department at Badakhshan police headquarters.
Of that number, more than 300 have been referred to different vocational fields for work after completing their treatment.
"We have collected dozens of addicts, including women and children, in less than a month and have transferred them to rehab centres," he told Salaam Times.
"The decision is to find and create jobs for the treated men and women so that they are employed and do not relapse," he said.
Faizabad resident Abdul Rauf Salim said he considers the collection of drug addicts from the streets a positive step but warns they will relapse after their treatment unless they receive help to find jobs and unless drug dealers are arrested.
"Collecting addicts from the streets is a positive step, but it doesn't stop there, since it will be useless in the absence of job and work," Salim said.
"Millions of afghanis were spent on the treatment of addicts, but they relapsed since they had no jobs," he said, noting that the number of addicted women and children "has increased significantly in the recent years".